Schitt's Creek Has Been Building to This Point About Love
On the feel-good sitcom, now in its final season, romances signal a more surprising attachment: to home.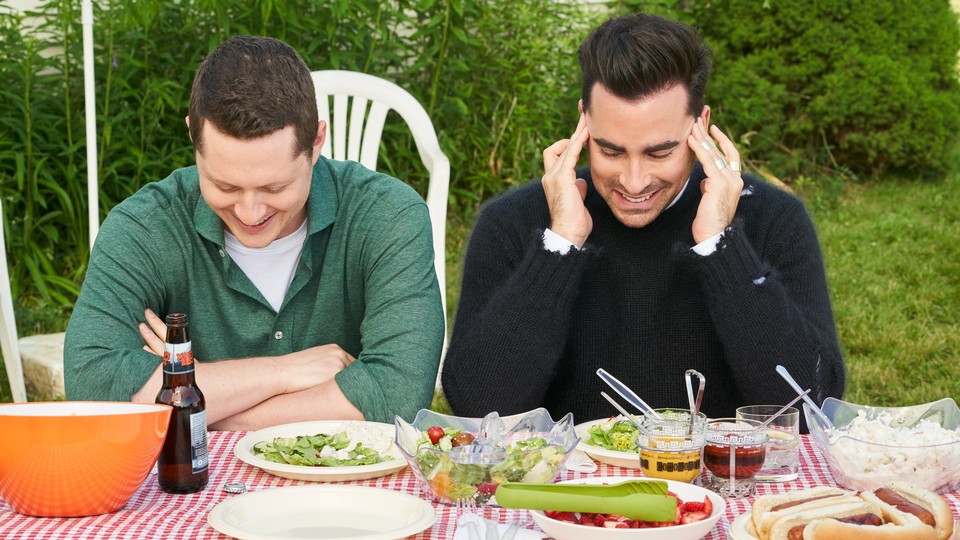 This story contains spoilers for the first three episodes of Schitt's Creek Season 6.
Even without the Kardashian-esque budget he'd been accustomed to before his family's bankruptcy, Schitt's Creek's David Rose (played by Dan Levy) loves to throw a good soiree. Toward the end of the sitcom's fifth season last year, a minor calamity ensued when David planned a surprise birthday party for his boyfriend, Patrick (Noah Reid), with whom he also manages the store Rose Apothecary. When Patrick's parents arrived for the festivities, they were shocked to discover that David was more than a business partner. The show deftly navigated Patrick's coming-out conversation, and the pair ended the season with something else to celebrate: an engagement.
Like the rest of the Roses, David is in a much better place than he was when the series debuted, and his family was just beginning to rebuild their lives in the titular town. At the start of Schitt's Creek's sixth and final season, which began this month, the once-detached David throws himself into the pomp and circumstance of organizing a wedding. "Can we just get married already?" he asks upon seeing Patrick outfitted in a tuxedo, before adding: "Just kidding—I want pageantry that takes months and months to plan!" But for all the comedy of David's patrician tendencies, everything about his engagement mirrors the heartfelt change in how he and his sister, Alexis (Annie Murphy), view their relationship to Schitt's Creek itself. With sentimentality and wry humor, Season 6 further homes in on how the siblings' affection for their unlikely home of three years runs parallel to the romances they've found there.
Dramatizing economic differences has always been part of Schitt's Creek's repertoire, and Season 6 begins by thrusting David and Patrick into one of the most stratified arenas possible: wedding planning. Tellingly, the pair don't falter, even in a high-stakes scenario. The first episode of the season finds David and Patrick scouting wedding venues. A stunning nearby estate ensorcels David, but it's over budget. After a series of comedic events reveal that a potential discount isn't worth their time, Patrick suggests a more amenable location: the Rosebud Motel (formerly the Schitt's Creek Motel), which the Rose family co-owns. On the surface, it's an obvious logistical solution. But it also signals just how central Schitt's Creek has become to David's life: The motel that his dad co-manages, a site that was once a punch line to the whole Rose family's existence, will now serve as the backdrop to one of the most important days in David's life. It's a colossal shift from the disdain with which David and Alexis regarded the town upon their arrival, and one that's notably ushered in by the fiancé David met there.
Indeed, David's connection with Patrick has deepened in tandem with his appreciation of Schitt's Creek (a fact that's made for convenient advertising for Season 6 too). Rose Apothecary, apart from being the business that introduced David to Patrick's parents, rooted David in the town beyond the family's forced relocation. Deciding to open—and co-run—a local boutique brought David closer to both Patrick and the community around them. The store's place in their love story subtly reframes the class dynamics that first shaped David's views of the town: His partner isn't perfect for David in spite of their divergent backgrounds but because he's the more grounded of the two. Schitt's Creek doesn't play up the differences in their sensibilities for cheap laughs either. Yes, there are plenty of jokes about David's Goop-adjacent proclivities, but none of them fits into predictable (and often gendered) narratives about romances across class lines. Neither does Schitt's Creek tout wealth (current or past) and its attendant power as an inherently attractive trait.
While her brother's arc is building toward a neat conclusion, Alexis is following a more circuitous path in Season 6. Her boyfriend, the veterinarian Ted (Dustin Milligan), is still away on a research trip to the Galápagos Islands, and her plans to meet him there have been stalled by an airline-ticket snafu. The mix-up enables her to stick around and help organize David's wedding and also forces her and Ted to be more creative about finding time together. Among the season's most heartwarming moments is one in which Ted, having been unable to speak with Alexis because of a botched internet connection, surprises her with a dinner date on their anniversary—conducted via Skype. For Alexis, it's not just a sweet gesture. It's also a reminder that encouraging Ted to be the one to leave Schitt's Creek first was the right choice, and that he'll never be that far away from her or from the place where they fell in love.
The dinner scene echoes an earlier moment of connection between the two: When the pair had broken up in Season 4, David encouraged Ted to forgive Alexis for an earlier transgression. Ted revealed his willingness to do that—and his devotion to Alexis—in the middle of a local Singles Week event that Alexis had organized for locals. The gesture was bold and theatrical, and it underscored how connected Alexis had become to the people around her. Planning a Singles Week event wasn't just a way for Alexis to try combatting heartbreak; it also put her in closer proximity to Schitt's Creek residents outside her family's immediate orbit. Throughout the show's past few seasons, Ted hasn't only observed Alexis's growing fondness for their town—he's spurred it along and celebrated it as fervently as he's dedicated himself to their relationship.
For viewers who have charted the Rose family's journey since they arrived at Schitt's Creek, the final season's focus on the fate of these pairings likely feels natural. Even as the show sometimes emphasizes conflict to dramatic effect, it has always prioritized the tenderness of its characters' relationships with one another, romantic and otherwise. For the Rose parents, played with gentle verve by Eugene Levy and Catherine O'Hara, that's meant an unwavering, subversive connection that has spanned decades and tax brackets. "No one ever talked to me about how this show was going to be written from love and about love," O'Hara told the Los Angeles Times recently. "It never came off as any kind of agenda. It's just the world that Daniel [Levy, who co-created the series with his father, Eugene] would love to live in." The Rose children, though, have learned to love unreservedly over the course of the series; theirs has been a far more gradual undertaking. And it's one Alexis and David may never have experienced so wholly if not for the strange little town they fell for too.