Kobe Bryant's Unfinished Business
It's tragic that a superstar known for his thoughtfulness and willingness to learn never fully reckoned with his life's darkest off-court episode.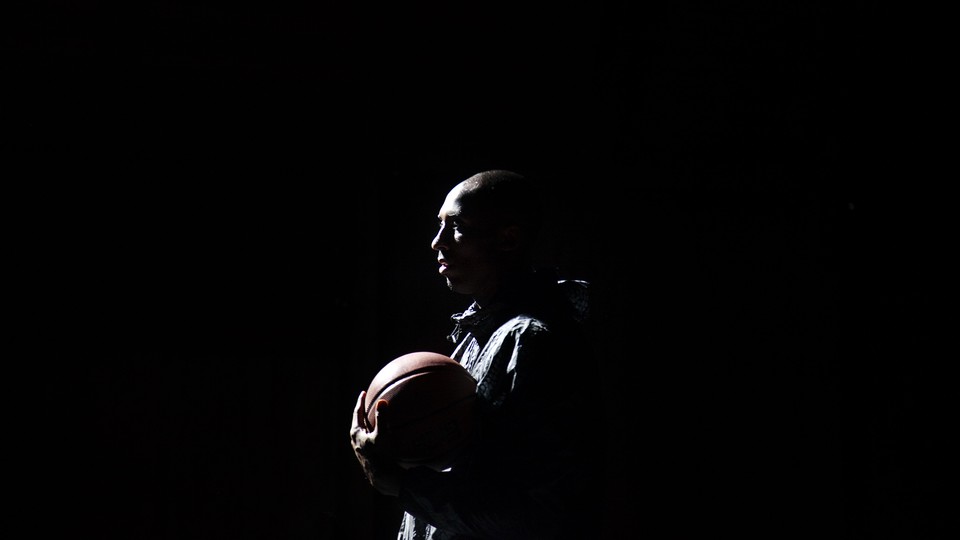 Yesterday afternoon, the shocking news that Kobe Bryant had died in a helicopter crash, alongside his daughter Gianna and seven others, ripped through my social-media feeds and group texts. Like many Lakers fans, I spent the first hour stunned and mostly silent, just trying to come to grips with the unreality of the first reports. But by the time night fell, I could no longer dwell on the tragedy's scope, the lifelong heartbreak coming to Bryant's family and so many others, the complexity of an off-court legacy left unfinished. As was so often the case during Bryant's tenure as basketball's most polarizing superstar, it was easier to think about the singular virtuosic beauty of his game.
Pro basketball can sometimes seem like a contest of upper bodies. Because the spectator's eye follows the ball, it focuses easily on the jump shooter's clean release or the controlled violence of a tomahawk dunk. But underneath, a player's legs are always moving, creating space for the more dazzling work of the hands. Younger players use speed to conjure up these micro-islands of space on crowded hardwood, but fast-twitch muscles fade with age. To keep scoring at will, veterans must develop deceptive footwork, and few players had craftier footwork than Bryant.
In my mind's eye, I can see him squaring up on an isolated defender, out near the free-throw line. He leads with a jab step, feinting a drive that was, even in his final years, still quick enough to streak by people. Bryant's man would bite and backpedal a step, enough to give him room for a shot. But Bryant always wanted more. More touches. More shots. More championships. He'd spin away from the basket for more space and gather the ball, all in one fluid sequence, his one-man ballet fooling the defender into thinking it would end with Bryant reclining into one of his patented fadeaways. But this, too, was a fake. By the time the defender recognized the ruse, he was already midair, having lunged forward to block a fadeaway that would never come. Meanwhile, Bryant was pivoting toward the basket for an easy 12-footer. That was the thing about Bryant: He always seemed to have one more pivot.
In recent years, an aura of legend has surrounded Bryant, one that will only grow now, given the tragic circumstances of his death. But he wasn't always as widely beloved as yesterday's outpouring would suggest. When Bryant entered the league, he was seen as self-consumed. In those naive years before social media, his obsession with his own narrative of destined greatness felt both novel and off-putting. But he was still growing up, still in his teens, still in possession of his own fandoms, expressed most poignantly by his mimicry of Michael Jordan's physical tics, down to the loping movements of the elder man's gait (and least poignantly by his Jordan-esque cruelty to teammates).
When Bryant's feud with Shaquille O'Neal broke into public in 2000, during their first championship run, it was easy to side with the big man, who seemed more at ease with himself, especially for a fan base who'd grown up on Magic's smile. By comparison, Bryant came off as calculated. He seemed like basketball's answer to Mark Zuckerberg. Some suspected that his carefully controlled demeanor concealed something more sinister, a suspicion that seemed prophetic in 2003, when Bryant was charged with felony sexual assault in Colorado.
The facts on record from that night in Colorado aren't great for Bryant, and they must be looked at, squarely: After a brief encounter in Bryant's hotel room, a 19-year-old front-desk clerk left with a bruise on her jaw and blood—hers—on her clothing and Bryant's. The next day, a rape exam would reveal vaginal injuries. In the run-up to trial, Bryant's legal team would make much of her sexual history. The case was dropped just days before opening arguments when the woman, who later received a settlement in a separate civil case, refused to testify.
It's hard to know how "the Colorado incident," as Bryant coolly described it in a 2014 New Yorker profile, would have played out in today's media environment. After the charges were filed, he lost many of his sponsors, but Nike stuck around, and in time others came back. By the decade's end, journalists had mostly stopped asking him about the alleged assault, except as a means to frame his comeback. Even as late as 2018, when Bryant won an Oscar at an Academy Award ceremony that was haunted by that year's #MeToo scandals, he managed to avoid a sustained public relitigation of the case.
As he began the second half of his career, Bryant seemed to relish a new role as the NBA's villain, jutting his chin out cartoonishly after buzzer beaters, giving himself the absurd nickname of Black Mamba. He redoubled his dedication to the embodied art form that is basketball. He shot endless jumpers in the gym before dawn, burrowing the micro-movements of his shot deeper into his muscle memory. He ran endurance drill after endurance drill, layering new strength onto his body, making sure he'd still have his wind in the fourth quarter, on the second night of a road back-to-back. "Load management" wasn't a thing for Bryant. He liked to set up chairs in elaborate configurations, so he could dribble around them, perfecting new moves for his already baroque arsenal. When he wasn't working out, Bryant mainlined video footage of his opponents. He knew their feints and pivots, cold.
Bryant had worn his youthful precocity awkwardly, but middle age seemed to suit him. His base—Lakers fans—were, naturally, the most susceptible to the rebrand. They embraced the flintiness of late-period Bryant. He became a YouTube legend for not flinching when Matt Barnes pretended to throw a ball into his face. And again when he snapped his Achilles mid-game, and hobbled out to the free-throw line to sink two. He played for nearly 20 years in L.A., imprinting championship memories on multiple generations of Angelenos, during an era when superstars hopped from city to city for three-year super-team stints.
In time, Bryant's relentless ethic of self-improvement seemed to bleed from his basketball game into his personality. He appeared to realize that there was more to life, or at least more to legacy-building, than competitive aggression. Bryant softened in a human way that has so far eluded Michael Jordan, who, despite being celebrated at every turn, could not conceal his odd, ultra-competitive streak of bitterness at his own Hall of Fame induction.
Bryant began to give back, with charitable donations—most notably, a gift of at least $1 million to the Smithsonian's National Museum of African American History and Culture—but also by redistributing his extensive basketball knowledge. He put in long hours mentoring younger players, who seemed, to a man, grief stricken by his death. He spoke about basketball from a craftsman's perspective, in interviews and videos about the game's intricacies for ESPN.com. That basketball has lost its preeminent player-scholar is one of his death's lesser tragedies.
After leaving the league, Bryant, who had four daughters, found an animating cause in women's sports. According to Rebecca Lobo, an announcer and former player for the WNBA, no other NBA player matched Bryant's support for women's basketball. In December, he was filmed court-side at an NBA game, talking to his daughter Gianna, pointing animatedly, instructing her on the game's finer points. She smiled at him with a 13-year-old's loving contempt. These things are hard to discern from afar, especially through the mediated lens of celebrity, but in that video and others, Bryant always seemed like a gentle father.
In recent years, as Bryant showed us more of his thoughtful side, it became possible to wonder if he might one day revisit that night in Colorado, even if only in private, perhaps in response to persistent questioning from his girls. Bryant always seemed to have one more pivot in him. Maybe, had he lived, he would have tried to confront the contradictions that marked his relationships with women, including his accuser. Maybe he would have worked to make amends in a way that changed the perspective of all those young players who admire him. That we'll never know is now one more tragedy among many.