Offset, Cardi B, and the Spectacle of Male Introspection
The Migos member's solo album takes on the trappings of profundity as the rapper lists his struggles earnestly—and within limits.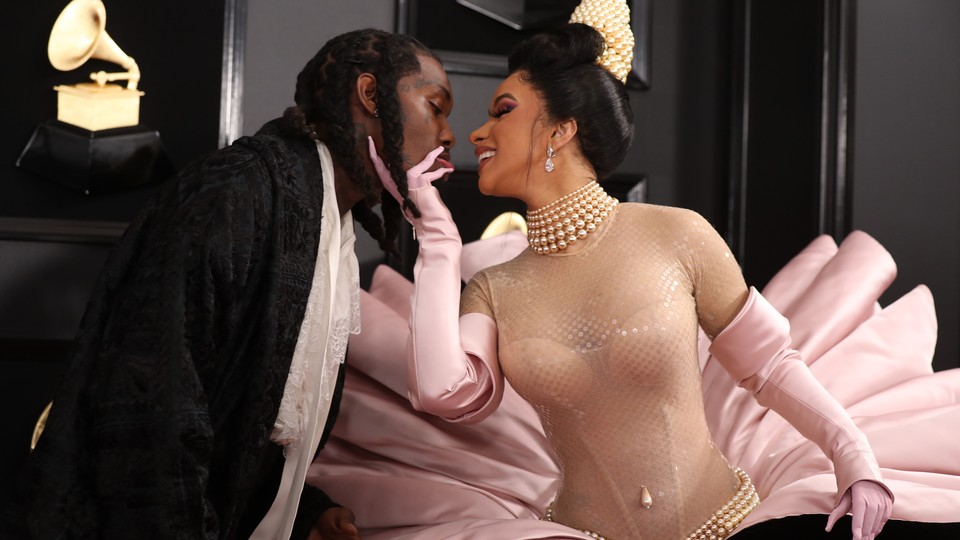 One of the only genuinely funny SNL parodies of hip-hop came last year, when the show imagined a rap trio, The Friendos, in therapy. "I feel like every time I bring up emotional conflict, he wanna talk about the Lambo'," Chris Redd's chains-and-florals-wearing rapper told the bespectacled psychologist played by Cecily Strong. Kenan Thompson immediately hooted, in a clear send-up of Migos's famous ad libs, "Lambo!"
It turns out that the Atlanta group satirized by the sketch was annoyed by it. "We didn't like that skit, cause it was like total opposite of the Migos," Offset told GQ. "Like, we rock with each other. We ain't arguing. And then, I felt like it was interpreted like we was some dodo birds."
The offense at seeming like "dodo birds" likely stems from the lazy and common caricature of rappers like Migos as simpletons. But Offset taking issue with this particular sketch is also striking, given that it was commenting on hip-hop's relationship with vulnerability. More rappers than ever before talk about needing therapy these days. But overcoming deep-seated stigmas about seeming weak by confessing to self-doubts and mistakes is no easy thing—as Offset's compellingly flawed solo album, Father of 4, shows.
As Migos transformed the sound of popular music with rat-a-tat-tat-a-tat flows, a fresh glossary of money and drugs terminology, and those delectable ad libs ("cookie!"), its members emerged as complementary characters: Quavo, the robo-singing frontman; Takeoff, the technically gifted source of ballast; and Offset, who channeled his particularly tough come-up into verses that were like cuckoo clocks—intricately crafted, patiently rhythmic, with pops of amusement. But Offset's celebrity has also been tied to Cardi B, the New York City phenom whom he married and had a kid with. The couple met complications late last year, when she responded to rumors of his infidelity by breaking up with him. Offset in turn waged a highly public—and somewhat creepy—campaign for her forgiveness.
They're back together now, but Offset seems to understand that his image has been scuffed. He also might sense that the flood of Migos content over the past few years, combined with its wide cultural influence, has threatened to dull the group's edge. Last fall, the label executive Carlos Desrosiers told The New York Times about Offset's new approach on his solo album. "It's easy for him to do swag—but everyone's giving the swag: the watches, the jewels, the cars," Desrosiers said. Instead of focusing on those things, he advised Offset, "Give 'em substance, give 'em you."
Father of 4 does deliver substance, though sometimes it can be hard to separate actual weightiness from the mere appearance of it. The album opens with piano and violin, solemnly played. The Dungeon Family's Big Rube delivers spoken word in his gravelly voice. All of which, while effectively skin-tingling, could be signs of a cook-by-recipe approach to seriousness. But then Offset arrives, sing-rapping gently to each of the four children he's had with four different women, apologizing for not being more present in their lives and explaining how the hustle to keep them fed has also kept them apart. He's working in a mode that's not his usual rapid-fire associations, but rather closer to linear storytelling. The results are simple, surprising, and credible.
He rarely returns to that first song's narrative style, but he does use the signature Migos approach—not so much painting a picture as spraying a vibe—for a kind of pointillistic take on spooky situations. The standout "Tats on My Face," constructed of sampled laughter and eerie pinging sounds, portrays him looking in the mirror, at the height of success, and feeling an unhappy chill. The single "Red Room" similarly injects a haunted feeling into his recollections of struggling for, and then achieving, success. "Money turn homies to zombies," he raps, not the only time he mentions the undead on the album.
But he rarely pushes beyond listing the sources of his damage. On his take-me-back plea to Cardi, "Don't Lose Me," the beat cleverly loops a chirping cricket, as if he's rapping at dusk. The title refers to a warning she once gave him, and he tries to save their relationship mostly with expressions of affection. "When you leave by my side, I get woozy," he raps, before delivering a sweetly crass compliment: "When you onstage twerkin' in your two piece / Starin' on the ground, you know you amuse me." Their problems, meanwhile, are treated only glancingly. "Temptation, had the devil in my soul," he says, as if reading from a script.
On the would-be centerpiece of "North Star," Offset's goal of getting heavy bleeds into something uglier. The production evokes Kanye West at his most portentous as Offset positions himself as under assault by larger forces: "This shit longer than centuries / They lyin' about the hoes, it's fuckin' my bitch up mentally / Shit be glitter, it don't be gold / The fame can fuck up your family." Then CeeLo Green shows up and wails with all the hamminess of Hamilton. The once-venerated rapper and singer infamously responded to accusations of sexual battery with inflammatory tweets suggesting persecution, for which he then apologized. CeeLo's since struggled to rehab his image, but the incident comes flooding back as he croons things like, "There is no such thing as peace or privacy / And if you felt this low down you'd get high as me." It's bombast in service of self-pity, and almost unlistenable.
The excellent "Lick" suggests that a better way forward would be to open up without getting melodramatic. Offset repents to "all the people I robbed," and invokes a longer context for past offenses: "Way back in the time, I'm black and brown, you get lynched." But the song, built on a catchy flute loop and springy flow, doesn't over-insist on its seriousness. Elsewhere, he returns to his typically more boastful mode. On the bracing, vicious "Clout," he and Cardi reunite to take down online gossip. "I should run a whole blog at this rate," she snarls. "They using my name for clickbait."
Cardi's presence on the album, though, raises the question of whether Offset is facing a low bar when it comes to how much he needs to push himself. At times, he's following the mode of West, Drake, and hip-hop's other men whose much-vaunted "introspection" can amount to using a pensive tone while engaging in passive aggression and self-mythologizing. The sources of Offset's pain—the pressure on him as a parent, him being raised without a father, the violence and poverty he grew up around, his tensions with Cardi, and the notion that America's racist history shapes all of the above—are made clear. The person underneath them, though, still remains a bit remote.
Meanwhile, you can listen back to Cardi B's Invasion of Privacy, a trove of brand-defining radio smashes, to hear how self-revelation can work more casually and complexly. The signature song about her and Offset's relationship remains "Be Careful," on which she takes a central confession—"My heart is like a package with a fragile label on it"—and works over its permutations with a variety of sharp metaphors to describe not only a man's betrayals but also their effect on her. If Father of 4 is the reply, it's a testament to what he might have learned from her, and what he still could.