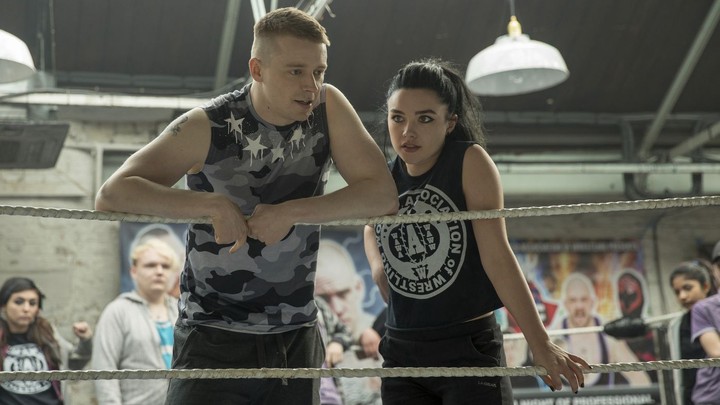 From her stunning portrayal of a tricky character in the macabre period drama Lady Macbeth two years ago, I could tell that Florence Pugh was well on her way to Hollywood stardom. What I couldn't have predicted was that her studio breakout would come from playing a professional wrestler. Fighting With My Family is, in most respects, a standard sports biopic, following the real-life WWE icon Paige (born Saraya-Jade Bevis) from her humble beginnings in Norwich, England, to international fame. But unlike most major sports, pro wrestling is as much about performance as it is about athleticism, a premise that gives Pugh an ample canvas on which to shine.
The problem is, this is a film that tiptoes too close to feeling like an exercise in brand management by a powerful but undeniably flawed organization. The WWE logo flashes onscreen as the action starts; the institution's biggest star, Dwayne Johnson (a.k.a. The Rock), not only produced the movie, but also makes an extended cameo as Paige's motivational guide through wrestling's garish, sometimes punishing world. As a result, the film struggles to dramatize Paige's triumph as anything but preordained.
Despite its prominent branding and WWE stewardship, Fighting With My Family was written and directed by Stephen Merchant, who co-created The Office and Extras with Ricky Gervais before departing to lead the series Hello Ladies. That show mocked the dating mishaps of Merchant's gawky character, and the director might seem an odd match for the brawn and bravado of the WWE. But Merchant's light touch is well suited to the early part of the plot, in which a teenage Saraya gets her first taste of an audience while participating in her family's local wrestling operation.
Saraya is much like her down-to-earth parents, Ricky (Nick Frost) and Julia (Lena Headey), who roll around town in a white van picking up local talent to throw down with in the ring. Her brother Zak (Jack Lowden) is an even bigger wrestling fan than she is, bouncing off the ropes in spandex and adopting the moniker "Zodiac." Frost and Headey are a delightfully profane pair of overgrown children themselves: Saraya and Zak's father served time in prison for what he describes as "violence, mostly," and their mother is most focused on teaching her kids proper headlock techniques. But Merchant's script is bouncy and nonjudgmental about Saraya's adolescence, and there's enough chemistry among the ensemble that the family's unconventionality is never too jarring.
When the WWE holds tryouts in London, Saraya joins Zak in competing, assuming that her more passionate sibling will land a gig. But as it turns out, only Saraya gets to progress to the next stage: a WWE developmental league in Orlando, Florida. There, she adopts the stage name Paige, and comes under the guidance of a sterner father figure, a coach named Hutch Morgan (Vince Vaughn).
This is where I expected the movie to dig into some of the lesser-known details of the wrestling world, matching the complex jumps and throws of the sport with its soapy, personality-driven narratives. When the real-life Paige first emerged, she was a groundbreaking figure in the WWE, where many female performers lack a wrestling background. I wanted to know more about how Paige built out her in-ring persona and persuaded executives to bump her into the WWE's highest echelons.
But Fighting With My Family doesn't get into any of that. Instead, we're given a pretty standard Rocky-esque rise to fame, replete with montages. Paige experiences some setbacks, but she overcomes them by working hard. She gets demoralized and homesick, but some helpful speeches from Vaughn (giving a grounded and understated performance) and The Rock cheer her up. Glancing references are made to wrestling's sexist double standards, as Paige clashes with some of her fellow trainees who come from the modeling world, but the film seems to actively avoid saying anything too controversial about the industry.
In the latter half of the movie, Merchant returns too often to Norwich, dwelling on the insecurities of the brother Paige left behind. It's a serious drag on the narrative momentum and feels like padding for a film that doesn't want to delve into how things really work at the WWE. Still, the movie's biggest asset is Pugh, who remains an extraordinarily compelling talent (she was also exceptional in AMC's miniseries The Little Drummer Girl last year). Sheer force of personality is the main ingredient of any great sports movie, and Pugh has enough of it to pull the story along. But this is a star performance that deserved an equally dazzling script.
We want to hear what you think about this article. Submit a letter to the editor or write to letters@theatlantic.com.
David Sims
is a staff writer at
The Atlantic
, where he covers culture.