From Frederick Douglass to Edith Wharton: Portraits of Influential Atlantic Contributors
This author-themed tour of our history commemorates these writers and the magazine's 160th anniversary.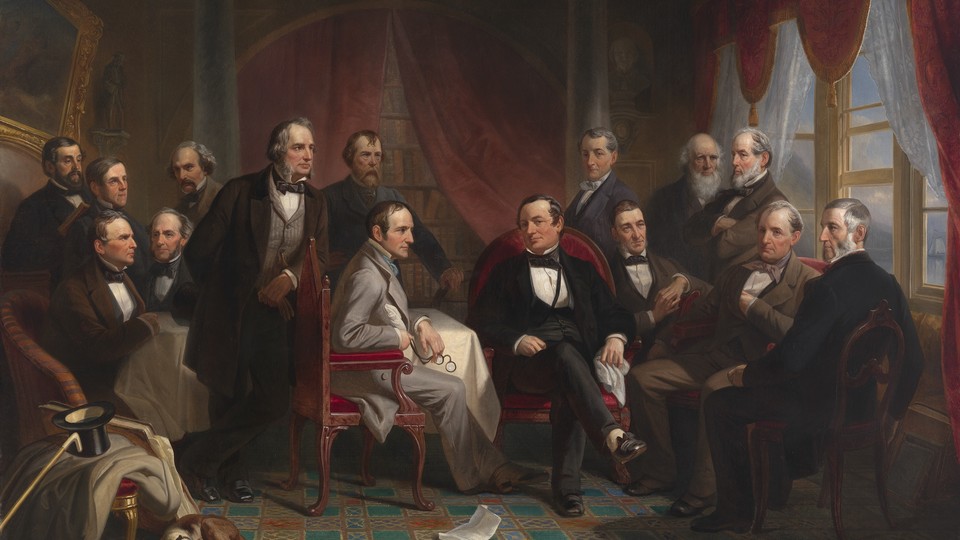 At the time of its first issue in November 1857, the magazine, then The Atlantic Monthly, billed itself as a "journal of literature, politics, science, and the arts." Since then, the magazine has hosted significant debates around the American idea—from slavery to women's issues to war and the presidency— put forth by some of the most prominent writers of the last two centuries.
As our former editor Cullen Murphy describes, when Ralph Waldo Emerson, Henry Wadsworth Longfellow, James Russell Lowell, Oliver Wendell Holmes, and "several other gentlemen with three names and impeccable Brahmin breeding," gathered to create the magazine, they might not have anticipated that the list of Atlantic luminaries would continue to grow for more than a century.
While the magazine started by publishing some of the great authors and poets of the time, much changed in those early years, notably the aspirations of its writers. Charles Eliot Norton, one of the magazine's earliest contributors, seemed a bit disappointed that as these literary giants aged, "their places were not supplied by any of equal luster." What he did admit, however, was that these newer writers signified a shift in the pages of the magazine that nodded to America's democracy. "But while the higher ranks of literature, especially poetry, were thus depleted, there was a rapid increase of capable writers of abundant knowledge, and of trained faculty of thought and of expression, and of manifest talent," he said. The nation was in the thick of moral and intellectual change, and more and more The Atlantic's writers were tasked with elevating the political and social affairs of men alongside their imaginative works.
From Frederick Douglass and Edith Wharton, to Mark Twain and Allen Ginsberg, the list of these most influential writers truly goes on and on. They are so notable that if you visit the National Portrait Gallery here in Washington, D.C., you will see portraits of most of these writers on display (in fact, earlier this fall, the museum was offering an Atlantic-themed tour of their collection). Yet until today, most of these authors were represented on this site solely by their names—no bios or portraits were displayed for them, unlike our contemporary authors.
To commemorate them, and our 160 years, we've addressed that lack. Below you'll find a selection of some of the greats from our past, with their updated bios and portraits, alongside links to their coverage. We hope you enjoy this author-themed tour of our history.
---
Albert Einstein
Albert Einstein was a theoretical physicist, best known for his mass-energy equivalence formula (E = mc2) and his development of the theory of relativity. He was awarded the 1921 Nobel Prize in Physics for his contributions to the field.
Allen Ginsberg
Allen Ginsberg was a poet and leading literary figure in the Beat Generation. He is best known for his poem "Howl."
Booker T. Washington
Booker T. Washington was an influential black intellectual and educator. In 1881, he founded the Tuskegee Institute for Colored Teachers.
Carl Sandburg
Carl Sandburg was a poet and writer. He won the Pulitzer Prize on three occasions for his poetry and prose, once for his biography of Abraham Lincoln.
Edith Wharton
Edith Wharton was a poet, essayist, short story writer, and novelist. In 1921 she became the first woman to win the Pulitzer Prize for Literature, awarded for her novel The Age of Innocence.
Eudora Welty
Eudora Welty was a short story writer and novelist known for her portrayals of the American South. She received the 1973 Pulitzer Prize for Fiction for her novel The Optimist's Daughter.
Frederick Douglass
Frederick Douglass was an orator, writer, and statesman. After escaping a life of bondage, he became a leading advocate for the emancipation and civil rights of African Americans.
George Bancroft
George Bancroft was a historian and secretary of the Navy. Often referred to as the father of American history, he is best known for his comprehensive work on the history of the United States.
Gertrude Stein
Gertrude Stein was a modernist poet, playwright, and novelist.
Harriet Beecher Stowe
Harriet Beecher Stowe was an author and social activist, best known for her abolitionist novel Uncle Tom's Cabin. She was a founder of The Atlantic.
Henry James
Henry James was a novelist. He is best known for exploring transatlantic culture, most notably in The Portrait of a Lady and The Ambassadors.
Henry Wadsworth Longfellow
Henry Wadsworth Longfellow was one of the most popular American poets of the 19th century and a founder of The Atlantic.
John Updike
John Updike was a prolific writer of poetry, art and literary criticism, and fiction. He was awarded the Pulitzer Prize for Fiction in 1982 and 1991 for two novels in his "Rabbit" series, becoming one of just three authors to win the award more than once.
John Muir
John Muir was an author, environmental activist, and founder of the Sierra Club. He was known for his nature writing and as an advocate for preserving wilderness in the United States.
Julia Ward Howe
Julia Ward Howe was a poet and author. She is best known for "The Battle Hymn of the Republic," which was first published in The Atlantic.
Louisa May Alcott
Louisa May Alcott was a novelist. She is best known for writing Little Women.
Mark Twain
Mark Twain was a humorist and author of essays, short stories, and novels, including the American classics The Adventures of Tom Sawyer and Adventures of Huckleberry Finn.
Pearl S. Buck
Pearl S. Buck was a writer and novelist. She was the first American woman to win the Nobel Prize in Literature, and her novel The Good Earth won a Pulitzer Prize in 1932.
Ralph Waldo Emerson
Ralph Waldo Emerson was an essayist, poet, and founder of The Atlantic. He was a leading figure in the transcendentalist movement and a noted advocate of individualism and emancipation.