Your Favorite Jane Austen Lines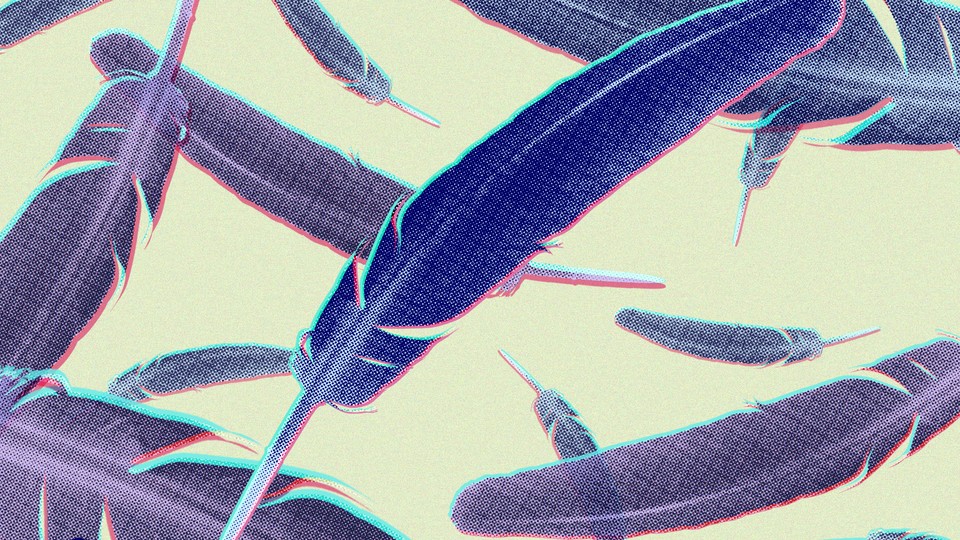 Editor's Note:
This article previously appeared in a different format as part of The Atlantic's Notes section, retired in 2021.
"There are too many favourites," begins the very first response to my callout for favorite Jane Austen lines, from Gillian in Ontario. Readers shared an admirable assortment of them: wisecracks and ironic turns of phrase, expressions of affection, assertions of independence and strength, small bits of wisdom. They drew their selections from a motley array of books and characters, ranging from the ever-quotable Emma Woodhouse to a lesser-known side character in Austen's early epistolary novel Love and Friendship. (The line from the latter, which I had never before read: Run mad as often as you chuse; but do not faint.) But like me—and my parents—most readers chose satirical lines from Pride and Prejudice.
Writing from Germany, Claudia reflected on her first encounter with that book's famous first line:
It is a truth universally acknowledged, that a single man in possession of a good fortune must be in want of a wife.

It is the first line from the book which was my first contact with Jane Austen's writing, at age 19 during my first month at university. When I read that perfect first sentence, endless possibilities appeared in my mind: this book, my new life, oh, the thrill of it all!
Pride and Prejudice was the first of Austen's novels that I read, too, and I remember feeling something similar as I read the line, finally easing open the door to her literary world for myself. But my introduction to Austen—and Pride and Prejudice in particular—came years earlier, as I watched the 1995 BBC series and listened to my dad quote Mr. Bennet's best quips. So I felt most nostalgic when re-reading those lines, chosen by several readers with a shared affection for his witticisms.
Ashley King, for one, favors this "slam Mr. Bennet gives Mr. Collins":
It is happy for you that you possess the talent of flattering with delicacy. May I ask whether these pleasing attentions proceed from the impulse of the moment, or are the result of previous study?
"It is the most outrageous thing anyone has ever imagined a human being saying to another," she wrote. "Oh, I wish it were real and that it really happened! My jaw still drops to the floor when I read it/watch it. The cojones on Mr. Bennet are legendary."
You can watch the exchange here, among other absurd interactions between Mr. Collins and the Bennet family:
Three readers shared another Mr. Bennet line, spoken to Lizzy after she's rejected Mr. Collins's proposal, to the distress of her matrimony-obsessed mother:
An unhappy alternative is before you, Elizabeth. From this day you must be a stranger to one of your parents. Your mother will never see you again if you do not marry Mr. Collins, and I will never see you again if you do.
Writing from Uzès, France, M. Ballantyne summed up the line's genius and its effect on Lizzy: "Calm irony and detachment saves a life." Dustin Pascoe expanded on its significance:
It means her dad, who had seemed so foggy and disinterested, so aloof, was taking her side, defending her from something she didn't want, and gently putting his foot down against his wife (who has her reasons, but still). It's a hero turn from an unexpected quarter, and the line itself is so nicely parallel and exact. It ends the discussion without having to be explicit about it or raising his voice. In short, it's the kind of parenting I've always aspired to pull off with my children, and never quite managed.
Like Dustin, several other readers shared lines they found aspirational. Karen and Rosemarie, for instance, both wrote in to praise the retort Lizzy gives Lady Catherine de Bourgh near the end of Pride and Prejudice, after the latter comes to tell her she cannot possibly marry Mr. Darcy:
I am only resolved to act in that manner, which will, in my own opinion, constitute my happiness, without reference to you, or to any person so wholly unconnected with me.
"Is that not a great goal in today's world?" Karen asked. "To achieve happiness in our own terms and not base it on other people's expectations, especially those who don't know or care about it?"
"The line has haunted me ever since I read it the first time as a middle-schooler," Rosemarie wrote of the same exchange, "and has in turn given me solace and strength in times when I need to stand up for myself and what I believe in."
Nancy, in Washington, D.C., draws similar strength from this line, also delivered by Lizzy:
I am happier even than Jane; she only smiles, I laugh.
"I went to a small religious liberal arts school in the Midwest," Nancy explained:
It's the closest you can get in 21st-century America to an Austen novel: Moral, marriage-minded people living in intentional community, drinking inordinate amounts of tea, and judging each other. The men of the school tended to favor demure, gentle Jane Bennet types and marry them promptly after graduation. Whenever I—a loudmouth Lizzy from the East Coast—get irritated at the trend, I remember this quote, chuckle to myself, and feel better.
Gillian's favorite line leaves her chuckling too; it is, she says, "whimsically absurd and a fresh amusement every time I think of it." Since, as Gillian also made sure to note, there are entirely too many favorites, I'll leave you with this brief turn of phrase from Persuasion and, hopefully, with some fresh amusement:
"I am not fond," said Sir Walter, "of the idea of my shrubberies being always approachable."