Your Favorite Jane Austen Adaptations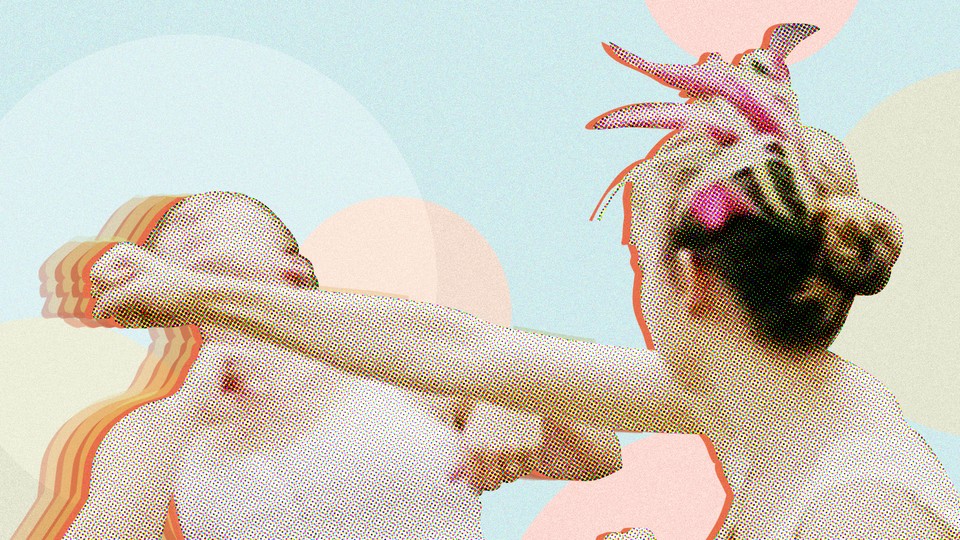 Editor's Note:
This article previously appeared in a different format as part of The Atlantic's Notes section, retired in 2021.
Last week we asked readers to share: What's your favorite Jane Austen-related adaptation? Or, if you prefer: What's your least favorite? What film versions of the novels fill you with joy, or wonder, or ire? What TV shows or web series do you find compelling and true to Austen's insights?
And: You all came through! We got several votes of enthusiasm for books like Amanda Grange's novel Mr. Darcy's Diary and Jo Baker's novel Longbourn, movies like Austenland, TV shows like Lost in Austen, and web series like Jane Austen's Fight Club (for the simple but important reason that, as Lynn Gray, of Harstene Island, Washington, explains, "it's outrageously funny").
We also got many, many votes for Clueless, Amy Heckerling's 1995 adaptation of Emma. Which, as Cassie Myers of Stanford, California, explained, "captures the emotions and wit of the books, the actors are fantastic, and it reminds me why her stories are so universal."
Or, as Tana, from Denver, put it in explaining her enthusiasm for the story of Cher Horowitz, Beverly Hills resident:
I'm not a Jane Austen fan at all—I found her novels tiring and the endless obsession with class and marriage boring (admittedly, this was as a teen. I haven't yet revisited, and have a sneaking suspicion I'd find Pride and Prejudice tolerable today). All of that said, Clueless is fun! It was released when I was 10, and was bright and shiny enough to enthrall those of us not yet in the race for soulmates. Cher and Dionne's "Whatever" (and Amber's associated hand gesture) didn't just pass through our vocabulary but entrenched itself. We wanted their closets and their cell phones.

As I got older, it's retained that charm and added new layers, as we look back at the early careers of some of our current favorite actors. Jeremy Sisto is awful and perfect as Elton, and I can't think of or hear The Cranberries without thinking of him. Paul Rudd is every guy you meet at a liberal arts college. Breckin Meyer!! And Brittany Murphy, beautiful, charming, hummingbird Brittany Murphy, whose Tai is so resonant and so funny that every time she's on screen I'm laughing and crying—because she reminds me of what we lost when Murphy died. Donald Faison is luminescent. And Alicia Silverstone got Cher.

I remember the movie being marketed as the zany adventures of a ditzy blonde and her narcissistic rich LA friends—and it's definitely that but it's so much more. There is a wellspring of good laughs and good vibes—and some of the finest men collected in one place onscreen. Altogether, I think this is my favorite because it doesn't feel like Austen—it isn't taxing or laborious, but its moral and vision are strong.
We also get several votes for Sense and Sensibility, Ang Lee's 1995 feature-film adaptation of the novel of the same name. Anvita Budhraja, of Mumbai, beautifully summed up its appeal:
Central to a lot of Austen novels is the fear of losing a home—Sense and Sensibility, Pride and Prejudice, and even Persuasion to an extent, base their narratives on this fear. But it is only in Sense and Sensibility that this fear actually becomes a reality. While Elizabeth Bennet can joke about Mr Collins and Mrs Bennet can wail about the entail, Marianne, Elinor, and their mother actually go through it. The novel begins with a death (itself a rare occurrence in an Austen novel)—a death that realizes the specter of loss of home for the Dashwood women. In that way, Sense and Sensibility is a novel based on grief and loss. And Emma Thompson's adaption brings that sorrow so beautifully and tangibly to the screen. From Marianne's choice of piano songs, to Margaret's indignant "It's not my atlas anymore!" to the poignant scene where Elinor bids farewell to their servants—the movie makes the loss real in a way that other novels and adaptations of Austen's never do.

One doesn't think of Austen as a novelist who dwelt on loss—most of her novels are sparkling with wit and satire, and movie adaptions of them are fun and upbeat. But Emma Thompson's adaptation is sorrowfully gentle. There are no acerbic comebacks from the likes of Lizzy Bennet, or no drama of blind misunderstanding from the likes of Emma Woodhouse. Even in the lightest of scenes like Edward Ferrars fencing with Margaret or Willoughby enjoying a picnic with the Dashwood women, there is a pervading sense of pain and distress. I love this adaptation for how gentle, how real, and how palpably sad it is. Finally, even as the denouement occurs with a marriage ceremony itself so staid and tender, we see Willoughby look at the celebrations from a distance, and even in this happiest of times, there is a pervading sense of loss and melancholy. For these additions to Austen's superior novel, I love Emma Thompson's adaptation of Sense and Sensibility.
There was also a contingent of readers sharing their love of the web series The Lizzie Bennet Diaries. That was in part because, as Yaneth Gonzalez, from Texas, put it, "It kept true to the story while being a modern retelling." But as Rajul, from New Jersey, explained, it was also because the series celebrated the extent to which the classic work of literature could also be a lot of fun:
I watched the web series when I was about 14. At that point, I had attempted to read Pride and Prejudice before, in middle school, but found the language stuffy and difficult to read, and the story too slow to hold my interest. The web series, however, was wonderful. It made the important part of the novel, the story, accessible and fun. I understood the way the characters behaved and the way they spoke to each other, and fell in love with the story.
There were also, in all this, some controversies. The 2005 feature-film version of Pride and Prejudice was loved by some—for its romance, for its realism—and detested by others. ("So many reasons!" Adrienne, from Canada, explained of her distaste for the film. "Poor casting (Keira Knightley is too good-looking, Matthew Macfadyen is not good looking enough), awful dialogue, incorrect vocabulary, portraying Darcy as simply being misunderstood.")
But the most controversial adaptation of all, according to our respondents, is that other Pride and Prejudice: the 1995 miniseries, starring Jennifer Ehle and Colin Firth, that first aired on the BBC. "My favorite Jane Austen adaptation," Cinthia, from Mexico, wrote, "is of course the 1995 BBC Pride and Prejudice miniseries. Nothing can top it."
Ronnie R., from Plainsboro, New Jersey, pointed to one particular moment that makes the movie memorable:
There is a scene in which Mr. Collins (David Bamber) stands with Lizzie Bennet (Jennifer Ehle) and waves sycophantically to Charlotte Lucas (Lucy Scott). The manner in which Bamber waved in that moment, along with his voice and facial expression, encapsulates the lighthearted comedy of Jane Austen's works.

So many adaptations focus on the serious, dramatic, romantic moments and miss the scenes of blithe, flippant, sometimes sardonic humor that Austen writes so well. The BBC miniseries does well with balancing the drama with the comedy and really conveying Austen's voice.
But this Pride and Prejudice, too, was controversial. Here's Mary, from Fort Lauderdale, Florida:
The only version of Pride and Prejudice worth watching is the early 1980s BBC production starring Elizabeth Garvie (THE Eliza Bennet) and David Rintoul. Mostly videotaped on simple sets, this film is by the most faithful to Austen's novel. Unlike the abominable 1995 Andrew Davies extravaganza, the 1980s adaptation retains the subtlety of Austen's satire as well as Austen's brilliant language.

What makes the 1995 Andrew Davies film so awful is its utter lack of subtlety (Austen would have gleefully mocked its unsophisticated dialogue and acting), its shameless pandering to an audience that has never read a word of Jane Austen, and its elevation of spectacle over satire. This film helped the create the "Austenmania" that has had the perverse effect of dulling Jane Austen's literary reputation rather than burnishing it.
Or, as Amy Patterson, from Chardon, Ohio, elaborated:
Andrew Davies took a clever satiric commentary on romance and turned it into a bosom-heaving Brontë-esque telenovela. By stripping away the satire he undid all of Austen's cleverness. I won't argue with the visuals (especially not with the Firth eye candy) but it falls flat when so much of the plot has been dumbed down and pre-chewed for an audience he underestimated. Also disturbed by the depictions of Mrs. Bennet as a shrieking panic machine and Mr. Collins as a slimy creep—both characterizations that have now become part of the modern Austen lexicon.
On the whole, though, there was a lot Austen love from readers: evidence of her stories and her insights and her words reaching out, across 200 years of history, to touch people's lives in ways you might expect—and ways you might not. This was how Joel Emmett, of Utah, explained his enthusiasm for Clueless: "I know a 75-year-old cowboy/folk painter who says it's his favorite film, and has watched it countless times. He watches rodeo and Clueless—nothing else."