Tell Us: Who's Your Favorite Jane Austen Character?
Editor's Note:
This article previously appeared in a different format as part of The Atlantic's Notes section, retired in 2021.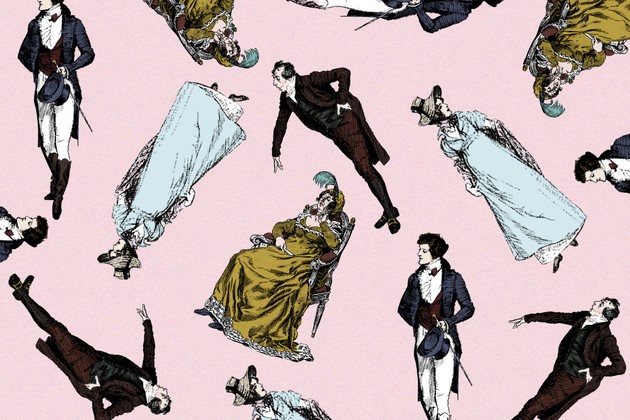 Just before she began writing Emma, Jane Austen called the novel's young protagonist "a heroine whom no-one but myself will much like." Emma Woodhouse is privileged, self-involved, often frivolous, and sometimes even (unintentionally) cruel. In her overconfident attempts at matchmaking, she repeatedly misinterprets signals and muddles relationships to the point of catastrophe. She lacks the wise-beyond-her-years insight and the intellectualism of most of Austen's protagonists. She's also my favorite of all Austen's characters.
When I was younger I loved witty, headstrong Lizzy Bennet and the diametrically opposed Dashwood sisters, self-contained Elinor and passionate Marianne. I enjoyed the pompousness of Mr. Collins and Lady Catherine de Bourgh and the sometimes awkward charms of love interests like Mr. Darcy and Colonel Brandon. I watched the 1996 film version of Emma and Clueless, a contemporary adaptation of the novel, but never felt much attachment to Gwyneth Paltrow's Emma or to Cher, who came off as shallow and lacking in genuine compassion.
It was only when I read Emma for the first time as a freshman in college that Emma Woodhouse really got to me. As Austen wrote her, Emma felt flawed in a way I could relate to: good-hearted and clever, but too wrapped up in her own world and too assured of her own opinions and talents. She felt like people I knew, or maybe even like me—like a fortunate young woman trying, and sometimes failing, to live well.
I've never encountered another literary character quite like Emma. Well-developed female protagonists—including those in Austen's other books—most often have some sort of edge: cynicism or anger or grief. But Emma doesn't. Emma is fun, and she makes Emma fun, too. She's open and optimistic, full of a youthful joie de vivre that permeates the whole novel. By virtue of circumstance and personality, she's romantically independent and intends to stay that way, but she's fond of conversation, of organizing and attending social events, and of dancing. She likes being around other people, and loves those closest to her earnestly, if clumsily. And at the end of the book, after she's made a mess of her relationships, she reveals a wholehearted capacity for empathy and for change, working to better understand the people around her, to soothe the hurt she's caused, and to become a kinder, more mature person.
What about you—who's your favorite Austen character? Do you favor Lizzy Bennet or the Dashwoods, like I did when I was younger? Are you a fan of Mr. Collins and Lady Catherine de Bourgh, like my mom, or a Mr. Bennet aficionado, like my dad? Let us know which of Austen's characters you like best, and why, in this form. We'll use your responses to start a new reader discussion next week, as we celebrate Jane Austen's legacy.