Tell Us: What's the Best Jane Austen Adaptation?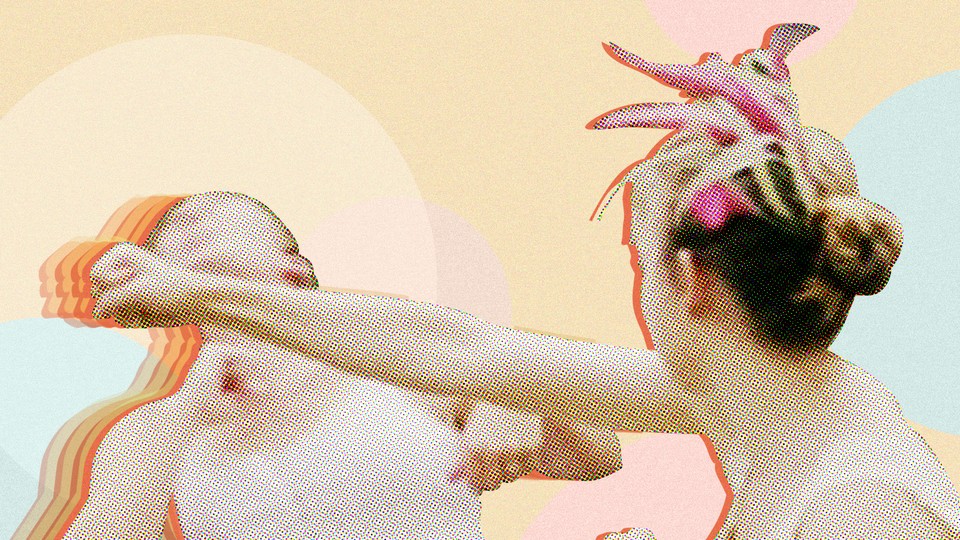 Editor's Note:
This article previously appeared in a different format as part of The Atlantic's Notes section, retired in 2021.
"The first rule of Fight Club is: One never mentions Fight Club. No corsets, no hat pins—and no crying."
That's Lizzie Bennet, dictating to her fellow fighters the rules that govern an improbable collective: Jane Austen's Fight Club. The club, portrayed in a viral YouTube video first posted in 2012, features a collection of Jane Austen's most notable heroines (Lizzie, Fanny, Emma, Elinor, Marianne) slapping each other, hitting each other, kicking each other, swinging off trees, flipping their way over well-manicured lawns, and in general acting like a bunch of punch-drunk characters in a Chuck Palahniuk novel. Except … lady characters. Feminist characters. Characters who, despite being boosted of breast and empired of waist, can totally fend for themselves. "You're very clever, aren't you?" an anonymous man asks Lizzie. "How's that going for you, being clever?"
Lizzie smiles a knowing smile. "Splendidly," she replies.
Jane Austen's Fight Club is essentially, as HuffPost summed it up after its launch, Pride and Prejudice and Punches. It is purposely absurd. It is also undeniably brilliant. It resonates—the original video currently has more than 1.5 million views on YouTube—in large part because it captures something essentially and enduringly true about the worlds Austen's books portray with such sharp specificity: the belligerence that underscores all the daintiness. The eat-or-be-eaten quality of the early 19th-century marriage market. The Darwinian forces lurking within the most innocent meal, or country ball, or "turn about the room." Women, in Austen's novels, are often sisters and friends who truly love each other; they are also cruelly cast as each others' competitors by a society that values women primarily for their willingness to become wives.
Jane Austen's Fight Club translates that, cleverly, to a world that congratulates itself for having progressed beyond such reductive views. And it isn't the only recent work to have done that. The video joined a teeming field of films and TV shows and writings and web videos, from the cheeky to the serious, that have sought to situate Austen's stories and themes within the drawing rooms of contemporary life.
There was, in 1995, Clueless, which located the story of Emma within Beverly Hills's Bronson Alcott High School. There was the short-lived TV show that followed it. There was, in 2001, Bridget Jones's Diary, based on Helen Fielding's newspaper column, which adapted the themes of Pride and Prejudice to the dating culture of early 21st-century England. There was, in 2004, Bride and Prejudice, a Bollywood-inflected take on the Austen novel's marriage plot. There was The Lizzie Bennet Diaries, the Emmy-winning, multi-platform series that imagined Pride and Prejudice's heroine as a grad student—still living at home, still prone to romantic (mis)adventures. There was Austenland, Keri Russell's 2013 comedy about the misadventures of a woman who spends her vacation at a Pride and Prejudice-themed fantasy camp. There was 2016's Eligible, the novelist Curtis Sittenfeld's "modern retelling of Pride and Prejudice." And there was also, in 2016, Pride and Prejudice and Zombies, which offered a feature-film take on some of the themes Jane Austen's Fight Club had explored: fighting, feminism, the hermetically sealed universe of life in Regency England.
Those have come, of course, in addition to the many straight-ahead adaptations of Austen that have sprung up in recent years: multiple versions of Pride and Prejudice, Ang Lee's Sense and Sensibility, and the recent Love and Friendship, based on the novella Lady Susan.
With all those—and many others—in mind, we'd love to know: What are your favorite Austen adaptations? You could make a very good case, I think, that Gossip Girl, with its Edith Whartonian antecedents, could also be read, given its omniscient narrator, its stifling setting, and its obsession with class, as a very loose Austen spinoff. Or you could stan for 2007's Becoming Jane, the gauzy Austen biopic starring Anne Hathaway. Or for Death Comes to Pemberley—the novel or the miniseries. Or for one of the many musical productions—Pride and Prejudice, Austen's Pride, Austen—that have been performed in recent years. Or for 1914's Old Friends and New Fancies: An Imaginary Sequel to the Novels of Jane Austen, which found the author Sybil G. Brinton writing fan fiction before that genre had a name.
Or you could, of course, argue for the BBC version of Pride and Prejudice, the miniseries that introduced Austen to a new generation of fans, and that, via a brooding dive into a murky pond, catapulted Colin Firth to his current fame.
Whatever your favorite, we'd love to hear about it. (Or, for that matter, if there's an Austen adaptation that especially rubs you the wrong way, we'd love to hear about that, as well!) We'll be talking more about revisions of Austen as part of our celebration of her life and legacy next week, and, as part of that, we're looking for your nominations. In this form, please share some of your favorite/least favorite tributes to Austen. We'll discuss them in more detail in an upcoming thread.