Send Us Your Best Jane Austen Memes
Editor's Note:
This article previously appeared in a different format as part of The Atlantic's Notes section, retired in 2021.
If Jane Austen were alive today, I like to think she'd be pretty at home on the internet. That eminently judgy narrator of hers would delight in quipping and snarking her way through Twitter and Tumblr—not to mention the fact that so many of the dynamics she observed in Regency-era England continue, even 200 years later, to be just a little too real. As one Tumblr user puts it:
Austen is a relentless observer of her world and its ironies, of her characters' absurdities and their redeeming graces. Austen analyzes a minor social interaction and sums up the universally acknowledged truths in it—those feelings you could hardly express, much less find funny, until you saw them elegantly summed up in one or two sentences. Austen, in other words, is excellent fodder for memes.
I'll be honest: I am by no means as well-versed in memes as I am in Jane Austen, although I did write at least two college papers on each of those topics. (Did you know, for example, that "Socially Awkward Penguin epitomizes the inverted self"? I assure you that it does.) But I'm partial to this widely covered series from the writer and blogger KC Kahler: a mash-up of Onion headlines and Austen-adaptation scenes that perfectly captures Austen's seamless blend of large-scale and small-scale social satire. Juxtaposing text in a crass or clinical tone with gauzy romantic imagery, she addresses broader issues like class and gender dynamics by noting how they play out in everyday awkward moments. Such as this uncomfortable truth that underlies the romance of the well-intentioned-yet-slightly-snobbish matchmaker Emma Woodhouse:
But again, my meme knowledge is limited. So I'm turning to you: What's your favorite Jane Austen meme? If you've created or spotted one that gets at the heart of Austenian humor (or pathos), please share it on Twitter and Instagram with the hashtag #biAustentennial, and we'll post a roundup of some of our favorites next week.
Maybe you'll emulate this one from the Tumblr user janeaustentextposts, and wryly critique the economic realities of romance. Or go for the personally relatable, like this one from the Tumblr user whatwouldelizabethbennetdo. Or this one:
On that note, you might use one of Darcy's courtship don'ts for a Socially Awkward Pemberley: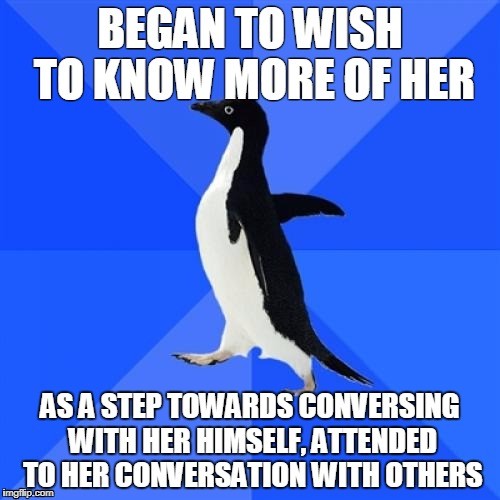 Or maybe think up a caption for the actor David Bamber's infamous, immortal, inimitable Mr. Collins Wave:
Shudder. Maybe not.