Poem of the Week: 'Battle Hymn of the Republic' by Julia Ward Howe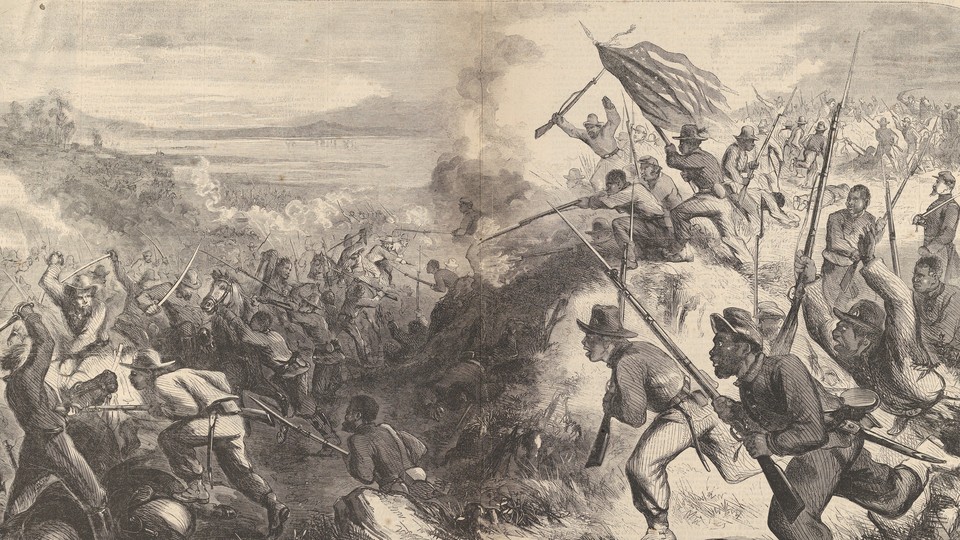 Editor's Note:
This article previously appeared in a different format as part of The Atlantic's Notes section, retired in 2021.
Earlier today, The Atlantic debuted its flagship podcast, Radio Atlantic, along with its theme song: Julia Ward Howe's iconic Civil-War anthem, "Battle Hymn of the Republic," reinterpreted by renowned jazz musician Jon Batiste.
The lyrics of the "Battle Hymn" premiered in our pages in February 1862, a little more than 155 years ago, for the price of four dollars. The song captured the spirit of the young magazine, which had been founded less than five years earlier with the aims of ending slavery and advancing "the American idea." And it resonated similarly with the moral and patriotic ideals of the embattled Union. As Dominic Tierney wrote in 2010:
During the Civil War, the "Battle Hymn" became a rallying cry of the northern cause, reprinted a million times, and sung on a thousand marches.
Like The Atlantic, the song endured long after the abolitionist cause won the day. Of its lasting impact, Tierney observed:
The story of the "Battle Hymn" is the story of the United States. The song … is a hallowed treasure and a second national anthem. We have turned to it repeatedly in national crises. The "Battle Hymn" has inspired suffragists and labor organizers, civil rights leaders and novelists—like John Steinbeck in The Grapes of Wrath.

But most of all, the "Battle Hymn" is a warrior's cry and a call to arms. Its vivid portrait of sacred violence captures how Americans fight wars, from the minié balls of the Civil War to the shock and awe of Iraq. … It would endure as America's wartime anthem long after the guns fell silent in 1865.
The song has retained a special significance for us at The Atlantic, too, embodying the remarkable history and guiding principles of the publication even now, a century and a half after we first published it. As our editor in chief Jeffrey Goldberg says on Radio Atlantic, "Julia Ward Howe's poem was the best investment of four dollars our magazine has ever made."
Here are the opening lines of the "Battle Hymn":
Mine eyes have seen the glory of the coming of the Lord:
He is trampling out the vintage where the grapes of wrath are stored;
He hath loosed the fateful lightning of His terrible swift sword:
                       His truth is marching on.
You can find the rest of the lyrics here. Then, watch Jon Batiste reinterpret the classic melody and read about the meaning behind his modern arrangement. And don't miss the first episode of Radio Atlantic, where you can listen to Batiste play the song in full, hear the story behind the original composition of the "Battle Hymn," and learn more about its significance to The Atlantic.
---
Related Video