Poem of the Week: 'America' by Alicia Ostriker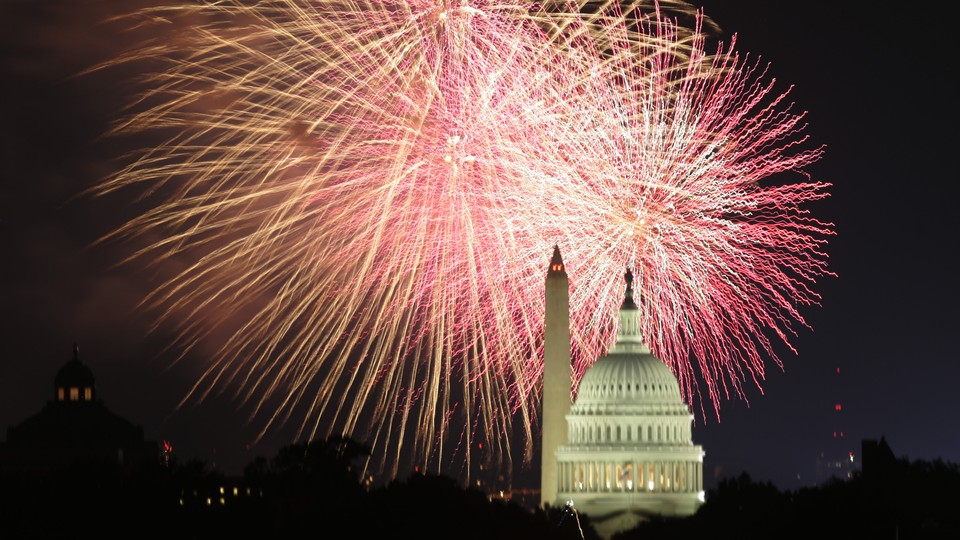 Editor's Note:
This article previously appeared in a different format as part of The Atlantic's Notes section, retired in 2021.
In honor of this week's Fourth of July celebrations, here are the first few lines from Alicia Ostriker's "America," from our July/August 2012 issue:
Do you remember our earnestness our sincerity
In first grade when we learned to sing America

The Beautiful along with the Star-Spangled Banner
And say the Pledge of Allegiance to America

We put our hands over our first-grade hearts
We felt proud to be part of America
It felt a little strange to celebrate my country's Independence Day this year, as the Trump administration remains under investigation for possible collusion with Russia and obstruction of justice, millions of Americans await the possible loss of health-care coverage they've come to rely on, and the country stays mired in a Middle Eastern conflict that's already spanned most of my lifetime and cost trillions of dollars and hundreds of thousands of lives. The spirit of the holiday was just so incongruous with how I've been feeling about America in recent months: angry, sad, embarrassed, and more than a little pessimistic.
But I grew up in a time of uncertain patriotism, too, coming to national consciousness as the United States invaded first Iraq and then Afghanistan, and as President George W. Bush's administration oversaw the erosion of civil liberties and a descent into national—and then global—recession.
I also grew up in a place I loved. I grew up road-tripping to national parks, excitedly learning to use technologies dreamt up in Silicon Valley, and reading Whitman, Faulkner, Dickinson, Vonnegut. I grew up surrounded by people who came from somewhere else in search of some kind of better life, and hearing stories about ancestors who did the same. I grew up in the midst of a constant cacophony of protest, struggle, and criticism aimed at building a fairer and more peaceful country for the future; in a place where the only thing stronger than the dissatisfaction with the way things were often seemed to be the drive to make them better.
Ostriker captures some of the ambivalence I've long felt in her later stanzas, settling into a persistent and almost unsettling rhythm as she describes a shift in her perception of the country over time. Moving beyond her idyllic beginning, she weaves pettier adolescent gripes into broader and more abstract concerns, so that the poem almost seems to mature as its speaker does. In the penultimate stanza she writes,
this land is two lands
One triumphant bully one hopeful America
But, she concludes,
Sometimes I still put my hand tenderly on my heart
Somehow or other still carried away by America
And, despite its worst transgressions, sometimes I do, too.