Your First Encounters With Austen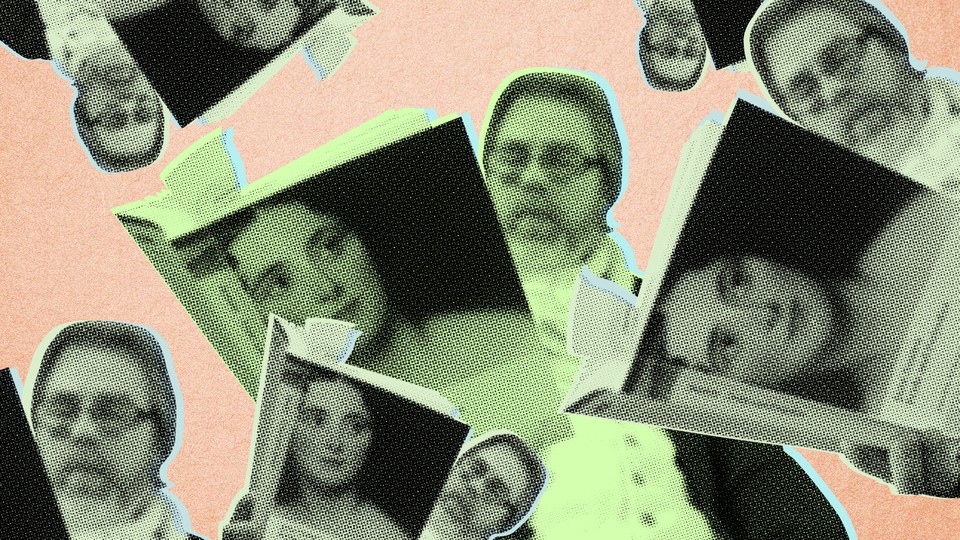 Editor's Note:
This article previously appeared in a different format as part of The Atlantic's Notes section, retired in 2021.
I'll admit to tearing up, the way you do for the end of a really good novel, as I read through the scores of reader responses we received to our callout for Jane Austen introduction stories. I'm not sure what came over me. Maybe it was the charm of all those far-flung fans connected through one author's work—or maybe just the swoony effects of watching people fall in love with a book, almost a hundred times over.
For that's how numerous readers described it—a dizzy rush, a thrill of discovery, reading breathless through weekends or into the night. Many of their first Austen encounters came on syllabi or summer reading lists—as Jane Booth of Charlotte, North Carolina, puts it, "the classic book report assignment that seemed tedious then but feels now like a wrapped gift." Others were more serendipitous. Sandra Hutchison in Troy, New York, picked up a copy of Pride and Prejudice forgotten by her babysitter, quickly fell in love—and grew up to write novels herself. Hasifleur in New York City found a book of Austen quotes resting on the toilet tank in a relative's bathroom: "After the first time I picked it up, going to the bathroom was never the same." And Angela in California received her auntie's crumbling copy of Pride and Prejudice after she "listed 'your favorite book' on a birthday wish list one early-teenage year." She still has the book, now bound with a rubber band. She also has a daughter named Darcy.
Juti in Kansas comforted a widowed friend with tea and biscuits and Sense and Sensibility. Amy in Maryland read Persuasion a dozen times while her husband was deployed with the U.S. Navy. Shannon Kitchen in Texas read Emma aloud to her 13-year-old daughter, and "watched her fall in love just as I had years before." Katherine Hysmith in North Carolina sprinkles Austen through her doctoral work in food studies, while Ismini Sykioti in Athens writes of a lifelong love of literature: "I am head of English at an international school today because I watched Pride and Prejudice in 1996."
And indeed, if our informal survey of Austenites revealed anything, it's that those first encounters with the stories we love can have long-term consequences. Below are three stories from readers who found that their love of Austen transformed, shaped, and even helped to save their lives.
First up, Abby Gordon of Massachusetts recounts a true Austenian romance:
I was about 13 when my mom brought home a book-on-cassette-tape version of Jane Austen's Pride and Prejudice from the library. It was probably 10 or 12 tapes in all, and when my mom reached the end of the first tape she excitedly handed it over to me, along with an old portable cassette player. For the next week, we played a kind of leapfrog, the person behind waiting impatiently for the other to finish the next tape. We were enamored with the witty Elizabeth Bennet, alternately angered and charmed by the arrogant but dignified Mr. Darcy, taken in by Wickham, and thoroughly ticked off by Mrs. Bennet. It was probably the only time during my teenage years that my mom and I agreed so completely.

Years later, I was living for the summer in Buffalo, New York, with a group of other young adults. Almost immediately, I found myself employing Austen's inimitable quotes in an ongoing battle of wits with one of my housemates: Having disliked each other during college, David and I coped with living in the same house by trash-talking each other in a manner worthy of Lady Catherine de Bourgh.
Late that summer, I returned home one day to find two books on my desk—a tiny, leather-bound copy of Emma and Northanger Abbey, and an outrageously illustrated copy of Pride and Prejudice. A note beside them explained that David had found them while cleaning out an attic at work and thought of me.

In Pride and Prejudice, Lizzy Bennet laughingly tells her sister that her love for Mr. Darcy began when she saw his beautiful grounds at Pemberley. I might say the same about those books. David and I began dating at the end of that summer, and this spring we got married. The sermon at our wedding mentioned Jane Austen.
That's an auspicious beginning for an Austen-loving household—the kind of place where Michael Ormsbee of Oakland,  California, grew up:
My sisters and I were practically raised on her work. My grandfather is one of those venerable gentlemen who, as Virginia Woolf once said, react to a slight upon Austen's genius as if it were an insult offered to the chastity of their aunts. One of my earliest memories is the night, about 20 years ago, when A&E broadcast the BBC version of Pride and Prejudice. We were at my grandparents' house in the Adirondacks, with no internet or anything except for a TV and a VCR. We recorded all six hours, painstakingly stopping and starting again to cut out the advertisements, aware even then that we were watching a masterpiece unfold.

Until I went to college, I thought of Jane Austen as an eccentric almost-ancestor whose exploits were the stuff of family legend. I loved the books, but they were there to enjoy, not to study. If I was going to major in English literature, I thought then, I would need to find something meatier. Something with more gravitas (possibly translated from Russian). And certainly something I didn't reread every year and occasionally on rainy days.

Then I read D.A. Miller's Jane Austen, or the Secret of Style, and I discovered how much more there was to Austen's work than I had realized. By senior year, I ended up writing a thesis on free indirect discourse in Austen's novels (thereby successfully taking one of the beloved pillars of my childhood and sucking all of the fun out of it, as my sisters have often reminded me). In the fall I'm starting a graduate program in English at the University of Rochester, where I will focus on narrative authority in the English novel and procrastinate by writing steampunk fantasy novels set in Regency England.

It's hard to measure the full impact that Jane Austen's work has had on my life, but it has certainly been a positive one. And I've been blessed to grow up surrounded by the "small band of true friends" who love Austen, even now, 200 years after her death.
Renee, a reader in the Netherlands, found a home in that band as well. Her first reaction, on seeing the Pride and Prejudice film starring Keira Knightley at 15, was disappointment: "My mother had promised me a wet-white-shirt scene, which isn't in the 2005 film." But she came to rely on Austen's world for much more:
Jane Austen was my rudimentary tool for mental self-care throughout my high school years. I struggled in school, struggled in friendships and in my family, but Georgian England was a wonderful place to escape to—for a teenage girl who dreads social interaction, there is something wonderful about a world so ordered and contained by norms and codes of behavior. (I was in a high-achieving school and I had a terrible fear of failure. If I am honest, I sometimes saw the attraction of a society where nothing much seemed to be expected of a young woman beyond sitting in a room and waiting for people to call on her.)

I loved Austen so much that I got my dad to read Pride and Prejudice. I don't even remember encouraging him that much: I think he did it to better understand me. Looking back, this means a lot to me. Even better, he enjoyed it! and he especially loved Mr. Collins. I remember feeling gratified by this because when I was a teenager, I related to Elizabeth Bennet mainly because of her bond with her father, whose dry sarcasm reminded me of my dad.

Meanwhile, my increasingly desperate parents waded through bureaucracy to get me help from social workers, therapists, you name it. In hindsight, I am sure I suffered from severe social anxiety and depression, but at the time no one could quite tell us what was wrong with me. I remember feeling lonely and defective pretty much all the time, and none of these professionals ever made me feel better except for one: a diagnostician who asked me what I was into. When I said Austen, she told me she had once seen Colin Firth (Mr. Darcy!) in New York! Over a decade later, all those well-meaning child psychiatrists, or whatever they were, sort of blend together in my memory, but this moment I recall vividly because it was the only time someone seemed to be talking directly at me, with me. It made me feel a little less alone.

Fast-forward several years, and I am going to a prestigious American college on a Fulbright scholarship. It feels cheap to narrate my life this way: I struggled with suicidal depression all the way through college, and recovering from that involved more than watching the latest adaptation of Sense and Sensibility. Still, I suspect there is something sacred about Austen's world to young women who feel overwhelmed and out of step in their own.
As another one of those young women, I can heartily second Renee on that last point—and so can Sümeyye Ceren Özkan, a reader in Turkey, who has this to say about what Austen taught her:
She helped me learn my own competence, value myself as a woman without worrying much about what others think of me, wander freely in my own mind, and finally realize that I am quite a normal person.