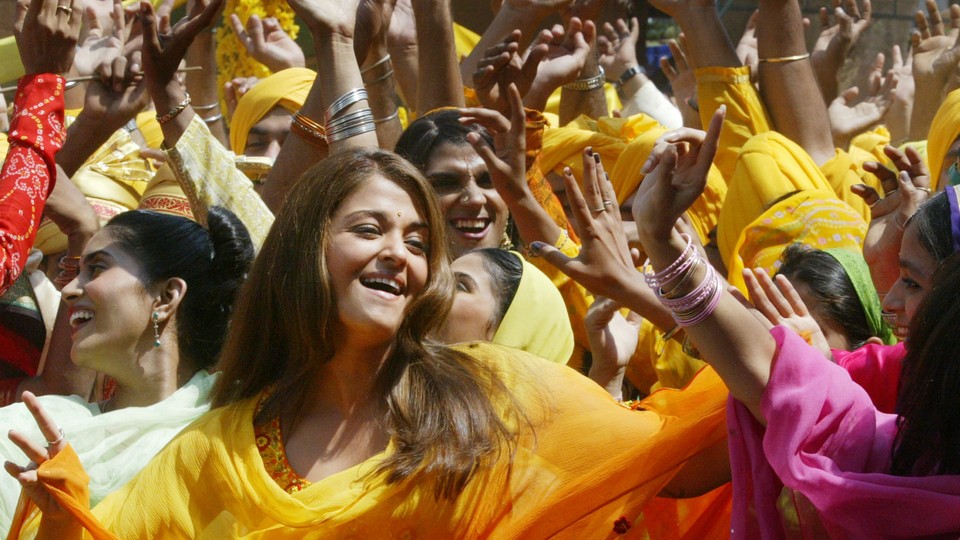 Editor's Note:
This article previously appeared in a different format as part of The Atlantic's Notes section, retired in 2021.
When we asked our readers to tell us how they first encountered Austen, we got responses from all over the world—Greece, Australia, Ireland, Portugal, South Africa. One reader, Sümeyye Ceren Özkan, described reading Pride and Prejudice for the first time in a Turkish translation; several others, including Silvia from Italy, said that Austen's novels were among the first books they read in English. But a notable pattern emerged among some Indian and Pakistani readers who said Austen's work illuminated social strictures in their own communities. Here's Amrit, writing from New York City:
Throughout my life I was encouraged by female relatives and the local Indian community to act, dress, and look pretty and put enormous attention into my outward appearance and reputation, as this would guarantee me successful male suitors. The same goes for my fellow Indian female friends, whose aim it was to marry and have children before 30. To them, marrying and keeping up with appearances was important.

It wasn't until I saw the 2005 Pride and Prejudice movie version with Keira Knightley that I felt inspired to begin re-reading the book at a mature age in my life (late twenties). I related to Lizzy Bennet's character and found it baffling how many things haven't changed in Indian society and societal norms for ladies. Lizzy comes to my mind each time I attend a social gathering and control myself from making a witty remark.

But I know that I am not alone in these experiences. I was a loner when my thoughts and actions weren't in agreement with my female friends or society, but I felt a sense of belonging while reading Jane Austen. In a sense, her writing gave me a shield of confidence to tackle the world as an independent female and to not let anything get in the way of my individuality.
Similarly, Soniah Kamal, a Pakistani writer who now lives in Georgia, got hooked on Austenian sarcasm at 14, when she received Pride and Prejudice as a gift from her aunt:
I was a sarcastic teenager myself, much to my mother's shame—who will marry you?—and I fell in love with Austen's sauciness and irony. Being a girl from Pakistan, I knew marriage was my sole reason for having been born as far as society was concerned, and it wasn't long before Jane Austen had turned into my clever Jane Khala, an honorary Pakistani Aunty, the one who had chosen to remain single against the odds. And Mrs. Bennet and Mr. Collins and Elizabeth and Charlotte, everyone, went from being characters in a beloved novel to everyday Pakistanis all around me. (I affectionately call my mother Mrs. Bennet; she used to be most un-amused but then I got married and had children and everything suddenly became very funny.)

When it came time for me to choose a spouse, I turned to Austen.
Elizabeth and Darcy are a great love story, but for me they are a greater respect story since, over the course of Pride and Prejudice, both learn to respect, value, and trust each other's opinions. The same is the case with Emma accepting that she does value Mr. Knightley's opinions in Emma—in fact, I believe all the successfully matched love stories in Austen's novels are based on respect and trust. And so, while love is essential, I also knew that I wanted to marry a person I could respect and trust and who would respect and trust me.

My favorite character in all the novels is Charlotte Lucas. I see in Charlotte the difference between a gold digger and a person forced by society's strictures to make, and stay in, an expedient marriage—the fate of so many women in my culture. Charlotte's is the quintessential arranged marriage, but arranged by herself, and therein I learned what choice means—because Charlotte does have a choice.

I think it right to say that Charlotte was my gateway into writing stories and plays based on Jane Austen's characters, then transposing them and turning them into their Pakistani counterparts battling society as well as finding love in these modern times. For instance, my Charlottes and Elizabeths have good jobs and their own incomes, and yet given South Asian social norms, marriage remains not just desirable but often crucial.
We also heard from Laaleen Sukhera, the editor of  Austenistan, a forthcoming anthology of Austen-inspired stories set in Pakistan (she wrote to us from a London meetup of the Jane Austen Society of Pakistan she founded).*  Just as Soniah described, Austenistan addresses both modern and traditional aspects of Pakistani women's lives. Here's Laaleen talking to the magazine Masala! about Austenistan in 2016:
Pakistan and indeed, much of South Asia, may at times be regarded as the land of Austen; twenty first century in many ways, yet quintessentially Jane's world in others, much more so than the western hemisphere. Many social conventions among the fashionable society of the Regency era are still found in Pakistan today: the importance of making 'a good match,' the influence of families over individuals and couples, elements of social decorum, maintaining a fashionable veneer at all costs, social criteria for eligibility in marriage, saving oneself for marriage—or at least appearing to, striving for a facade of propriety, and, of course, inherent snobbery. There are ladies who appear privileged yet are often bound by conventions that define them first by their fathers and then by their husbands. …

But we are twenty first century women after all. Austenistan talks about romance and matchmaking—this aspect is indeed similar to Austen's world—but our stories also include protagonists' professional and academic ambitions that are the privileges of living in our current era.
And after all, regardless of the social context, the humor and drama of Austen's work is pretty timeless. As Anjali Galgotia in Delhi remembers:
In 1974, my all-girls convent school in a small town in India staged a version of Pride and Prejudice called I Have Five Daughters. The entire play was somehow set in the Netherfield drawing room. The backdrop, painted in-house, consisted of windows looking out over trees in a garden. The previously used costumes, pulled out of Matron's trunk and re-fitted, belonged to no particular period. Mr. Darcy was a girl with very long hair that was somehow scrunched up to appear manly, with only a few strands escaping occasionally.

And yet ... it was perfectly Austen. Elizabeth was lively and Darcy intense. Mrs. Bennet, with her huge protruding eyes, hammed it up magnificently. Jane was beautiful and good, Bingley amiable, Caroline Bingley sweetly malicious. Mr. Collins's proposal had us in splits and Mr. Bennet delivered his verdict on it with perfect timing. This amateur production managed to capture the spirit of the book with complete accuracy. Now I know how it was done—all the words of the adaptation were Austen's own.

Off I went to the library. I was 12 at the time and had never before heard of Jane Austen. But that enchanting, unforgettable school production was the revelation that set me off on a lifelong love affair.
---
*This note originally stated that Soniah Kamal is one of the contributors to Austenistan; however, she is no longer involved with the project. We regret the error.