Building a Career From Austen Fandom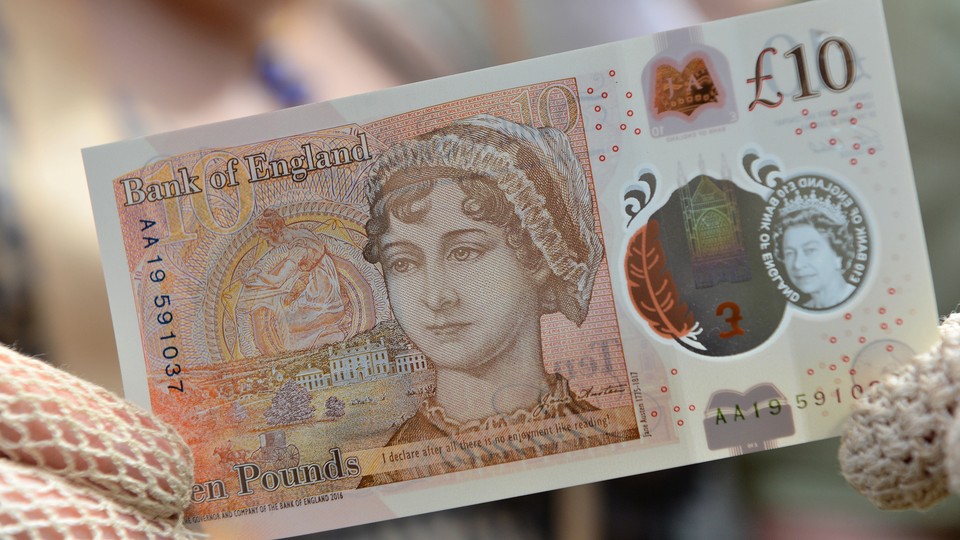 Editor's Note:
This article previously appeared in a different format as part of The Atlantic's Notes section, retired in 2021.
Among the many readers who answered our call for Jane Austen introduction stories, we heard from some whose early encounters with the novelist's work had blossomed into careers. Take Linda Troost, an academic who acquired her first Austen book by chance in 1972:
I fished a late–19th-century copy of Pride and Prejudice bound with Northanger Abbey out of a billiard table. I was at a National Trust (USA) book sale at the Woodrow Wilson House and the book cost $1. I originally bought it just for the nice binding.

I've ended up making an academic career from the study of Austen, especially adaptations, and I've done it in collaboration with my academic husband. It doesn't get better than that.
Check out one of Linda's books, Jane Austen in Hollywood, here.
Lauren in Chicago is technically Team Brontë on the literary podcast she co-hosts—but her love for Austen helped lead her to start it:
Pride and Prejudice was required summer reading for me during middle school.  I instantly fell in love and carried it around with me all summer long. I had to buy a second copy before the school year started because I took my original copy to the pool where it met with an unfortunate ending.

Jane Austen is responsible for so many of my friendships.  My best friend Hannah and I spend an inordinate amount of time arguing over who is the best Austen heroine.  Obviously it's Lizzy Bennet, but Hannah insists that it's Anne Elliot, which is nonsense.  

We argue about it so much we started a podcast about Jane Austen and we get to now argue with other Janeites all over the world. It's called Austen vs. Bronte: Bonnets at Dawn.  I spend my days researching and talking Austen in preparation for an upcoming book based on the podcast.
More on that book:
Amy Patterson, from Ohio, now runs an Austen-centric bookstore. Her introduction to Austen came when she was about 3 years old:
My mother, who had read the Abridged Classics version of P&P when she was 11 (and then immediately re-read it, because she could not understand why Elizabeth married that grouchy man!) read it aloud to my older sister and I, usually sitting in the hallway between our two rooms so we could both hear her as we fell asleep.

All three of us (my mother, sister and I) spoke to each other in Austen-speak, identifying people we knew as one character or another. (I am, of course, "The Marianne.") We watched the 1980 BBC miniseries over and over again, until the tapes wore out, and attended each new movie release as a trio.

As a young child, I began attending meetings of the Jane Austen Society of North America (JASNA). It was a constant in my life from that point forward, and in 2006 I attended my first JASNA Annual General Meeting in Tucson, AZ. There was a woman there selling books, and my mother had developed a relationship with her over the years, having bought many of the titles she carried.  A few years later, when I was (very) pregnant with my first son, my mom called me and asked how I would like to run a bookstore with her, since the previous owner was thinking of getting out of the business.

Although mom still works as the VP of a jet engine repair facility, I'm a journalist, and my sister has a Master's degree in counseling, since 2008 the three of us have run Jane Austen Books, the only bookstore in the world dedicated to books by and about Jane Austen. Through the bookstore, I became acquainted with the owner of Jane Austen's Regency World magazine, and I am now an editor. I also give lectures to JASNA meetings and occasionally get the chance to travel with my mom or sister to England to buy books we can't otherwise get in the U.S.
Robin Epley in California shares how her Austen appreciation went viral:
I don't remember the first time I ever encountered Jane Austen's work. What I do remember is what happened when I really became a fan. I wanted to learn how to run social media pages so I could stop fabricating my Millennial "expertise" in the subject on my resume. So I started a Facebook page called Drunk Austen, where I could mash up my love of literature with my love of a good cocktail; added about 45 of my friends from my English Lit department days; and asked my friend Bianca to help. Austen had been a part of my life before that day in 2013, but since then, as Drunk Austen ballooned from 45 followers to just over 36,000 on Facebook alone (we also have a YouTube, Twitter, Tumblr, and a WordPress blog), I think of that day as the day I really became a Janeite.

I think the first thing people think of when they hear I run an online Jane Austen fan club is that I'm stuck in 1813. That's not true, and I too often feel compelled to dispel the stereotype. I get embarrassed when my family or friends try to describe what Drunk Austen is because I'm very careful about how I present it to people. I always start off by telling people that I run an online book club. If they respond favorably, then I will go deeper into my description. It's always fun to find a fellow Austen-lover—but I'm too defensive of Jane to listen to someone deride the fandom.

There's a tendency between Austenites to prefer the "right" adaptation, or the "right" book, and one of the things that Bianca and I have always pushed back on is that we are inclusive of everyone who comes to us. Loving Jane Austen is not solely for people who prefer Colin Firth's Mr. Darcy over everything and everyone else. I try to stop the in-fighting before it begins, but sometimes we go viral within the community and get a huge influx of followers who need to be reminded that we're all here for the same reason.
More on that reason from Robin's co-admin, Bianca Hernandez:
I've made so many amazing, lifelong friends through Austen. And my career revolves around social media, so I spend a lot of time interacting with communities online. It's really interesting to see thousands of Austen fans from across the world interact everyday. It speaks to her universal appeal that people from all walks of life can take a moment to laugh at Mr. Collins, swoon over Mr. Darcy or feel empowered by Elizabeth Bennet. I like to think that she'd like the idea of connecting people through her snark, long after she was done silently judging them from the corner of a drawing room.
Update: and speaking of those global connections, Cinthia in Mexico, is another academic who started a Jane Austen forum for Spanish-speaking fans:
More than 30 years ago, when I was not yet 12 years old, Persuasion came in a collection of World Literature sold at a supermarket. Each week, a new volume of the collection appeared and every week my mother bought them for the family library. It was love at first sight. I still keep the collection and my copy of Persuasion as a treasure.

Back then, it was next to impossible to find Jane Austen's books—she was completely unknown in my country. My need to read the novels I had not been able to find copies of in my own language was one of the reasons why I finally advanced in my knowledge of English. It took more than a decade for me to finally "meet" people who also knew about Jane Austen. But thanks to the internet, I arrived at The Republic of Pemberley.

Now, decades afterwards, not only do I moderate and manage JAcastellano (the first ever forum dedicated to Jane Austen in Spanish), but I also acquired a second bachelor's degree in English Literature, and my master's degree research is on translating Jane Austen.