Poem of the Week: 'The Cellist' by Galway Kinnell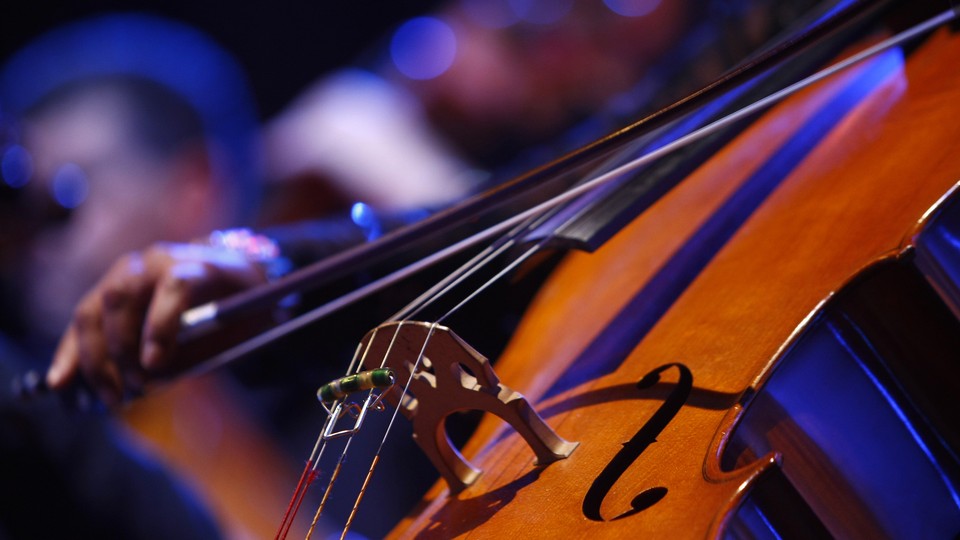 Editor's Note:
This article previously appeared in a different format as part of The Atlantic's Notes section, retired in 2021.
The late Pulitzer Prize- and National Book Award-winning poet Galway Kinnell excelled at creating immersive moments. The stanzas and scenes of his plain-spoken verse are grounded in physical detail and acute psychological insight, even as they explore more abstract philosophical territory. From his dark preoccupations—mortality, and the familiar ugliness of everyday life—he draws a sense of beauty and wonder that always resonates with me when I go back to his poetry.
"The Cellist," from our October 1994 issue, exemplifies a lot of the things I love about Kinnell's writing: that immersion in a scene, that empathetic insight into his characters, that entwinement of ugliness and beauty. In the poem, he describes a girl playing the cello as he watches from the audience. She's nervous for her solo, both before she comes on stage and as the performance begins:
Her bow niggles at the string like a hand
stroking skin it never wanted to touch.
Probably under her scorn she is sick
that she can't do better by it. As I am,
at the dreary in me, such as the disparity
between all the tenderness I've received
and the amount I've given, and the way
I used to shrug off the imbalance
simply as how things are
But as she plays, and as he watches, she becomes more confident and more passionately connected to her own music, until
At last she lifts off the bow and sits back.
Her face shines with the unselfconsciousness of a cat
screaming at night and the teary radiance of one
who gives everything no matter what has been given.
I love this ending, and this poem, and Kinnell's poetic voice. For more of the second, you can read the rest of "The Cellist" here. And for more of the last, you can read "Everyone Was in Love," from our September 2006 issue, here.