Poem of the Week: 'Bored' by Margaret Atwood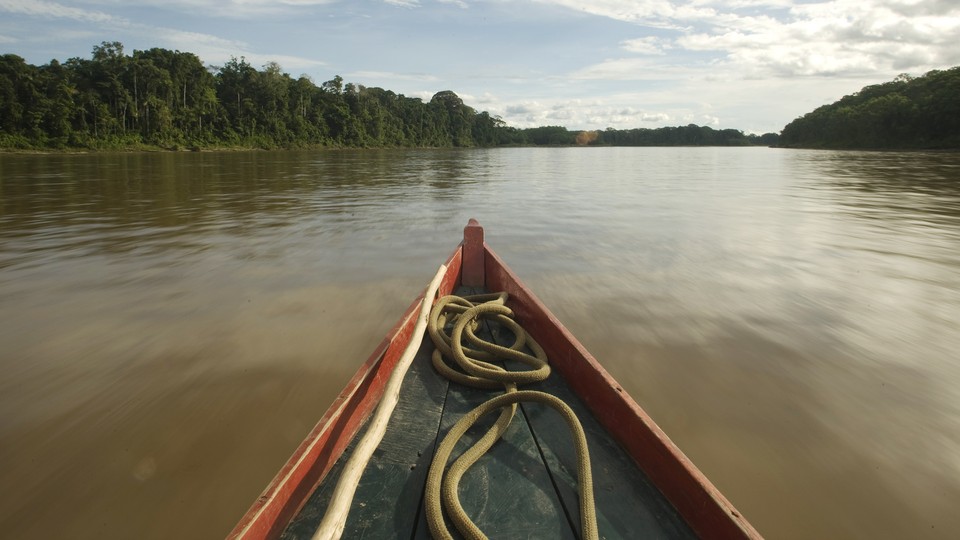 Editor's Note:
This article previously appeared in a different format as part of The Atlantic's Notes section, retired in 2021.
Whether because of the political events currently unfolding in America, the debut of the much-discussed Hulu adaptation in April, or a combination of the two, Margaret Atwood's The Handmaid's Tale, first published in 1985, has recently climbed back to the top of bestseller lists. Set in a dystopian future in which a totalitarian theocracy has taken over the United States, the novel, and the show it inspired, focus on the women subjugated under the new regime. The plot centers on these women's bodies: their fertility, their mutilation, their subjection to physical discipline and sexual violation.
In a 2014 discussion of the language in the book, novelist Edan Lepucki observed a broader trend in Atwood's writing:
Human beings like to forget their own bodies, and it takes being ill or turned on, or being threatened by the Supreme Court, to remember them. In fiction, there aren't enough bodies: breathing, eating, having sex, breaking down. Unlike a lot of other writers, Margaret Atwood reasserts the corporeal in all of her work. In an email today, a poet friend of mine wrote, "Then we walked to the public library, where we both took incredibly satisfying dumps." Let's not forget what makes us human, everyone. Atwood never does.
In our December 1994 issue, for instance, Atwood described being "Bored" not so much as a mental state as a series of mundane physical tasks, sensations, and observations:
                                                                         It
wasn't even boredom, it was looking,
looking hard and up close at the small
details. Myopia. The worn gunwales,
the intricate twill of the seat
cover. The acid crumbs of loam, the granular
pink rock, its igneous veins, the sea-fans
of dry moss, the blackish and then the graying
bristles on the back of his neck.
Sometimes he would whistle, sometimes
I would. The boring rhythm of doing
things over and over, carrying
the wood, drying
the dishes. Such minutiae.
You can read the full poem here and find more pieces by Atwood in our archives.