Poem of the Week: 'Beauty and the Shoe Sluts' by Mary Karr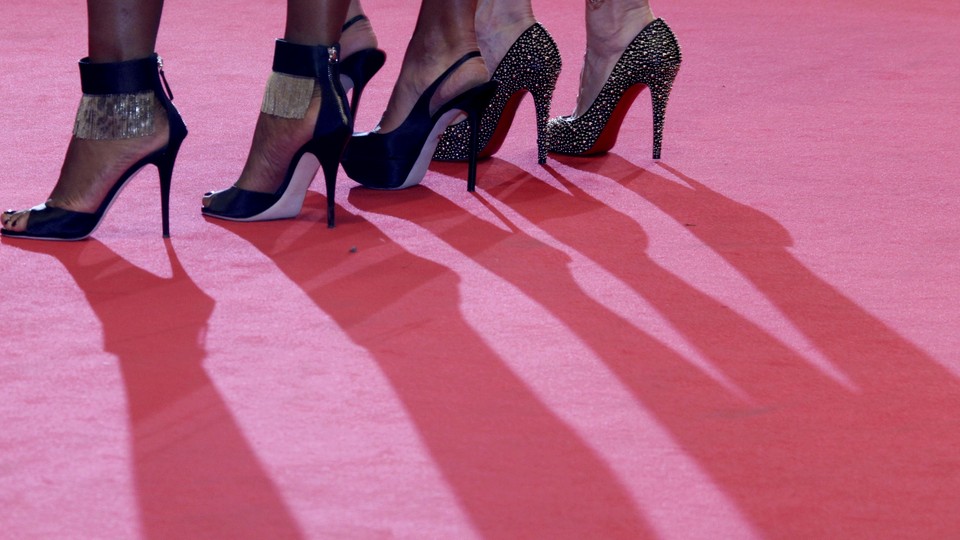 Editor's Note:
This article previously appeared in a different format as part of The Atlantic's Notes section, retired in 2021.
Last year, Mary Karr criticized high heels in an acerbically funny New Yorker piece, concluding with an appeal to women to shed their uncomfortable shoes:
Oh, womenfolk, as we once burned our bras could we not torch the footwear crucifying us? … Our feet and spines will unknot, and high heels will fade from consciousness along with foot-binding and rib removal to shrink your waist. The species may stop reproducing, but who the hell cares.
Our staff writer Megan Garber cited that essay in her own engaging discussion of heels, which considers the style in the context of the shoe-design firm Thesis Couture's effort to produce stilettos with the height, but not the accompanying discomfort, of a typical pair. As Megan wrote, "Heels do—heels are—so much more than mere footwear":
Heels at once lift women up and hold them—hold us—back. And, of course: We choose, day by day and week by week and Special Occasion by Special Occasion, to let them do it. Heels are both a claim of femininity and a test of it. They are the bindings of the willfully bound.

In that sense, while Thesis's comfortable heel represents a small feat, so to speak, it also represents a very large one: a counterargument to a longstanding assumption—rendered in fashion as well as in many other areas of the culture—that womanhood is defined, in part, by the ability to bear pain. Not just in the sense of "suffering for beauty," as the saying goes, but in the deeper sense that the collision of those two things is integral to feminine experience.
Karr explored these collisions—between style and suffering, femininity and restriction—in "Beauty and the Shoe Sluts." The poem, from our January 1998 issue, comprises an intimate familial scene and powerful frankness reminiscent of her best-selling memoirs. As she watches her mother search through a closet of well-worn dancing shoes, Karr recalls the Greek tragedy of The Bacchae, in which the god Dionysus lures the women of Thebes out of civilization and into an ecstatic frenzy of pleasure and violence—until
           dawn spills light

on their blood-sticky mouths,
and it's like every party you ever stayed
too late at. In chorus they sing and grieve:

"Will they come to me ever again,
the long, long dances?"
And Mother holding a black-patent ankle strap

like a shackle on a spike heel
it must've been teetering hell to wear glances
sidewise from her cloudy hazel eyes and says, "No,

praise God and menopause, they won't."
You can read the full poem here and find some of Karr's other verse in our archives for more of her wry—and often affecting—insight.