Still Innovating, 160 Years On
The Atlantic's new homepage allows us to showcase more of our best journalism at once.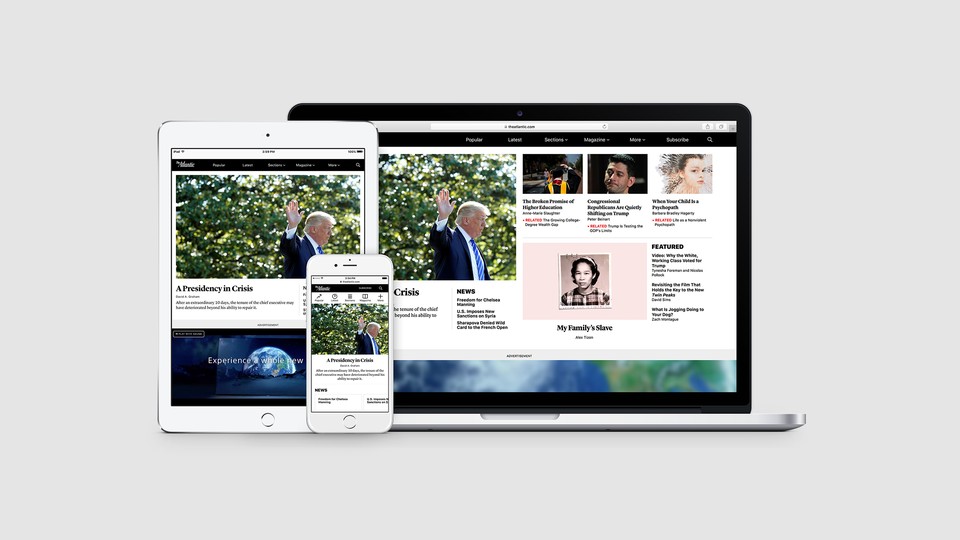 The casual reader could be forgiven for assuming that The Atlantic is not a hot center of high-velocity digital innovation. We are, after all, 160 years old. But here's something I've learned in my brief time as editor in chief: Our digital leaders are so twitchy, so creative—and so impatient—that as soon as they launch a digital innovation, they begin renovations on that innovation.
Such has been the case with our homepage, our digital face to the world. In April 2015, we launched an entirely new, visually arresting homepage, which represented a substantial improvement over the previous homepage. (I started posting on The Atlantic's website in 2007, when it was constructed from glue, string, and the tears of its writers. "Bloggers" was what we were called back then, if I remember correctly.)
Within a month of the launch, our team was already thinking of ways to make the homepage better, to help it keep up with the faster pace, the rising quality, and the ever-greater volume of our journalism. The redesigned homepage we are launching today is the product of this two-year rethink, and of an immense amount of hard work by our designers, editors, and developers, the best in our business.
What makes this homepage better? So many new features, too many to catalog in this short note, but let me start with one word: density. You will find double the number of "above the fold" stories on the homepage as you would have found yesterday. This new density (miraculously, our designers managed to achieve it without diminishing clarity) goes a long way toward solving a key problem of ours, that of too much great journalism, coming out too fast. This is a caviar problem, to be sure. But figuring out what ought to be featured on the homepage at any given moment has not been an easy thing to do. This new design helps us feature more of our best work at once.
Our best work is produced by some of the best writers in America. The previous homepage sometimes hid our writers, and videographers, from view. You will see that this new homepage makes it far easier to find your favorite Atlantic contributors, and their best, and most recent, work. Speaking of recent work, something we've heard from our readers for a while is that they've wanted an easier, more obvious way to keep up with our latest postings. What we've done on this new page is to make the "river" of most-recent posts easily accessible, and easily understandable.
It took a small army of Atlanticists to make this new design a reality, from the leaders of the digital editorial operation, J.J. Gould and Matt Thompson, to Kim Lau, our senior vice president for digital and business development, and Betsy Cole, the executive director of digital product and technology. The designers, DJ Brinkerhoff and David Somerville, were crucial, of course, as were the developers, Frankie Dintino, Jason Goldstein, and Jeremy Green. Other key players include Elias Adepoju, Alex Bellows, Ariel Beteta, Portia Burton, Chris Davis, Lindsey Emanuel, Adam Felder, Caitlin Frazier, Emily Goldberg, Caty Green, Megan Johnson, Kevin Mahoney, Mike Monroe, Hayley Romer, Jesse Waldele, and Josh West.
I hope you enjoy their work. I'm thrilled by what they've accomplished.