Your Favorite Poems on People and Power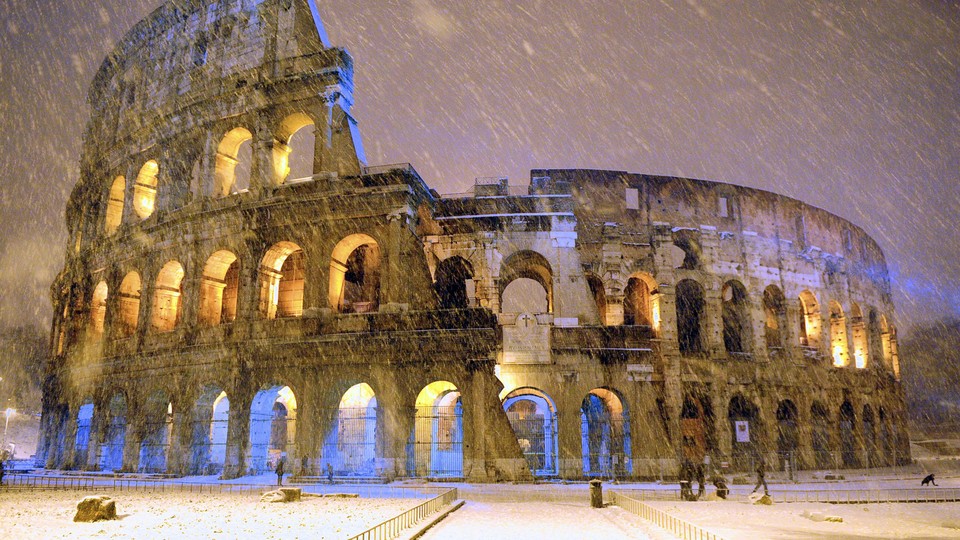 Editor's Note:
This article previously appeared in a different format as part of The Atlantic's Notes section, retired in 2021.
To wrap up our series for Poetry Month, we'll begin with a poem about an ending: W.H. Auden's "The Fall of Rome." From reader and Atlantic contributor Michael LaPointe:
If a civilization is measured by its margins, then the Rome of Auden's poem is instantly recognizable as in a state of decay:

The piers are pummelled by the waves;
In a lonely field the rain
Lashes an abandoned train;
Outlaws fill the mountain caves.

As the poem's roving eye approaches the city, its rhymes generate startling juxtapositions—"Fantastic grow the evening gowns" resolves with "The sewers of provincial towns"—that impress the empire's gross inequalities. A single stanza can go from top to bottom with scalpel-like swiftness, an autopsy of Rome's rotten anatomy:

Caesar's double-bed is warm
As an unimportant clerk
Writes I DO NOT LIKE MY WORK
On a pink official form.

Line by line, society rends itself apart, all to the music of Auden's formal perfectionism—a hypnotic sleepwalk to the edge. And yet the poem is more than a litany of collapse. Auden famously revised his early, radical political anthems to reflect a less simplistic worldview, and in "The Fall of Rome," we're given a sense of the wisdom that prompted those revisions. The poem closes with two astonishing stanzas, the lens zooming out to take in the space around the poem, a world indifferent to grand, world-historical catastrophes:

Altogether elsewhere, vast
Herds of reindeer move across
Miles and miles of golden moss,
Silently and very fast.

Beauty resides, spontaneous and preserved, in that "altogether elsewhere." It's we who have built Rome, and must fall with it.
Full poem here.
***
On that note, Brett Kirkpatrick writes:
Etheridge Knight offers us a wisdom that transcends geography, history and race. ​In "Hard Rock Returns to Prison from the Hospital for the Criminal Insane" he helps us to understand what happens when our heroes are broken:

He had been our Destroyer, the doer of things
We dreamed of doing but could not bring ourselves to do,
The fears of years, like a biting whip,
Had cut deep bloody grooves
Across our backs.
Full poem here.
***
Rahel's favorite poem is "The Brooklyn Village Womyn," by Melissa Kiguwa:
learned to wrap stories around shoulders for protection. wound pashmina memories from shoulder blade to shoulder blade making sure neck to back covered. times is chilly so she always wants to be secure.
Find it in Kiguwa's collection Reveries of Longing, and read an interview with the poet here.
***
Elena Yee recommends "So Much Happiness," by Naomi Shihab Nye:
When the world falls in around you, you have pieces to pick up,
something to hold in your hands, like ticket stubs or change.

But happiness floats.
It doesn't need you to hold it down.
It doesn't need anything.
Happiness lands on the roof of the next house, singing,
and disappears when it wants to.
You are happy either way.
Read the rest here. From Elena:
On my 40th birthday, I received a book of poetry from a friend who was also an English professor. The last thing I wanted to read was poetry, as I didn't see myself as a poetry person. Yet another professor had often said that the reason I didn't like poetry was that I simply hadn't found "my poet."

Then I read "So Much Happiness" and I felt for the first time that someone was able to describe in full what happiness felt like for me. It was also two years after 9/11, and so many of us, including myself were still trying to process that tragedy for our nation, wondering if we could ever experience what it meant to be happy again.

So when I read this poem, I felt I had finally found "my poet." A couple of years later I had the privilege of meeting Ms. Nye and introducing her at a college convocation—and no greater joy or happiness did I experience than in that moment.
***
Wm. has a similar story of finding poetry at a dark political moment:
I came of age in the early '70s, which, as you know, were incredibly depressing years. After political assassinations, the Vietnam War, protesting college kids being shot on campuses, Nixon's Watergate and on and on, I really wasn't optimistic about the future. There was always the threat of violence that hung in the air like filthy low-hanging clouds. Everyone around me—my siblings, my parents, my teachers, my coaches, my community—seemed really quite depressed.

The only thing that opened my eyes as a young teenager to a different, more interesting world came from the music that my brother listened to and the books that my sisters brought home. I used to carry around a small paperback anthology of poetry. Of course, I was attracted to the poems that were not too challenging and those which an angsty teen could appreciate.

One poem that I liked, and which I had memorized, was "I Am Not Yours" by Sara Teasdale:

I am not yours, not lost in you,
Not lost, although I long to be
Lost as a candle lit at noon,
Lost as a snowflake in the sea.

It perfectly expressed my dual desires to be loved and yet to disappear from the world.
Read the rest here.
***
More on those dual desires in Olivia's recommendation, "Gacela of the Dark Death" by Federico Garcia Lorca:
     I want to sleep for half a second,
a second, a minute, a century,
but I want everyone to know that I am still alive,
that I have a golden manger inside my lips,
that I am the little friend of the west wind,
that I am the elephantine shadow of my own tears.
Full poem here.
***
For another quiet escape from the world, Lark has loved Elinor Wylie's "Velvet Shoes" for decades:
I love the feeling of quiet and stillness it evokes. I see the empty, darkened streets, I hear the soft crunch of footsteps on snow, I sense the closeness of two people alone in the vast, silent whiteness:

Let us walk in the white snow
          In a soundless space;
With footsteps quiet and slow,
          At a tranquil pace,
          Under veils of white lace.
Full poem here.
***
Likewise, Elizabeth captures a brief, beautiful, and intimate moment:
A few years ago when my kids were really little I wanted to get poetry into their ears because I was a good English major and it had been put into mine by my grandfather, who read Shakespeare and other classics aloud all the time. "No one can take a poem away from you once you have it, Elizabeth." He advocated old-school memorization as a tool for the successful life.

So I issued a challenge to my kids: Memorize a poem. They were four and six; they didn't go for it, or take the bait of the hot fudge sundaes I offered for completed memorization. As if I could train them! Ha! I was not raising performing poetry monkeys!

But I memorized one. Maybe, in fact, the challenge was for me. Because I needed a poem that would express the strong, strange beauty of watching my children grow up—and nothing does it better than Linda Pastan's "The Dogwoods." This poem captures the fleeting beauty of things that inevitably change:

we give up everything
for beauty, lose our sense
and our senses, as we do now
for these blossoms, sprinkled
like salt through the dark woods.
Read it here, and listen to a recording here.
***
To wake you up from that dreamy mood, Annie recommends "more flinching" by Heather Phillipson:
i
came
close to his
WET dog's eye
& a FAT tear shared
animal PAIN sloshed &
seeped in between us —
"darling I'm sorry you
were born a dog &
people notice it"
,

This is the beginning of the poem, and it's also my favorite part. It really struck me, and I think the main reason for that would be because of the ferocious and unabashed nature of her words. She unapologetically delivers a punch to the gut straight from the get-go, as if to say "let those scared be scared away." There is also the striking aesthetic of the teardrop of words and (later) the big, big exclamation mark; I love the purposeful playing with the sizes and shapes.

And wow, the language; I can only begin to convey the brilliance when I say it's crude yet somehow elegant at the same time. I can see everything, too; everything she describes in the poem is painted in my mind's eye.
Read more here.
***
Bert describes Edgar Allen Poe's "Eldorado" as "a fever dream about the deadly, lonely, necessary journey of desire":
Gaily bedight,
   A gallant knight,
In sunshine and in shadow,   
   Had journeyed long,   
   Singing a song,
In search of Eldorado.
Full poem here. From Bert:
Poe's critics have typically piled on him for awkward and stagey rhymes, manic and halting flow. But these things were the source of his genius. It is that manic, hypnotic quality which leaves a permanent impression in our imaginations stretching long past adolescence. I imagine everyone has a lost city of some kind that they are searching for.
***
And there's an object well worth searching for in Brian's recommendation, "Let America Be America Again" by Langston Hughes:
O, let America be America again—
The land that never has been yet—
And yet must be—the land where every man is free.
The land that's mine—the poor man's, Indian's, Negro's, ME—
Who made America,
Whose sweat and blood, whose faith and pain,
Whose hand at the foundry, whose plow in the rain,
Must bring back our mighty dream again.
Read the rest here.