The Trauma of Migration in Bhanu Kapil's Schizophrene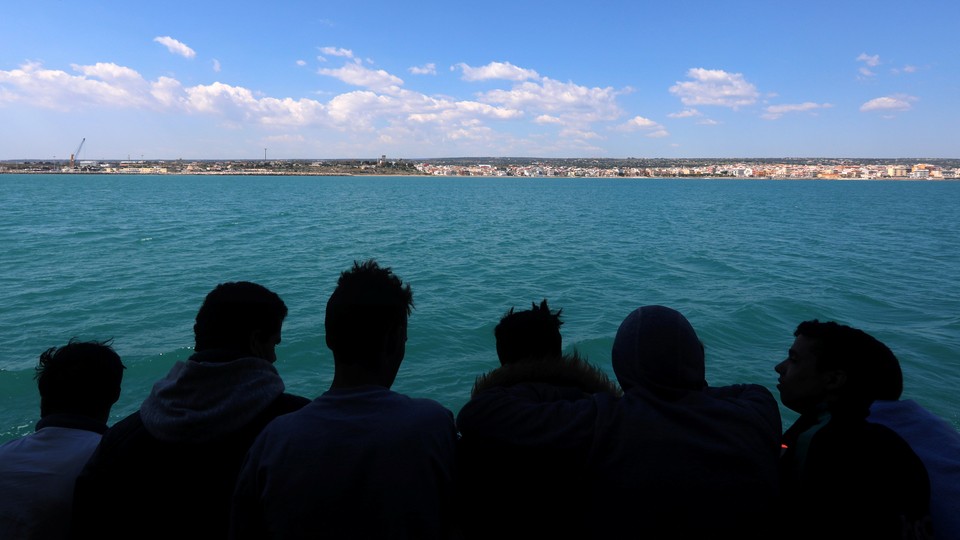 Editor's Note:
This article previously appeared in a different format as part of The Atlantic's Notes section, retired in 2021.
I started and finished Bhanu Kapil's Schizophrene on my bus ride to work: 45 minutes flat. When I got off, I felt a little woozy—and not because I was reading on a moving vehicle.
Schizophrene is a smattering of impressions, in no particular order, from the journey of a migrant. The writing is part fiction, part poetry, part performance art, and, perhaps, part memoir—Kapil is a British-Indian writer who lives in Colorado, and her verses in Schizophrene flit back and forth between her worlds: India at the time of partition, Britain, and the "dark brown fields" of Northern Colorado. The images she creates are violently in flux, and heavy with the trauma of constantly leaving and arriving, but never belonging. This passage, towards the beginning, gave me goosebumps:
The ship docked, and I found my home in the grid system: the damp wooden stool in the bath, a slice of bread with the cheese on it, and so on. All my life, I've been trying to adhere to the surface of your city, your three grey rectangles split into four parts: a red dot, the axis rotated seventy-six degrees, and so on.
By now, I've adhered myself to the grids of many new cities. I grew up in New Delhi, and briefly lived in Dallas during middle school, when my parents  flirted with the idea of immigrating to America and ultimately decided against it. But I came back to America for college, and now live in Washington, D.C. At this point, I've lived in the country for 10 years, apart from a stint in London.
I am lucky in that I moved around by choice—a sanctioned choice, affirmed by the documents in my nightstand drawer. That is not a luxury awarded to all migrants. People walk through deserts to put food on the table, only to be treated like malicious invaders. Some escape unimaginable circumstances, traverse oceans toward shores that have advertised themselves as beacons of opportunity—only to realize, once they land, that they're not wanted there. If they're told to leave, they must withstand the violence of repeated departure. If they're allowed to stay, they must offer up their former identities in gratitude.
Those of us who can afford to "stand in line" are also at the mercy of an elusive velvet rope. And if we get in, we'll be asked, time and again, to choose between who we are here and who we were before: Where are you really from? The answer is not easy. As immigrants, we're neither here nor there, and in both places at once—like ghosts walking in and out of crowded rooms.
Later on in the book, Kapil writes:
Later that night it rained, washing the country away. A country both dead and living that was not, nor ever would be, my true home.
Does she mean the country she left behind or the one she lives in? Likely, it's both.