We'd Like to Share Our Favorite Poems With You
Editor's Note:
This article previously appeared in a different format as part of The Atlantic's Notes section, retired in 2021.
April is National Poetry Month, which makes it a good time to celebrate The Atlantic's literary heritage. As our poetry editor, David Barber, wrote in 2010:
For more than 150 years and counting, The Atlantic has published poetry in virtually every issue. It's safe to assume our founding braintrust wouldn't have had it any other way. Among their number were several poets of no uncertain stature, and with no bit part in what we now like to call the national conversation. They aimed to have their say on the pressing matters of the day, but they were equally bent on channeling the literary spirit of the age. They wanted their good gray columns of type to resound with reasoned discourse and enlightened thinking, but they also wanted them to sing.
This month, we'll honor that history with a daily poem from our archives. And we'll also honor the poems that speak, or sing, to us now: Each day for the rest of April, we'll post a poem recommended by one of our staffers on this thread.
We'd like to hear your favorites too: If you'd like to respond to one of our picks, or share one of your own, please send us a note at hello@theatlantic.com. But to start us off, here's W.H. Auden's "Lullaby," which begins:
Lay your sleeping head, my love,
Human on my faithless arm;
Time and fevers burn away
Individual beauty from
Thoughtful children, and the grave
Proves the child ephemeral:
But in my arms till break of day
Let the living creature lie,
Mortal, guilty, but to me
The entirely beautiful.
It's a love poem, but a strangely distant one: Auden's speaker treats the lover beside him as almost an abstraction, denying his individuality and anticipating his own unfaithfulness almost from the very first lines. Later on, he rejects hopeful romantic murmurings as the "pedantic boring cry" of "fashionable madmen."
It would all seem breathtakingly cold, if not for the deep tenderness he shows for his lover's (and his own) "mortal, guilty" qualities. The flip side of his radical distance is an equally radical empathy—love not for one person, but for nothing less than humanity itself.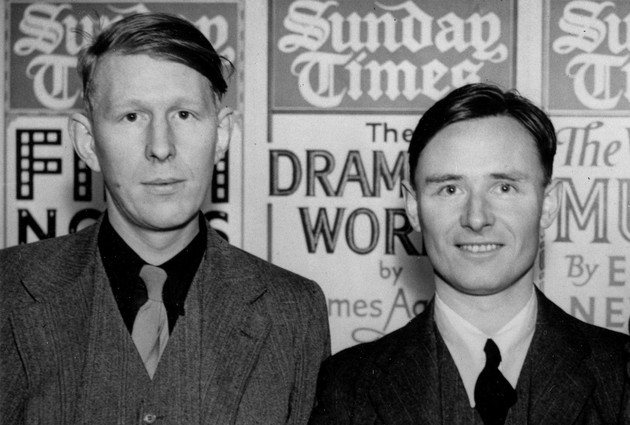 Auden is one of my favorite poets—I've written about him in Notes before—and this relentless, cerebral self-consciousness is part of what I love about his work. Deep feeling seems to go hand-in-hand with doubt and even cynicism; he's skeptical of sentimentality, yet acknowledges deeper meanings behind it. A poem like "Lullaby" gets at the full contradictory scope of a human experience, at once expressing and picking apart its meaning—and that dual purpose, I think, may be why people write poetry. It's certainly why I read it.