Poem of the Day: 'Song and Story' by Ellen Bryant Voigt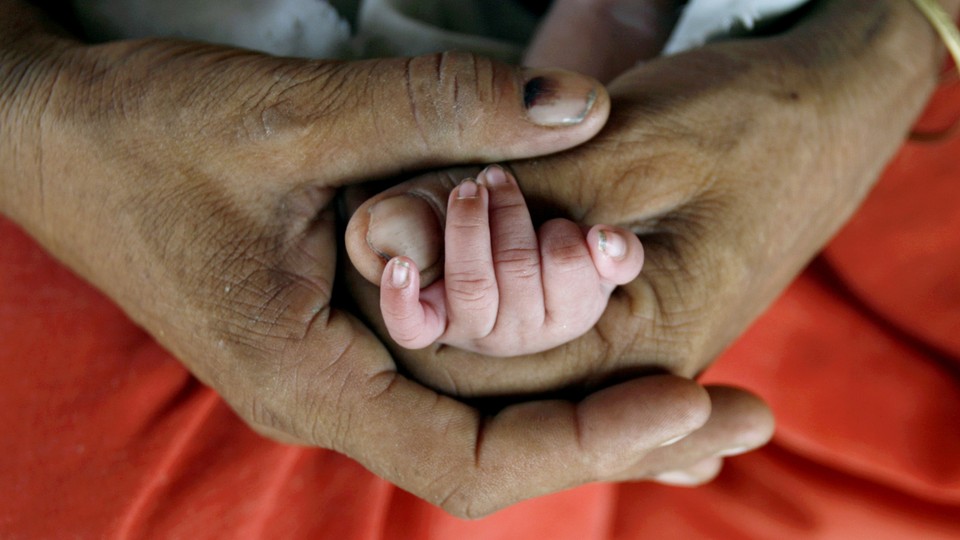 Editor's Note:
This article previously appeared in a different format as part of The Atlantic's Notes section, retired in 2021.
Ellen Bryant Voigt's "Song and Story," from our May 1992 issue, begins with a poignant scene between a mother and her infant daughter:
The girl strapped in the bare mechanical crib
does not open her eyes, does not cry out.
The glottal tube is taped into her face;
bereft of sound, she seems so far away.
But a box on the stucco wall, wired to her chest,
televises the flutter of her heart—

news from the pit—her pulse rapid and shallow,
a rising line, except when her mother sings
Voigt returns to this moment again at the conclusion of the poem. But in the intervening stanzas she moves back and away from it, instead describing the mythical figure of Orpheus and his attempts to bring back his lost love with music. She links the two stories with a repeated refrain of
    old woman by the cradle, stringing beads
    old woman by the cradle, stringing beads
Voigt discussed the process of writing the poem in a November 1999 interview with The Atlantic:
"Song and Story" … began as a fragment—just the poem's refrain … Then the refrain connected itself to a couple of those concentrated narrative "summaries"—the stanzas about Orpheus. And those concentrated narrative summaries occur inside a dramatic frame: the child in the hospital, in a crib, with a tube down her throat so she cannot speak. That frames the whole poem, which then tries to explore that occasion, but in neither a strictly narrative nor a strictly lyric way. A lyric would put the mother by the crib and have the mother speak. I have written such a poem. The narrative structure would follow how the child got there. It would bring the child to the hospital, raise the possibilities, then resolve them. And that would happen in time. What I wanted to do in "Song and Story" was some new third thing.
The result is a poem that's emotionally and formally complex, a union of different and apparently contradictory elements—lyric and narrative styles, familial and mythic moments—that is more than the sum of its parts.
That impulse to break out of familiar forms and create something new has distinguished Voigt's poetry throughout her long and variable literary career. Go here to find more of her poems in our archives.