Poem of the Day: 'Mockingbirds' by Mary Oliver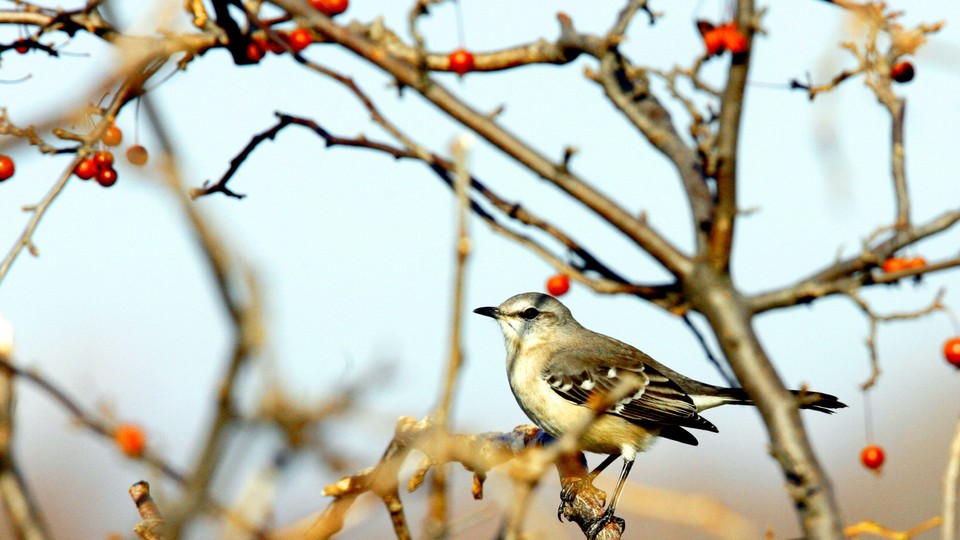 Editor's Note:
This article previously appeared in a different format as part of The Atlantic's Notes section, retired in 2021.
Today marks the end of National Poetry Month, so I'll leave you with some verse from one of my favorite poets. From our February 1994 issue, here's a bit of Mary Oliver's "Mockingbirds":
This morning
two mockingbirds
in the green field
were spinning and tossing

the white ribbons
of their songs
into the air.
I had nothing

better to do
than listen.
This poem is beautiful in a quiet way: the short lines, the plain language, the simple, lovely images. Oliver excels at writing these idyllic natural scenes, conjuring forests or rivers, summer days or snowy nights, with just a few compact stanzas.
My favorite Oliver poems are the ones that don't just describe those landscapes, but also draw sincere wisdom from them. At her best, Oliver is full of concise but profound insights: about survival, about goodness, about mortality and purpose—and, in "Mockingbirds," about the essential act of listening.
In a broader sense, that's what I love about all good poetry: its ability to get at the heartbeat of the world, at the beauty and emotion and significance that thrums at the very core of things, and put it into words.
Our archives are full of poems like that. Luckily for me, this month I had nothing better to do than listen.