Poem of the Day: 'For the Union Dead' by Robert Lowell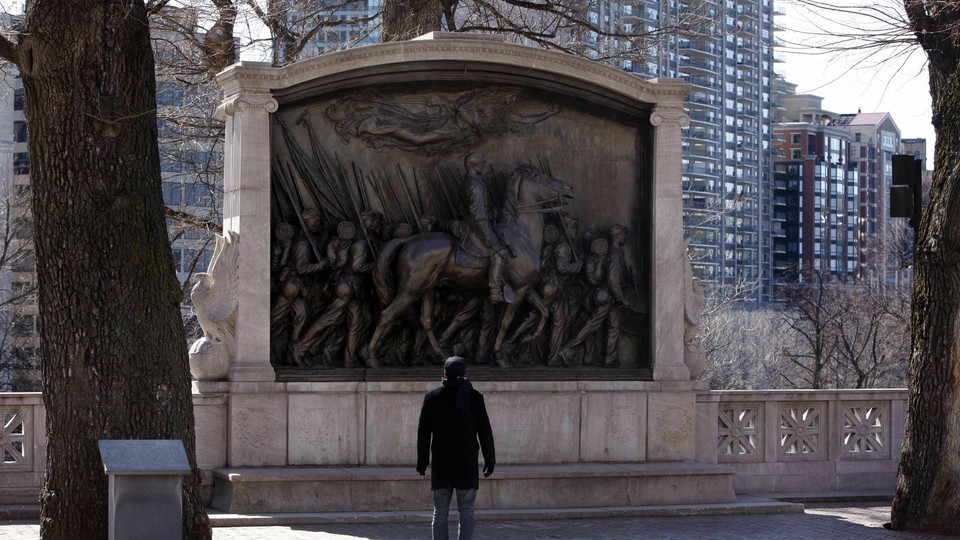 Editor's Note:
This article previously appeared in a different format as part of The Atlantic's Notes section, retired in 2021.
The Civil War began on this day in 1861, when Confederate forces fired on Fort Sumter in South Carolina.
I grew up in northern California, far from the battlefields on which the conflict was fought. My local forerunners were Spanish explorers and gold seekers, not musket-wielding soldiers; the historical sites around me commemorated losses, celebrated victories, and acknowledged demons that had nothing to do with slavery or sectional conflict.
It wasn't until I moved to Massachusetts six years ago that the Civil War began to feel close and real to me, and that I really began to grasp its complicated impact. The state abounds with mementos, from buildings and streets named after abolitionists to numberless memorials for lost soldiers and local heroes. The war, and the fierce political and moral disputes that led to it, are as physically present in and native to New England as they are absent from my California hometown.
It's this tangible local legacy that Robert Lowell confronts in "For the Union Dead," from our November 1960 issue. In the poem he considers one of Boston's many tributes to the war, the Memorial to Robert Gould Shaw and the 54th Massachusetts Volunteer Infantry Regiment, which shows Shaw leading a troop of African American soldiers into battle:
Two months after marching through Boston,
half the regiment was dead;
at the dedication,
William James could almost hear the bronze Negroes breathe.

The monument sticks like a fishbone
in the city's throat.
Its colonel is as lean
as a compass needle.
Unlike me, Lowell was born and raised among the memorials and mementos of Boston. In a 2001 column, Peter Davison described how Lowell's own historical moment and lived experience of his native city shaped "For the Union Dead":
In 1960 the Common was undergoing a typical twentieth-century exploitation, being plowed up by bulldozers to serve as the site for a cavernous underground garage. Few other poets would even have mentioned this enterprise, but Lowell perceived the building of the garage in a harsh and intimate light. He had, after all, been born only a stone's throw away, across from the house of Julia Ward Howe at the top of Chestnut Street, some of the houses on which had been designed by Bulfinch himself. Was the Boston Common not the place where young Bobby had been taken to play as a child? In what light could the heroism of a Robert Gould Shaw be appreciated when after only a hundred years the cherished common ground of Boston's, and Lowell's, past was being transformed into a stable for machines? And how could an onlooker in 1960 assess the motto that Saint-Gaudens had inscribed upon his memorial sculpture ("Omnia Reliquit Servare Rem Publicam"), the Latin declaration that Colonel Shaw—only Colonel Shaw, not his martyred black soldiers—had given up everything to save the State?
In the poem, Lowell weaves these personal and historical influences into uncomfortable knots of interconnection. He ties the celebration of Shaw to Boston's contentious civil-rights record; the remembrance of some tragedies to the dismissal of others; the destruction of one thing to the creation of something else from its disassembled parts.
The resulting work is at once a criticism and a commemoration, a reflection on history that's inextricably, unabashedly bound to Lowell's particular place, time, and personal experience. And, as our poetry editor David Barber wrote on the poem's 50th birthday, that internal conflict has made it an enduring classic:
"For the Union Dead" is now as canonical as they come, an indisputable masterwork by an indispensable American poet. But its vast renown hardly begins to account for its staying power. Originally commissioned as the keynote to the Boston Arts Festival in June 1960, Lowell's searching meditation on his native city's freighted heritage stands as a paradigm for a poet rising to the occasion in every sense of the word. A serviceable piece of commemorative verse would have done the job, but what Lowell instead wrote on deadline seizes the day for the ages—an ode, a jeremiad, and a lamentation all in one, a poem that has lost none of its urgency and authority after all these years.
Shaw and his regiment are long dead now, as is Lowell, and the Boston Common of Lowell's childhood has been broken down and reconstructed into something new. But the Robert Shaw Memorial is still there—one of the many tributes I found when I moved to Massachusetts. And Lowell's poem persists, too, a memorial in its own right.