Borrowing Weighty Words in Wisława Szymborska's 'Under One Small Star'
Editor's Note:
This article previously appeared in a different format as part of The Atlantic's Notes section, retired in 2021.
In 1997's "Poland's Blithe Spirit," our poetry editor David Barber perfectly describes the pleasure of discovering 1996 Nobel laureate Wisława Szymborska—"a supremely lucid and sublimely beguiling poet, as accessible as she is ineffable"—and her poems in translation:
With their brisk and bracing wit, vivacious intelligence, and buoyant sense of play, hers are poems of abundant charm—so charming, in fact, that it can take a while to realize just how disquieting they are.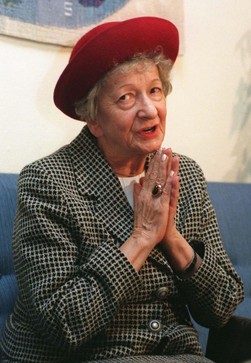 A wonderful teacher once broke down the word "translate" into its Latin parts: trans + latus, "to carry across," to ferry meaning from one side to another. For me, this sparked an interest in how translations vary, how the shift of one word or an alternate choice of phrase can profoundly change the music of the poem, or its resonance.
In one of my favorites, "Under One Small Star" (translated by Stanisław Barańczak and Clare Cavanagh), Szymborska serves as patron saint of serial apologizers, and of all those who labor with words.  In part:
Forgive me, distant wars, for bringing flowers home.
Forgive me, open wounds, for pricking my finger.
I apologize for my record of minuets to those who cry from the depths.
I apologize to those who wait in railway stations for being asleep today at five a.m.
Pardon me, hounded hope, for laughing from time to time.
Pardon me, deserts, that I don't rush to you bearing a spoonful of water.
I love the poet's humility in the face of the great crushing world, while still asserting a place in it, and the mix of the concrete and the intangible, playful and serious:
My apologies to the felled tree for the table's four legs.
My apologies to great questions for small answers.
Read the full poem here, or find it in Map: Collected and Last Poems.
Compare the patterns and repetitions in English with the untranslated original ("Pod Jedną Gwiazdką"), with its thicket of Polish consonants.  In his essay, Barber precisely identifies the language as "briery," the exact word for the stroked, accented, and curling-tailed letters, the spiky brambles of lines on the page, and the sweet/sharp images they evoke. I imagine it sounds thorny too, those wild consonantal roses.
Then look at "Under a Certain Little Star," translated by Joanna Trzeciak (who also translated Symborska's poems for the Atlantic over the years), or this translation from Sounds, Feelings, Thoughts (Magnus J. Krynski and Robert A. Maguire). (If you're really invested, someone even compiled a table of four translations side by side.)
These translators "borrow weighty words," to use Szymborska's own phrase, ferry them cross-language, "then labor heavily so that they may seem light." In this sense all poetry is translation.
It's hard to stop at just one Szymborska poem, so here's another. My favorite of her poems published in the Atlantic, 1997's "A Word on Statistics" (translated by Joanna Trzeciak) begins:
Out of every hundred people,

those who always know better:
fifty-two.

Unsure of every step:
almost all the rest.

Ready to help,
if it doesn't take long:
forty-nine …
… and tumbles on inevitably toward its last lines' gentle, brutal kicker.
Finally, her Nobel speech from 1996, on the power of asking questions, and of not presuming we know the answers, is worth reading today:
All sorts of torturers, dictators, fanatics, and demagogues struggling for power by way of a few loudly shouted slogans also enjoy their jobs, and they too perform their duties with inventive fervor. Well, yes, but they "know." They know, and whatever they know is enough for them once and for all. They don't want to find out about anything else, since that might diminish their arguments' force. … In the most extreme cases, cases well known from ancient and modern history, it even poses a lethal threat to society.

This is why I value that little phrase "I don't know" so highly. It's small, but it flies on mighty wings.
This note is a birthday present for one of my dearest friends, who has sent me countless poems over the years—may you all know someone who does the same!