Sylvia Plath's 'Tulips' and the Desire to Be Left Alone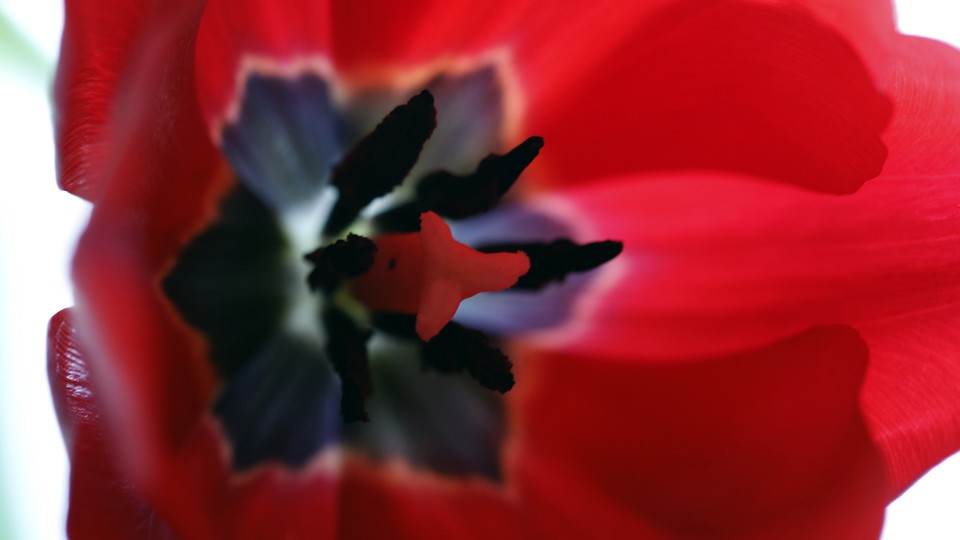 Editor's Note:
This article previously appeared in a different format as part of The Atlantic's Notes section, retired in 2021.
More than 50 years after her death, it's difficult to untie Sylvia Plath's poetic legacy from her sensational, tragic trajectory: a troubled poet who succumbed to her mental illness. And yet, she was so much more than those last days: a Fulbright scholar, self-aware and brilliant, with a voice that's evocative, turbulent, and unflinchingly confrontational. Like hundreds of other young women, I turned to Plath, with her pure, fearless authenticity, to ferry me through the tangle of growing up.
"Tulips," a poem published posthumously in 1965 in her most famous collection of poems, Ariel, burns with the achingly vivid imagery and unrestrained fervor that was Plath's trademark. Composed after a stint in hospital recovering from an appendectomy, the poem finds Plath lying in an all-white room as she considers a bouquet of tulips next to her:
The tulips are too red in the first place, they hurt me.
Even through the gift paper I could hear them breathe   
Lightly, through their white swaddlings, like an awful baby.   
Their redness talks to my wound, it corresponds.
They are subtle: they seem to float, though they weigh me down,   
Upsetting me with their sudden tongues and their color,   
A dozen red lead sinkers round my neck.

Nobody watched me before, now I am watched.   
The tulips turn to me, and the window behind me
Where once a day the light slowly widens and slowly thins,   
And I see myself, flat, ridiculous, a cut-paper shadow   
Between the eye of the sun and the eyes of the tulips,   
And I have no face, I have wanted to efface myself.   
The vivid tulips eat my oxygen.
Reading "Tulips" now, I am always struck by the stark clash of red and white, the almost carnivorous quality of the flowers, and the desperate desire to be left alone. It was a desire that began creeping up on me too as I passed from girlhood to womanhood and the world, which had once seemed so light and open, started imposing its constraints. Suddenly, my body was a double-edged weapon; at night, I walked quickly, with my arms crossed over my chest. Suddenly, I entered a world that had been set up without my permission and seemed, sometimes, to whittle my ambitions down. Tulips put into words all the feelings I could not say—portraying the real life of one women, and in doing so, revealing a part of us all.
In the midst of composing Ariel, Plath sensed that she was creating something special. "I am writing the best poems of my life," she wrote in a letter to her mother. "They will make me famous." So many years later, I read this poem and the pain in it—barely restrained by the language—still stings afresh.