The Violence of a Ticking Clock in Sylvia Plath's 'Monologue at 3 a.m.'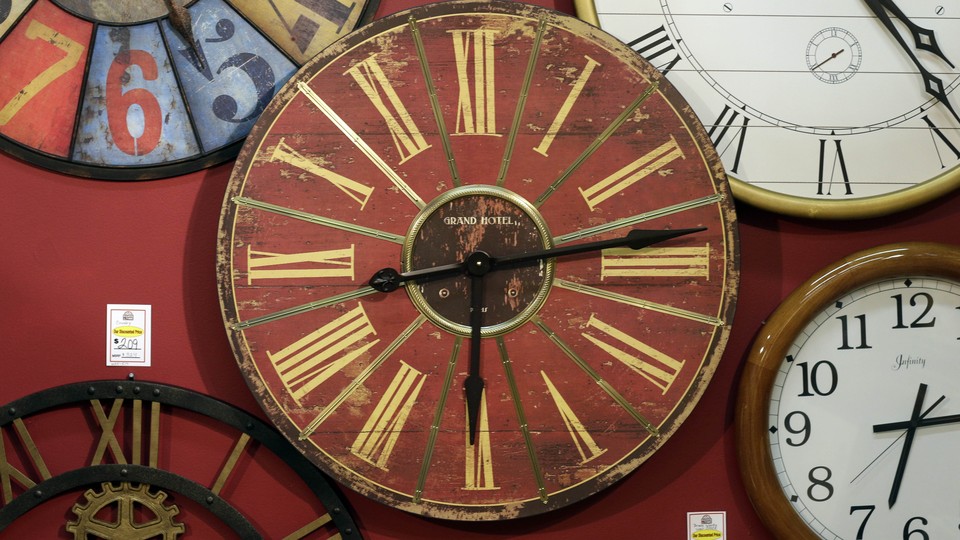 Editor's Note:
This article previously appeared in a different format as part of The Atlantic's Notes section, retired in 2021.
While everyone else slept, I'd be awake, sitting alone under the ugly tube light in the common room of my freshman dorm. I must have seemed like I was working hard, and to be fair, I was trying. But as the sun would rise, my heart would sink at the realization that somehow, I'd done it again. Night after night, I had let time just slip away.
In retrospect, I was going through some stuff. I'd just moved from India to the U.S. to attend college, and it hadn't been an easy transition. For me, "Who am I?" —a question at the forefront of most people's minds at that age—came with the addendum, "Who can I be in this new country?" The answers were many, rough, and unsatisfactory—hence, the nighttime paralysis. (The other part of it was that I had undiagnosed Attention Deficit Disorder, which I later learned manifests quite differently in women than it does in young men.)
But that's the context in which I read Sylvia Plath's Collected Poems, which includes works from 1956 to the time of her suicide in 1963. "Monologue at 3 a.m." comes toward the beginning of the collection. It's short—but in just two paragraphs, it captures the violence of the ticking clock I felt so viscerally:
... to sit mute, twitching so
under prickling stars,
with stare, with curse
blackening the time
goodbyes were said, trains let go,
and I, great magnanimous fool, thus wrenched from
my one kingdom.
Plath wrote in a shiny postwar world where women were told that everything was possible, and was acquainted with the anxiety of having too many choices (on paper, at least). In The Bell Jar, she famously likens the feeling to standing in front of a fig tree: Each possibility in front of her was a "fat purple fig" that slowly rotted, and then fell, as she stood frozen with indecision. In 2006, I, too, had found myself in a new world of possibility, hyperaware of trains I could miss and the kingdoms I might so easily abandon.