Beauty and Sanctity in Rumi's 'A Great Wagon'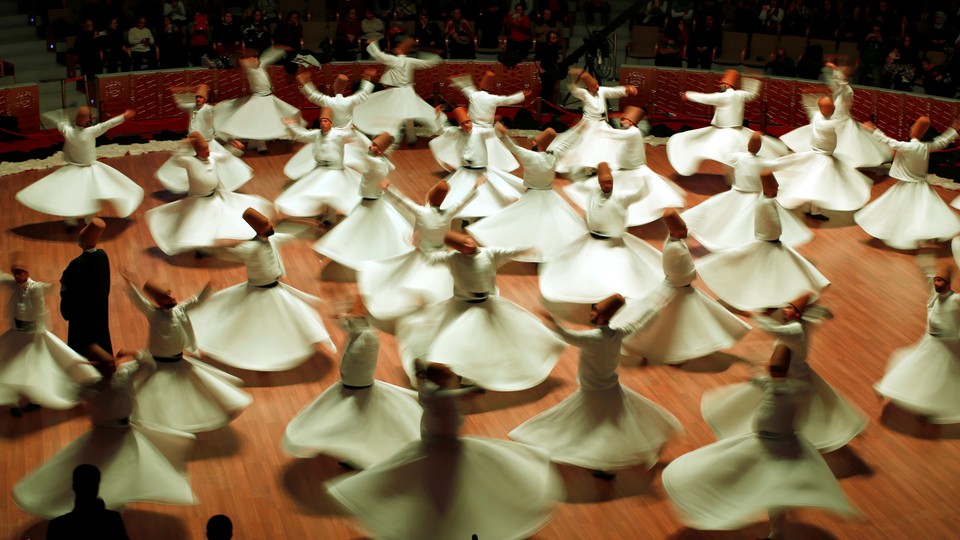 Editor's Note:
This article previously appeared in a different format as part of The Atlantic's Notes section, retired in 2021.
Poetry, like music, takes me back to the time when I first heard that piece. I first heard the work of the Sufi poet Jalal al-Din Rumi when I was in college. The priest at the Episcopal campus ministry, who became my mentor, would substitute a Rumi poem for a biblical reading or use it in one of his sermons. This poem, "A Great Wagon," is the one that has stayed with me over the last 12 years. You can read it in full here.
Like most of Rumi's poems, its themes are mystical, drawing out what connects humanity to each other and to the divine. This is my favorite stanza, because it talks about music:
Today, like every other day, we wake up empty
and frightened. Don't open the door to the study
and begin reading. Take down a musical instrument.
Let the beauty we love be what we do.
There are hundreds of ways to kneel and kiss the ground.
There's a simple story to follow: you wake up, don't do x, do y. The first several times I heard this stanza, I followed the story. But now when I hear or read these words, I am always drawn to the line, "Let the beauty we love be what we do."
It doesn't quite make logical sense—I'll find myself thinking through the syntax two or three times. But on an intuitive and poetic level, I think Rumi is talking about the sacredness and beauty of all life and work.
My priest was a living embodiment of these verses. Walking into his office, you were fifty times more likely to see him picking on his guitar than reading the latest on biblical exegesis. He'd be singing one of the songs he'd written, like this one that uses cooking and baking as analogies for embracing God. His music was the beauty he loved and he made it his life, just as Rumi instructs. When he died last month, "A Great Wagon" was the first thing that came to mind.