A Snapshot of Enduring Love in Thom Gunn's 'The Hug'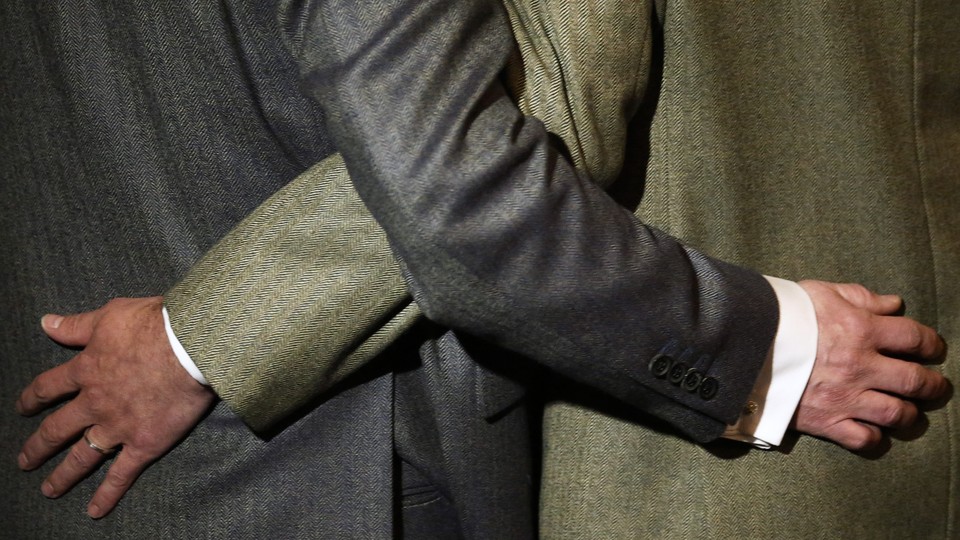 Editor's Note:
This article previously appeared in a different format as part of The Atlantic's Notes section, retired in 2021.
There are endless poems about the beginning and end of love. Poems celebrating loves that have somehow managed to endure years of familiarity, however, are somewhat thinner on the ground. That's a pity, because we need them—both to reflect many people's lived experience, and to give readers trying to make sense of a new love affair hope that the accompanying angst, joy, and general hysterics won't necessarily end up sputtering out in meaninglessness somewhere down the line.
Thom Gunn's poem "The Hug" provides a beautiful snapshot of this sort of enduring love. The poet, sleeping drunkenly after his lover's birthday party, wakes during the night. He finds himself locked in a tight heel-to-shoulder hug with his partner, in which the intervening years of their relationship seem to disappear:
It was not sex, but I could feel
The whole strength of your body set,
             Or braced, to mine,
         And locking me to you
     As if we were still twenty-two
     When our grand passion had not yet
         Become familial.
There's a bittersweet history hiding behind this simple poem from Gunn. A British poet who in his early years was linked to the bleak, clear-eyed austerity of The Movement, he escaped in the 1950s to commune life and, ultimately, gay liberation in San Francisco. Gunn lived to reflect devastatingly on the death of many friends from AIDS, but much of his later poetry, written before the epidemic's axe fell, contains a strain of clear contentment.
Does "The Hug" show the direction in which all our mature loves might happily progress? I certainly hope so.