Poems for Coping With Change on Inauguration Day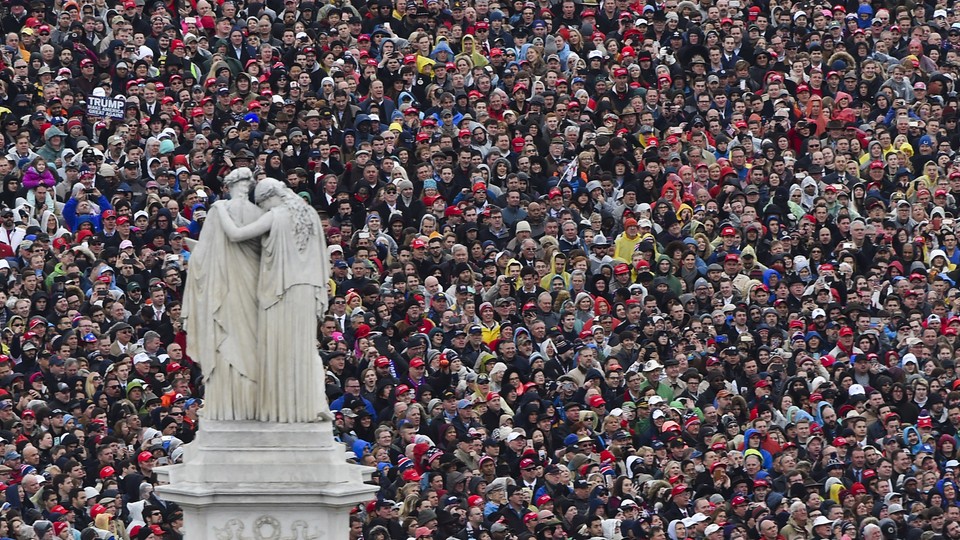 Editor's Note:
This article previously appeared in a different format as part of The Atlantic's Notes section, retired in 2021.
In the aftermath of November's election, many readers who had been shocked by Donald Trump's victory shared poems that helped them cope with loss and change. Jared turned to "Ash Wednesday" by T.S. Eliot:
Because I know that time is always time
And place is always and only place
And what is actual is actual only for one time
And only for one place
I rejoice that things are as they are and
I renounce the blessed face
And renounce the voice
Because I cannot hope to turn again
Consequently I rejoice, having to construct something
Upon which to rejoice
Full poem here.
***
Trump's presidency is actual now, and will be for another four years. For many, after the bitterly fought campaign and the upset victory, his Inauguration Day feels like the turning point between a past marked by loss and a future marked by uncertainty. Maybe that was why, this morning, I found myself looking back at another poem—W.H. Auden's "Homage to Clio," the muse of history:
It is you, who have never spoken up,
Madonna of silences, to whom we turn

When we have lost control, your eyes, Clio, into which
We look for recognition after
We have been found out.
It's a poem in praise of memory and choice, those uniquely human capacities—and in praise of the regret that comes inevitably with them. So far as Clio stands for time and history, her "silences" apply to both the past and the future: She won't tell you what to do next, and if you look back and beg her to change something, she's extremely unsympathetic.
What Clio can do, Auden writes, is to remind you of your own power: your ability to act with purpose, not only in the sense of political action or artistic expression but also in the simple sense of recognizing your own regrets and fears and place in history. That power is a privilege and a burden, which may be why Auden closes with a prayer:
Clio,

Muse of Time, but for whose merciful silence
Only the first step would count and that
Would always be murder, whose kindness never
Is taken in, forgive our noises

And teach us our recollections.
Listen to Auden reading the poem here.
***
If you have a poem that brings you hope and comfort, please send it—with a link if you can—to hello@theatlantic.com, and I'll add it here. Update: Katie recommends "Revenge" by Eliza Chavez:
I'll confess I don't know if I'm alive right now;
I haven't heard my heart beat in days,
I keep holding my breath for the moment the plane goes down
and I have to save enough oxygen to get my friends through.
But I finally found the argument against suicide and it's us.
We're the effigies that haunt America's nights harder
the longer they spend burning us,
we are scaring the shit out of people by spreading,
by refusing to die: what are we but a fire?
Full poem here. Katie writes:
I printed this out to put on my wall.
***
In Laura's recommendation, "Ulysses," Alfred, Lord Tennyson takes up a similar theme:
Come, my friends,
Tis not too late to seek a newer world. …
Though much is taken, much abides; and though
We are not now that strength which in old days
Moved earth and heaven, that which we are, we are,
One equal temper of heroic hearts
Made weak by time and fate, but strong in will
To strive, to seek, to find, and not to yield.
Full poem here.
***
Barry, a member of Ta-Nehisi Coates's Horde, sent us Margaret Walker's "For My People"—recommended by another Horde member, Dirk:
For my people standing staring trying to fashion a better way
    from confusion, from hypocrisy and misunderstanding,
    trying to fashion a world that will hold all the people,
    all the faces, all the adams and eves and their countless generations;

Let a new earth rise. Let another world be born.
Full poem here.
***
And Margo Waring shared her own poem, "Morning, November 9, 2016." The last few lines:
Home, I will sink my fingers into cold earth
Restore order to my garden.
I will listen to my stream
Hear it dissolve into the sea.
Full poem here.
***
Diane finds melancholy comfort in Matthew Arnold's "Dover Beach":
The Sea of Faith
Was once, too, at the full, and round earth's shore
Lay like the folds of a bright girdle furled.
But now I only hear
Its melancholy, long, withdrawing roar,
Retreating, to the breath
Of the night-wind, down the vast edges drear
And naked shingles of the world.
Full poem here.
***
Jonathan's choice is a poem written in 1981 by a fifth-grader, Marvin Mercer:
My heart trembles like a poor leaf.
The planets whirl in my dreams.
Full poem here.
***
From Leslie, "Let No Charitable Hope," by Elinor Morton Wylie:
I was, being human, born alone;
I am, being woman, hard beset;
I live by squeezing from a stone
The little nourishment I get.
Full poem here.
***
That one reminded me a little of "Invictus," by William Ernest Henley:
In the fell clutch of circumstance
     I have not winced nor cried aloud.
Under the bludgeonings of chance
     My head is bloody, but unbowed.
Full poem here.
***
Paul recommends William Butler Yeats's "The Second Coming":
Things fall apart; the centre cannot hold;
Mere anarchy is loosed upon the world.
The blood-dimmed tide is loosed, and everywhere
The ceremony of innocence is drowned;
The best lack all conviction, while the worst
Are full of passionate intensity.

Surely some revelation is at hand;
Surely the Second Coming is at hand.
Full poem here.
***
From Catherine, "Hope," by Lisel Mueller:
It sprouts in each occluded eye
of the many-eyed potato,
it lives in each earthworm segment
surviving cruelty,
it is the motion that runs
from the eyes to the tail of a dog,
it is the mouth that inflates the lungs
of the child that has just been born.
Full poem here. Catherine writes:
I sent this out to my friends the night President Obama won his first presidential election.  I sent it out again last Thursday, President Obama's last full day in office.

***
Speaking of hope, Jean's pick is by Emily Dickinson:
"Hope" is the thing with feathers—
That perches in the soul—
And sings the tune without the words—
And never stops—at all—
Full poem here.
***
From Steven, Walt Whitman's "I Hear America Singing":
I hear America singing, the varied carols I hear,
Those of mechanics, each one singing his as it should be blithe and
          strong,
The carpenter singing his as he measures his plank or beam,
The mason singing his as he makes ready for work, or leaves off work,
The boatman singing what belongs to him in his boat, the deckhand
          singing on the steamboat deck …
Full poem here.
***
John pivots off  a recommendation from another reader, Michele, and writes:
Here's another Wendell Berry poem that deserves attention in these times, for the attitudes it recommends adopting and the actions it encourages.
It's "Manifesto: The Mad Farmer Liberation Front":
So, friends, every day do something
that won't compute. Love the Lord.
Love the world. Work for nothing.
Take all that you have and be poor.
Love someone who does not deserve it.

Denounce the government and embrace
the flag. Hope to live in that free
republic for which it stands.
Full poem here.
***
And on that note, Lori recommends "Outwitted," by Edwin Markham:
He drew a circle that shut me out—
Heretic, a rebel, a thing to flout.
But Love and I had the wit to win:
We drew a circle that took him in!
Read it here.