Track of the Day: 'Alexandra Leaving' by Leonard Cohen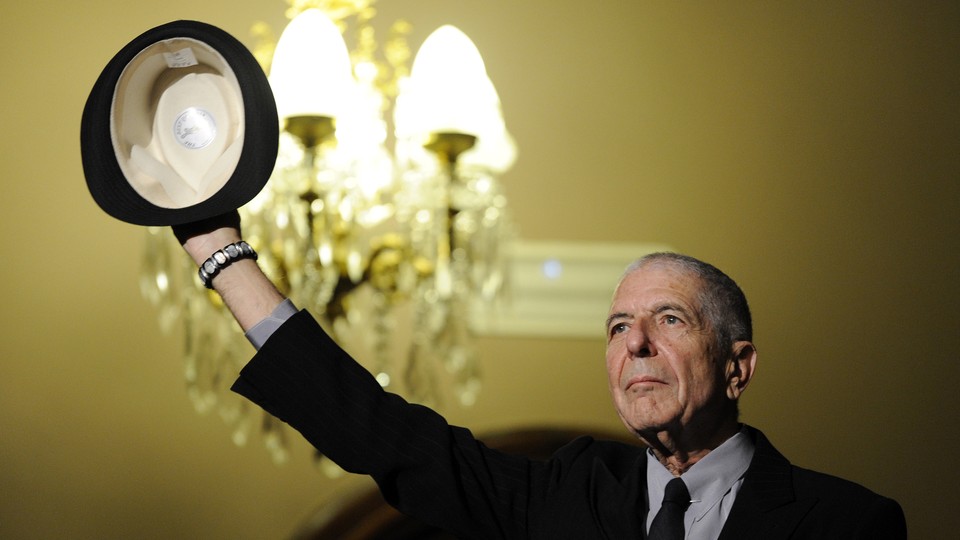 Editor's Note:
This article previously appeared in a different format as part of The Atlantic's Notes section, retired in 2021.
Inspired by last night's news of the death of legendary songwriter Leonard Cohen, reader Matthew provides a poem and pivots to a song:
Thanks to Julie for her note on poems for getting through hard times. I'd like to suggest C.P. Cavafy's "The God Abandons Antony," translated by Edmund Keeley and Philip Sherrard:

When suddenly, at midnight, you hear
an invisible procession going by
with exquisite music, voices,
don't mourn your luck that's failing now,
work gone wrong, your plans
all proving deceptive—don't mourn them uselessly.
As one long prepared, and graced with courage,
say goodbye to her, the Alexandria that is leaving.
Above all, don't fool yourself, don't say
it was a dream, your ears deceived you:
don't degrade yourself with empty hopes like these.
As one long prepared, and graced with courage,
as is right for you who proved worthy of this kind of city,
go firmly to the window
and listen with deep emotion, but not
with the whining, the pleas of a coward;
listen—your final delectation—to the voices,
to the exquisite music of that strange procession,
and say goodbye to her, to the Alexandria you are losing.

This poem reminds me that just because I failed at some endeavor—personal, political, or otherwise—does not mean that I was wrong for embarking on the endeavor in the first place. Cavafy's poem is a two-fer, because Leonard Cohen adapted it in his song "Alexandra Leaving," which is indeed how I discovered the original poem.
Lyrics here. Or follow them along with the music:
More Atlantic readers pay tribute to Cohen and highlight more of his songs here. His moodier music actually helped me get through the most difficult and painful breakup of my life, and "Anthem" was essential for that dark blue period. From the lyrics:
You can add up the parts
but you won't have the sum
You can strike up the march,
there is no drum
Every heart, every heart
to love will come
but like a refugee.

Ring the bells that still can ring
Forget your perfect offering
There is a crack, a crack in everything
That's how the light gets in.
(Submit a song via hello@. Track of the Day archive here. Pre-Notes archive here.)