The Poems That Help With Sudden Change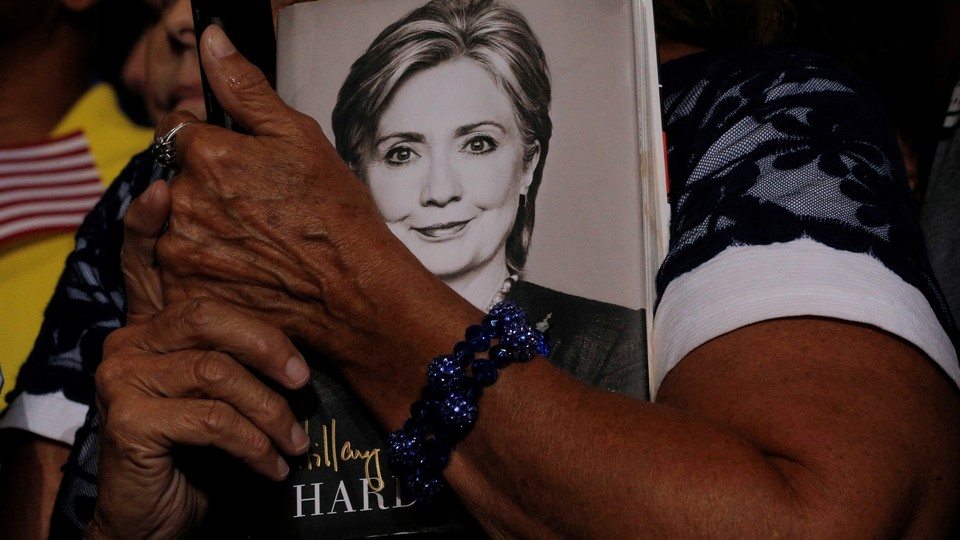 Editor's Note:
This article previously appeared in a different format as part of The Atlantic's Notes section, retired in 2021.
After the shocking election of Donald Trump on Tuesday, as people continue to process their emotions, work through their exhaustion, and manage their anxieties, I've seen many of my friends and colleagues turning to poetry. James Fallows, in his note "First Thoughts on the Election," ended with a poem by William Butler Yeats, "To a Friend Whose Work Has Come to Nothing." And Megan Garber interviewed the editor of Poetry magazine about why poetry seems particularly resonant at this moment.
On my social media timelines this week, screenshots of people's favorite verses have been welcome oases at which to rest. And I've returned several times to a favorite poem of mine, "As I Walked Out One Evening," by W.H. Auden, especially these verses:
'O plunge your hands in water,
Plunge them in up to the wrist;
Stare, stare in the basin
And wonder what you've missed.

[...]

'O look, look in the mirror,
O look in your distress:
Life remains a blessing
Although you cannot bless.

'O stand, stand at the window
As the tears scald and start;
You shall love your crooked neighbour
With your crooked heart.'
I asked some of our readers on the Disqus group known as TAD to send me the poems they turn to when dealing with change and hardship. A couple of staffers submitted poems as well. Here are a dozen of their responses (with only brief excerpts of the poems, since we can't reproduce them in full due to copyright concerns):
"Differences of Opinion," by Wendy Cope, begins:
He tells her that the earth is flat—
He knows the facts, and that is that.
Full poem here.
***
"The Place Where We Are Right," by Yehuda Amichai:
The place where we are right
is hard and trampled
like a yard.

But doubts and loves
dig up the world
like a mole, a plough.
Full poem here.
***
Walt Hunter, a poetry professor in Greenville, South Carolina, writes:
The root word for poetry, "poiesis," refers to the making of something (for others) where there was, or where there threatens to become, nothing (for anyone). With this in mind, I've been reading John Clare, the English laborer-poet, who lived through a millennial shift in politics—from the 18th into the 19th century, from right after the French revolution through the liberation of Haiti. He wrote poetry, and it was about all of that global transformation, but his politics and perception were channeled through the land he saw around him, rapidly disappearing through privatization and enclosure.
Clare's poem "Written in November" captures that sense of loss:
Autumn, I love thy parting look to view
In cold November's day, so bleak and bare,
When, thy life's dwindled thread worn nearly thro',
With ling'ring, pott'ring pace, and head bleach'd bare,
Thou, like an old man, bidd'st the world adieu ...
Full poem here.
***
"Darkness," by Lord Byron:
Morn came and went— and came, and brought no day,
And men forgot their passions in the dread
Of this their desolation; and all hearts
Were chill'd into a selfish prayer for light:
And they did live by watchfires— and the thrones,
The palaces of crowned kings—, the huts,
The habitations of all things which dwell,
Were burnt for beacons; cities were consum'd,
And men were gather'd round their blazing homes
To look once more into each other's face ...
Full poem here.
***
One of our editorial fellows, Nick Clairmont, suggested "Elegy Written in a Country Churchyard,"  by Thomas Gray:
Let not Ambition mock their useful toil,
Their homely joys, and destiny obscure;
Nor Grandeur hear with a disdainful smile,
The short and simple annals of the poor.

The boast of heraldry, the pomp of power,
And all that beauty, all that wealth e'er gave,
Awaits alike the inevitable hour.
The paths of glory lead but to the grave.
Full poem here.
***
"If," by Rudyard Kipling, is a little more optimistic:
If you can dream—and not make dreams your master;
If you can think—and not make thoughts your aim;
If you can meet with Triumph and Disaster
And treat those two impostors just the same;  
If you can bear to hear the truth you've spoken
Twisted by knaves to make a trap for fools,
Or watch the things you gave your life to, broken,
And stoop and build 'em up with worn-out tools ...
Full poem here.
***
A reader points to DC Comics' Blue Lanterns, "a group of superheroes whose powers  come from having hope":
In fearful day, in raging night,
With strong hearts full, our souls ignite,
When all seems lost in the War of Light,
Look to the stars—For hope burns bright!

Corny, I know. But I want to find some hope and hopefully be someone who does some small part to spread hope to others.
***
"On the Pulse of Morning," by Maya Angelou:
Across the wall of the world,
A River sings a beautiful song. It says,
Come, rest here by my side.

Each of you, a bordered country,
Delicate and strangely made proud,
Yet thrusting perpetually under siege.
Your armed struggles for profit
Have left collars of waste upon
My shore, currents of debris upon my breast.
Yet today I call you to my riverside,
If you will study war no more. Come,
Clad in peace, and I will sing the songs
The Creator gave to me when I and the
Tree and the rock were one.
Before cynicism was a bloody sear across your
Brow and when you yet knew you still
Knew nothing.
The River sang and sings on.
Read the full poem here, or listen to Angelou read it at Bill Clinton's inauguration in 1993 here.
***
"Change," by Ann Beard:
Our world forever changes every second every day.
Nothing halts the pass of time; old age will have its way.
each mighty cliff or ancient tree will suffer the same fate
life seems just an experiment, a transitory state.
Full poem here.
***
Another one of our editorial fellows, Joseph Frankel, suggested "Wild Geese," by Mary Oliver:
You do not have to be good.
You do not have to walk on your knees
For a hundred miles through the desert, repenting.
You only have to let the soft animal of your body
love what it loves.
Read and listen to the full poem here.
***
Another reader shared lines from the poet Warsan Shire that were included in Beyoncé's visual album Lemonade:
My grandma said, nothing real can be threatened.
True love brought salvation back into me.
With every tear came redemption.
And my torturer became my remedy.

So we're gonna heal, we're gonna start again.
Read more of Shire's poetry from Lemonade here.
***
And finally, another ode to hope, by John Keats:
In the long vista of the years to roll,
Let me not see our country's honour fade:
O let me see our land retain her soul,
Her pride, her freedom; and not freedom's shade.
From thy bright eyes unusual brightness shed—
Beneath thy pinions canopy my head!
Full poem here.
***
If you have a poem that you'd like to share—one that helps you cope with stress, or uncertainty, or change, one that you turn to in times of transition—please send it (with a link, if you can) to hello@theatlantic.com.