Come Watch Election With Us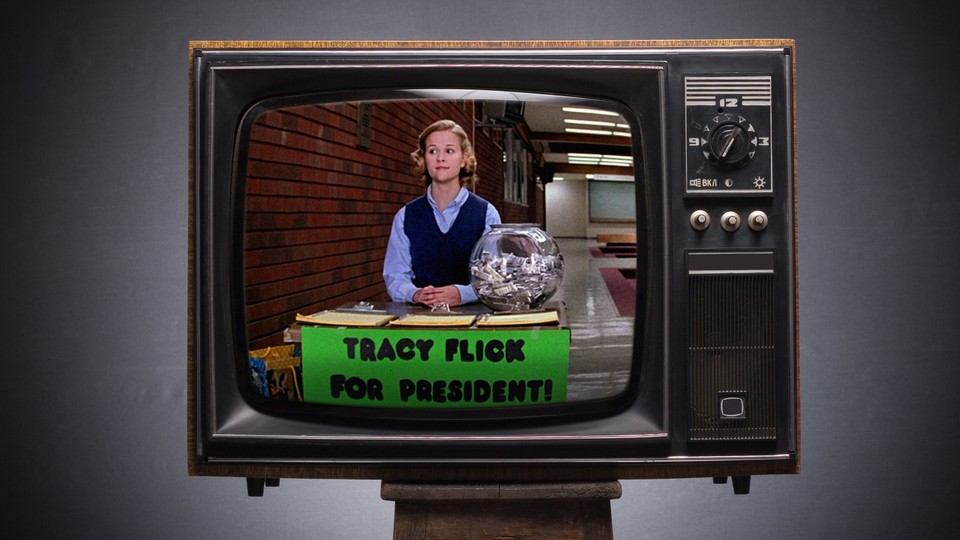 Editor's Note:
This article previously appeared in a different format as part of The Atlantic's Notes section, retired in 2021.
When Hillary Clinton met Reese Witherspoon, the politician had a good way of breaking the ice: "Everybody talks to me," Clinton is reported to have said, "about Tracy Flick in Election."
It's not necessarily a flattering comparison: Tracy Flick is, in one sense, a kind of comic-book villain in a plaid skirt. She's obsessed with winning. She will stop at nothing to achieve that goal. And she's also that most fraught of things for a woman to be: openly ambitious.
Because of all that, Tracy is an extremely relevant character for the era that is still (still!) grappling with the political ascendancy of Hillary Clinton. So let's talk about Ms. Flick! And about the movie she stars in! Our next installment of Political Theater will be … 1999's Election.
Here's a preview:
We'll be watching Election on Wednesday, 10/12, starting at 6:30 p.m. East Coast time. If you're free to watch it at the same time, please join in! I'll tweet some initial thoughts about it then. (Election is streaming on Hulu and Amazon—where it's free with a Prime membership—and it's available for purchase for $2-3 on iTunes, YouTube, and other platforms.) But, as before, watch it whenever is good for you, and join the conversation whenever you'd like—via Twitter (I'm @megangarber) or via hello@theatlantic.com.
Looking forward to watching and chatting—and to reveling in high school political intrigue—with you!