Football's Violence Off the Field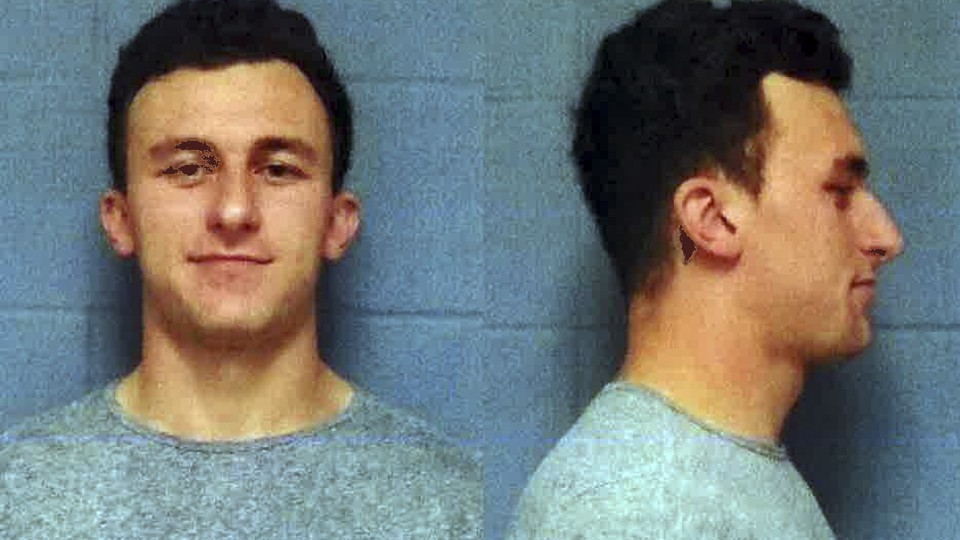 Editor's Note:
This article previously appeared in a different format as part of The Atlantic's Notes section, retired in 2021.
There was a disturbingly familiar story in the news today: a football player, this time from the University of Southern California, was charged with raping a woman who was unconscious. Stories of violence against women are pervasive among athletes, and many of those cases have happened in the NFL.
To be sure, rape and domestic violence is not limited to football. In July, the Chicago Cubs acquired ace pitcher Aroldis Chapman to help lead them to the World Series, despite his troubling history of pushing and choking his wife. His is far from the only case of domestic violence in professional sports, which I've highlighted in previous reporting.
But it's hard to overlook the troubling way the NFL has handled issues of domestic violence with its players, from Ray Rice to Adrian Peterson. Many of our readers have abandoned football for that reason. Here's Amy, who "stopped watching and following football a couple of years ago, after being a fairly faithful Niners fan since the mid-1990s":
I started watching football in law school in 1999 because the complex rules fascinated me, the team was doing really well, and Steve Young and Jerry Rice were just plain fun to watch. Plus, as a young woman attorney working in male-dominated law firms in the late '90s, it helped to be able to talk knowledgeably about football.  

When the press began reporting on traumatic brain injuries among NFL players, I felt increasingly uncomfortable with the game. The final straw for me was a string of horrific domestic violence incidents, including the arrest of Ray McDonald. The NFL's tone-deaf response and failure to impose meaningful penalties on players who abused their partners was sickening to me, and I was done. I haven't found it hard to pull away from the game, and most NFL-related headlines I see reinforce that I made the right decision.
Tammy is close to making that decision:
There is no question I watch football far less than I used to. I went from an avid, every-game viewer (Sunday, Monday night, etc) to a few games a season, if that. But not because of the concussions, although those do not help.

Frankly, I have grown tired of watching the violence that they, the players, perpetuate against women while everyone turns a blind eye. If caught, they are slapped on the wrist and are still paid millions.
This cult of celebrity worship starts in high school, where we tune in to watch where highly rated prospects are going to college. These same high school students can rape a girl and post it to social media and be out of jail in a few years if not months, as we saw in Steubenville, Ohio. How much misconduct must we hear of while they are in college, only to get the big contracts every time when drafted?

So, no. I'm not much a fan of football anymore. I have a hard time supporting a league that cares little for anything except its money. Only until Ray Rice came along was anyone punished with any significance, and even now there are rumblings he might get a second chance. Of course he will. This is the NFL after all.
Stacy has more on the Ray Rice scandal:
I first fell in love with football when Baltimore was swept with Ravens fever in 2000, when I was in elementary school. I can still name almost all of the starters on defense from that team, jersey numbers included. Once I was hooked, my dad used to pick me up early from Hebrew school on Sundays to go down to the stadium until I was old enough that I thought waking up at 9am for a game was way too early.

My relationship with the Ravens took a huge hit in fall of 2014. After I saw the video of Ray Rice knocking out his fiancé, I was shocked and disgusted.
But it was the ensuing domino affect in the front office and NFL headquarters that left me questioning how I could support a team and sport that view women as nothing more than a blank check. Not only did I stop rooting for the Ravens, I began to root against them—when I even bothered to watch games. Since my breakup, I have taken the Miami Dolphins as #1 team, since my mom grew up in South Florida rooting them on. (Luckily, with my goal to not pay attention to the NFL, the Dolphins are such a disappointment that they make it easy.)
Christina:
I have been apart of the "boy's club" of football my whole life. Growing up in Minnesota, we bleed purple and gold. But after what Adrian Peterson did [physically abuse his 4-year-old son], I cannot cheer for him without my stomach churning. Does that make me a bad Vikings fan or worse, a bad Minnesotan? Do we have to check our morals in the name of hometown pride? Sometimes I feel like I am doing just that.

I am hesitant to bring up these frustrations about the NFL to my male friends as I am fearful it will be misconstrued as weak or overly feminine. I have had to fight tooth and nail just to be taken seriously during draft day. But what I want to know is why more men aren't upset by the NFL's blind eye to these terrible acts of violence against women. Why not boycott and burn the jerseys of Ahmad Brooks or James Harrison (both of whom were not punished by the NFL for their crimes)? Is everyone just chalking this up to the "Boys will be boys" mentality and letting it go so we can cheer and drink beer a few months out of the year?

It is becoming painful to be an NFL fan as a woman and I wish more people cared about these issues, especially men. If we as fans demand better of the NFL, maybe we'll get it. But it seems no one is interested and that break my heart.
Marie:
It's been so long since I cared about football on any level, I don't think I can adequately give a timeframe. I live in Western Pennsylvania, so in addition to concerns about concussions, I have witnessed two separate off-the-field scandals that have really soured me. The Penn State/Jerry Sandusky abuse tragedy made it clear that any reprehensible act can be excused as long as the team is winning. Ben Roethlisberger's assault case is even more disturbing, as there are so many women here who excuse his behavior or shame the victims. And he's still held up as a role model to our youth, just as Joe Paterno will always be a hero.
This last reader, Femi, points to another scandal in college ball:
I am a Baylor alum. Over the past year, as we have learned more about the sexual assault scandal that the football team was a part of, I lost any remaining ability I had to compartmentalize the joy I got while watching football apart from the real world consequences that often accompany it. Baylor wanted a winning football program and part of the cost of that was the victimhood of multiple young women who were students there. That is something that I will never be able to unlearn.
Beyond such off-the-field violence and on-the-field head injuries—discussed here by readers—have other issues drawn you away from football? Let us know: hello@theatlantic.com.