Come Watch The Candidate With Us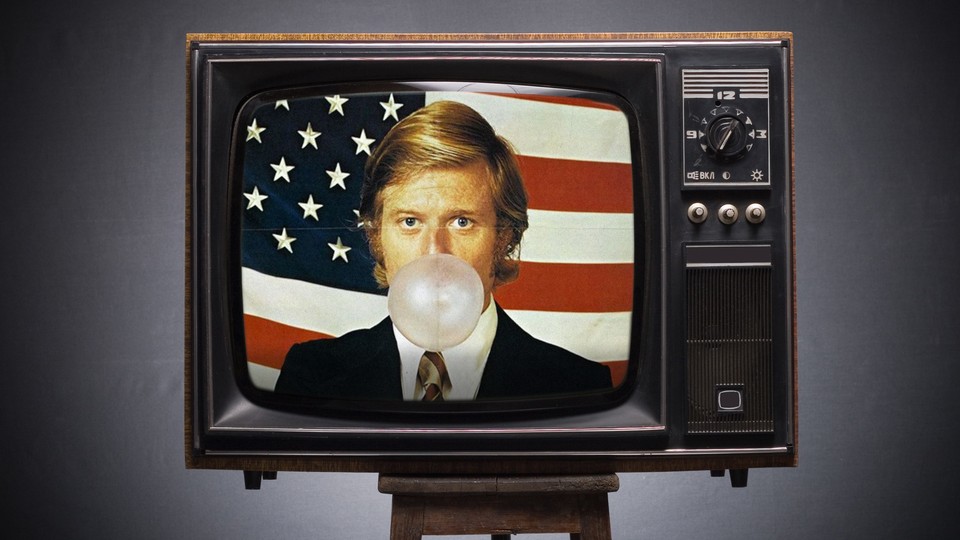 Editor's Note:
This article previously appeared in a different format as part of The Atlantic's Notes section, retired in 2021.
The people have spoken. For our inaugural installment of Political Theater, our new reader series, we'll be watching … The Candidate, the 1972 Robert Redford comedy-satire that received, by far, the largest number of your votes. (Thanks to everyone who cast their ballots!) I haven't seen the movie before, so I'll be watching it for the first time, along with fellow Atlantic staffers, this coming week—and I hope you'll join us!
Here's more on The Candidate:
Marvin Lucas (Peter Boyle), a political election specialist, must find a Democratic candidate to oppose California U.S. Senator Crocker Jarmon (Don Porter), a popular Republican. With no big-name Democrat eager to enter the unwinnable race, Lucas seeks out Bill McKay (Robert Redford), the idealistic, charismatic son of former governor John J. McKay (Melvyn Douglas).

Lucas gives McKay a proposition: since Jarmon cannot lose and the race is already decided, McKay is free to campaign saying exactly what he wants. McKay accepts in order to have the chance to spread his values, and hits the trail. With no serious Democratic opposition, McKay cruises to the nomination on his name alone.
No spoilers, but it looks like, from there … the plot thickens. Here's the original trailer:
We'll be watching The Candidate on Wednesday, 9/21, starting at 6:30 p.m. East Coast time. If you're free to watch it at the same time, please join us! I'll tweet some initial thoughts about the movie then. (The Candidate is available for free on Amazon Prime, and for $2-$3 on YouTube, iTunes, Google Play, and Vudu.) Watch it whenever is good for you, though, and join in the conversation whenever you'd like—via Twitter (I'm @megangarber), or via an email to hello@theatlantic.com. I'll be thinking about it throughout the week.
I'm looking forward to reveling in the wonders of '70s-era political satire—and to hearing your thoughts about it!