Political Theater: Come Watch Movies With Us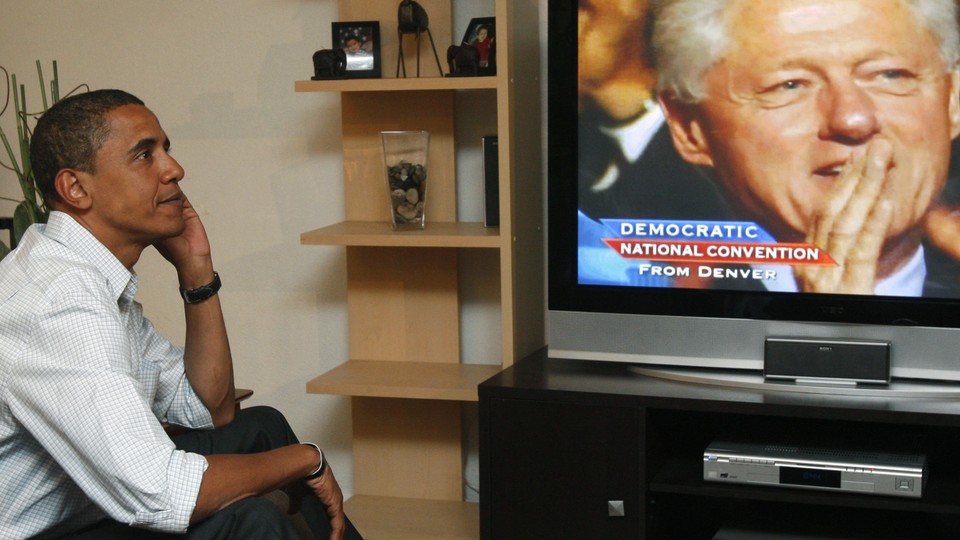 Editor's Note:
This article previously appeared in a different format as part of The Atlantic's Notes section, retired in 2021.
I love Dave—not just because it's a thoroughly charming comedy, and not just because it's a perfect relic of the early '90s, shoulder pads and all, but also because it's a whimsical fairy tale about … the behind-the-scenes workings of the U.S. executive branch. It goes like this: Dave Kovic, owner of a temp agency in Georgetown, happens to look almost exactly like President Bill Mitchell—so much so that, in his spare time, he moonlights at parties and car-dealership openings as "the president." But when the real Bill Mitchell has a stroke that leaves him in a coma, Dave, under the direction of two scheming West Wing advisers, steps in so that the Mitchell administration can continue despite its lack of Mitchell himself.
I know that doesn't sound like much of a fairy tale, but here's the real magic: Dave, the Regular Guy, ends up being a better president—more practical, more ethical, more compassionate, more fun—than the person the American public had actually elected to office. Dave is Cinderella, basically, only with a bulletproof limo instead of a bedazzled pumpkin.
And that's why I love it so much: Dave is a fictional story about Americans' extremely non-fictional tendency to idealize the ordinariness of our leaders. It is a movie for the age of "the president I'd want to have a beer with." This perfect relic of 1993 feels fresh and urgently relevant during the current presidential campaign.
So, with that in mind: We're going to watch Dave again! And, while we're at it, we're going to watch other political movies, too!
Every week or so, starting in September, we'll be getting together—the "we" being myself, other Atlantic folk, and, I hope, you—to watch, and discuss, a particular political movie. And the films we watch (except for Dave, which pretty much nominates itself) will depend on you. The American President? All the President's Men? Mr. Smith Goes to Washington? Legally Blonde 2: Red, White & Blonde? They're all on the table. In the form here, let us know which movies you'd most like to watch (and, for extra credit, why you'd like to watch them). We'll use your ideas to put together a roster of movies that we'll talk about, in Notes, over the months (yes, it's still months) leading up to the election. We're thinking of it as a way both to embrace and to escape the day-to-day doings of this long-running campaign season—'90s-tastic shoulder pads optional.