Wakanda and the Black Aesthetic
Editor's Note:
This article previously appeared in a different format as part of The Atlantic's Notes section, retired in 2021.
Black Panther #3 drops today and I thought I'd say something about the poetry that both opens and closes the book. The poem we used is Henry  Dumas' "Rootsong."  I first encountered this piece during one of my many study sessions with the poet Joel Dias-Porter. This would have been somewhere around 1995 or 1996. Joel is a tremendous poet in his own right, but at that point (and perhaps even today) he was mentoring a whole crop of young writers—Terrence Hayes, Yona Harvey, Jelani Cobb—who happened to be in the DC area. Terms like "study session" and "mentor" make all of this sound more formal than it was. Usually it was a crew of us at a restaurant or a cafe discussing anything from sports to politics to poetry. At one of these sessions, Joel whipped out a collection of Dumas' work and turned to the poem "Rootsong." What stunned me about the poem is how it used black myth to construct a narrative of the diaspora before and after colonialism and enslavement:
Once when I was tree
flesh came and worshiped at my roots.
My ancestors slept in my outstretched
limbs and listened to flesh
praying and entreating on his knees.
There is an Edenic, utopian quality to Dumas' depiction of precolonial Africa. "Rootsong" always struck me as romance—not so different from the kind of romance than you'd see in Marvel's Thor. Poetry is a natural cousin to comic books. Comic book writing, like poetry, requires a ruthless efficiency with words. The art is the hero and if I may say so myself, the art in Black Panther #3—particularly in the pages using "Rootsong"—is heroic.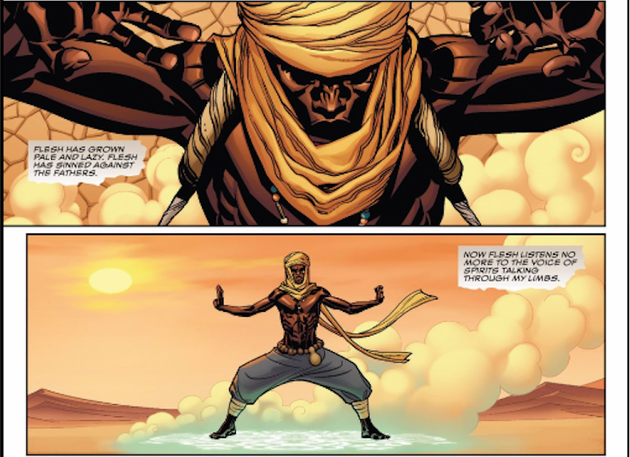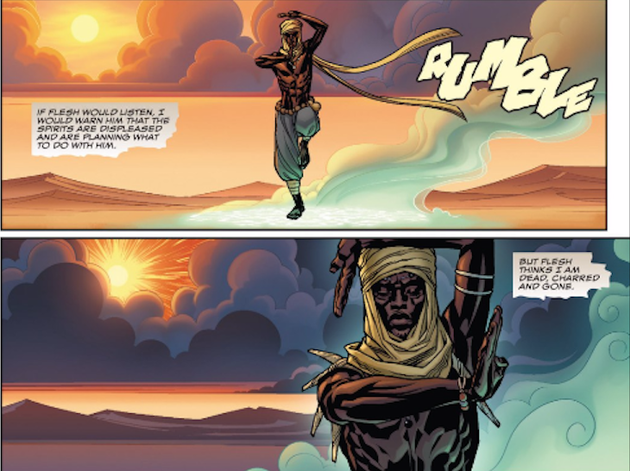 Dumas was killed at the age of 34 by New York city transit cop. But his legacy endures through the strivings of the poet Eugene Redmond and the great Toni Morrison. It was Redmond who posthumously edited Dumas' poems into a book. It was Morrison, then an editor at Random House, who ultimately published them. At the time she wrote of Dumas:
In 1968, a young black man, Henry Dumas, went through a turnstile at a New York City subway station. A transit cop shot him in the chest and killed him. Circumstances surrounding his death remain unclear. Before that happened, however, he had written some of the most beautiful, moving and profound poetry and fiction that I have ever in my life read.
That Dumas wrote the words, that Morrison and Redmond made it possible to read those words, that I was exposed to those words during my tenure at the Mecca, and that those influenced my own words points to the deep and enduring power of tradition and lineage. Indeed as an atheist, tradition and lineage are the closes thing I have to any notion  of afterlife. The work outlives us, and the work exerts power long after we are gone.
I hope you feel that power in Black Panther #3.