Track of the Day: 'Ghostbusters (I'm Not Afraid)' by Fall Out Boy and Missy Elliott
Editor's Note:
This article previously appeared in a different format as part of The Atlantic's Notes section, retired in 2021.
The official new Ghostbusters theme song was released today, and for everyone reading this who was in middle school in 2005 (and for those who decidedly weren't), this might be confusing:
Fall Out Boy and Missy Elliott recorded the new theme song.
It's a reworking of the original "Ghostbusters (I'm Not Afraid)" by Ray Parker Jr in 1984 that was nominated for Best Original Song at that year's Academy Awards, won a Grammy, and followed the franchise for the past 30 years.
Not everyone's a fan of the new version. Jezebel's Julianne Escobedo Shepherd calls it "bad." The Verge's Kaitlin Tiffany says it's "specifically designed to make you realize what could actually retroactively ruin a 30-year-old movie." BuzzFeed's Katherine Miller tweeted that it "sounds like something we would've had to pretend was good in 2006 because everything was bad."
So was it worth it? Well, they reworked it, put their thing down, flipped it, and reversed it: The 1980s synthpop was replaced with 2000s pop punk, but that same altered reality version of the city vibe holds true. This is the Chris Cornell version of the Casino Royale theme song.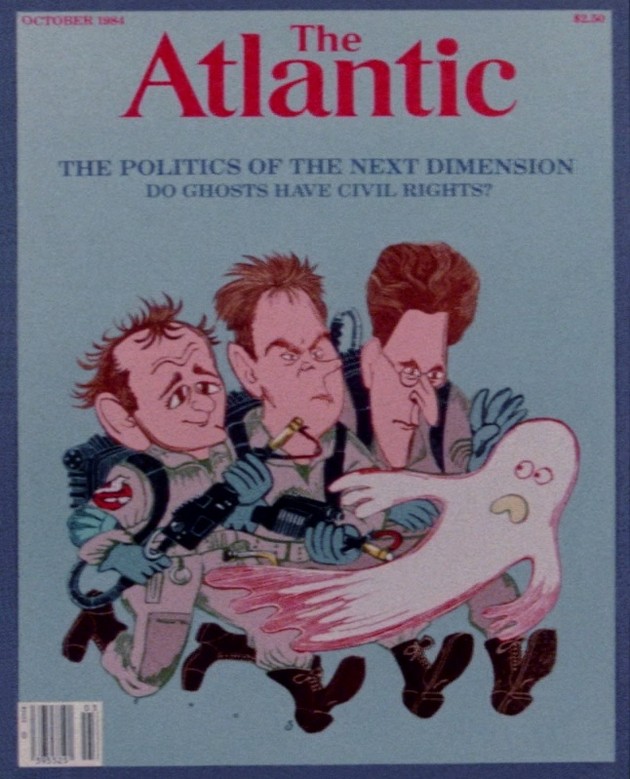 Noisey loves it. Entertainment Weekly likes it, but felt that they should've picked Carly Rae Jepsen. (I, for one, am a proponent of all new Carly Rae ventures.)
This soundtrack, like the film itself and any good remake, won't sound exactly like the original. The new one is set to include Pentatonix, 5 Seconds of Summer, and Elle King. Future generations may look back and see 5 Seconds of Summer and Fall Out Boy as this generation's BusBoys and Thompson Twins.
The film will be out in theaters on July 15th, and maybe we at The Atlantic will get another nice shout-out like this one in the original movie 30 years ago.
(Track of the Day archive here. Pre-Notes archive here. Submit via hello@.)