When The World Runs Out Of Room For Monsters
Editor's Note:
This article previously appeared in a different format as part of The Atlantic's Notes section, retired in 2021.
I finished the first volume of Alan Moore's  Swamp Thing earlier this week. I don't think I've ever read a more compelling—or sadder—opening issue of a comic book.  This right here is all TNC-bait defined: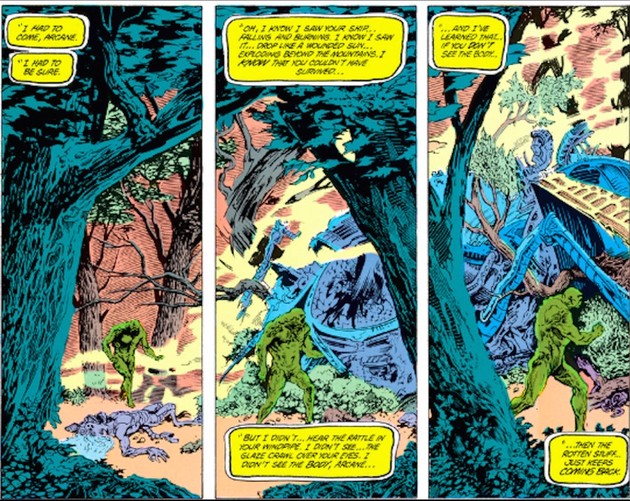 In case this is hard to see, the words read as follows:
Frame #1
"I had to come, Arcane."
"I had to be sure."
Frame #2
"Oh, I know I saw your ship falling and burning. I know I saw it..Drop like a wounded sun...exploding beyond the mountains. I know you that you couldn't have survived."
"But I didn't...hear the rattle in your windpipe. I didn't see….the glaze crawl over your eyes. I didn't see the body, Arcane..."
Frame #3
"...And I learned that if you don't see the body..."
"...then the rotten stuff...just keeps coming back."
For me, the best thing about writing comics is how it takes me back to everything I loved about writing poetry. The game of spacing and efficiency is so challenging and so important. Moore proves himself a master of both here—in three frames he gives you something of Swamp Thing's compulsions and loneliness. There's a progressive, forward energy in the first lines—"I had to come, Arcane"—that leaves us wondering what, specifically, could be so important that he had to come. And then the answer slowly dribbles out an air-ship "falling and burning" dropping "like a wounded sun...exploding beyond the mountains," the angsty feeling, native to the marvelous world of comics, of thinking an antagonist dead but not hearing "the rattle in [their] windpipe," not seeing "the glaze crawl over [their] eyes," of never seeing "the body."
Swamp-Thing's old foe Arcane is (for now) dead, and though the two were enemies, what we get in the comic is a sense that, somehow, the same forces that hunted Arcane are now hunting Swamp Thing. Those forces don't just represent "evil" but a kind of modernism which threatens to sweep all the magic in the world away. Swamp Thing #21 (the second issue in Moore's run) is considered the classic, because it offers a brilliant take on the character's origins. But for me, it's really Swamp Thing #20—with its high poetry—that sticks.
I'm thinking about this volume a lot as I start sketching out the second season of Black Panther. I really like how Moore is able to do both broad thematic work and character study with lines like, "Maybe the world...has run out of room for monsters." Balancing those two things are tough, and if there's one thing thing I'd like to do better with S2 of Black Panther it's to figure out how to burrow deeper into T'Challa's head while at the same time delving expanding and deepening the Wakanda around T'Challa.