'They Loudly Announced My Prowess'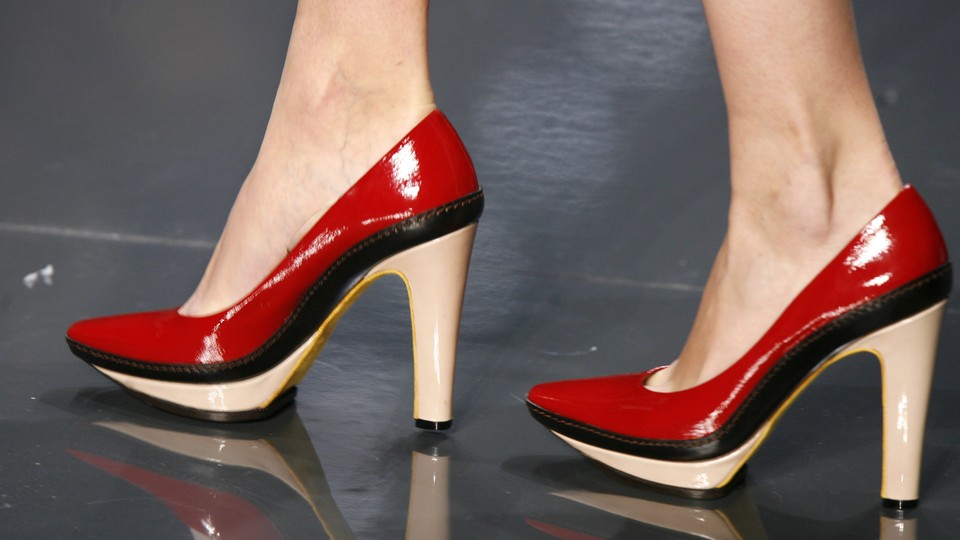 Editor's Note:
This article previously appeared in a different format as part of The Atlantic's Notes section, retired in 2021.
High-heel haters gonna hate. But below are a few (more) pro-heels arguments from readers. I love this one from Allyssa:
My first pair of heels were burgundy pumps with pointed toes, ankle straps, and six inches of lift that were purchased with a single parent's income from a department store clearance rack. For an undeniably awkward teenager, they didn't just click as I walked through the halls at speech and debate tournaments. They loudly announced my prowess, my success, and my power. I became known as The Girl in the Red Shoes.  And I have never looked back.
Through various stages of my life and career—weight gain, failed relationships, bad haircuts—sky-high heels have always made me feel like the woman I want to be: Someone who embodies a uniquely feminine strength, someone who owns any room she walks into, and someone who can play with the boys without having to be one.
And here's Lisa, who likes the aesthetics of heels:
I am an architect and appreciate good design, including the design of shoes. Flats and loafers can be cute, but my eyes are always drawn to platform heels and high-heeled booties. I am 5'7" and love feeling tall when wearing high heels. Obviously heels are not suitable when on construction sites, but I have a great pair of bubblegum pink construction boots for that!
Lisa adds, "I get complimented on my heels more by random men on the street than by women." Maybe men should try the heels for themselves? That's what a group of guys did for this viral video:
(Hat tip: Rebekah Lowin)