Discussing the Gender Politics of Legos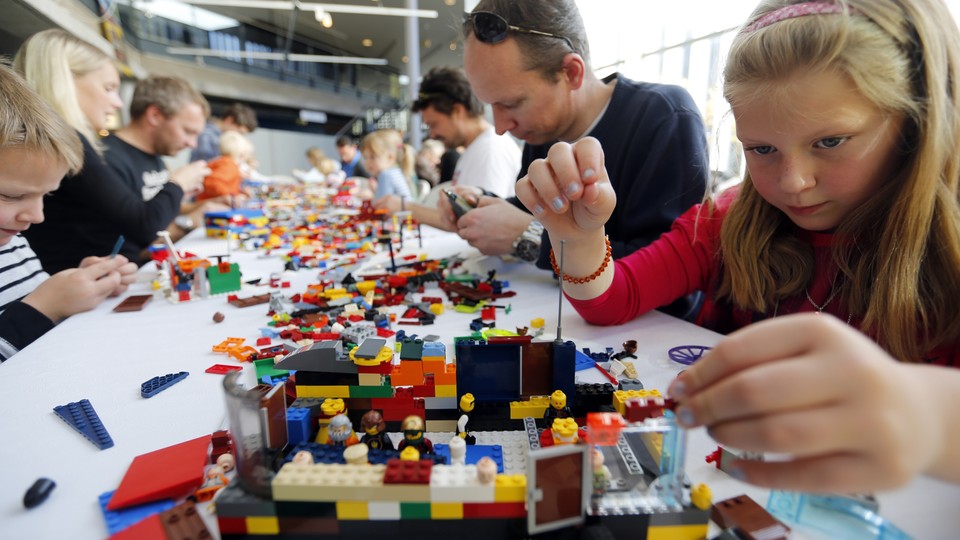 Editor's Note:
This article previously appeared in a different format as part of The Atlantic's Notes section, retired in 2021.
Last week, Adrienne explored recent efforts by toy giant Lego to reach young girls. For example:
In 2012, the toymaker launched Lego Friends—stylized on boxes with a heart dotting the "i," and a butterfly hovering nearby—a new line designed for girls. The Friends line includes a pop star's house, limousine, TV studio, recording studio, dressing room, and tour bus; a cupcake cafe; a giant treehouse; a supermarket; and a hair salon, among other construction sets.
"For toymakers like Lego," Adrienne wrote, "where is the line between making products children love and telling kids how they should play?"
Companies like Lego say they're just giving girls what they want. Critics say Lego is actually shaping what girls want, and likely to harmful effect. The reality for children is probably somewhere in the middle. And children, for better and worse, tend to simplify these complexities.
An Atlantic reader and parent ponders where their daughter fits in all of this:
I wonder where people would classify my girl who chose The Hobbit Lego sets, which have mostly brown and grey bricks with lots of characters ready to duel with one another. She does also like the "Elves" sets (more for girls), but she prefers The Hobbit and Star Wars.
I can relate; I went through a serious Lego phase. One year, I asked for (and received) King Leo's Castle for Christmas, a 500-piece, archetypal "castle"-themed Lego set featuring knights, a skeleton, and weaponry—a set, most likely, targeted at my male counterparts.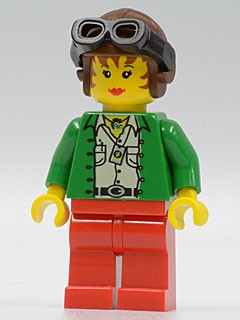 But it was the girl minifigures that really rocked my world. I became deeply attached to a set featuring a female (!!!) pilot. (Thanks to BrickLink—a website that purports to be "the World's Largest Lego® Marketplace"—I now know that it was the "Island Hopper" with "Miss Gail Storm." Hats off to you, Miss Storm!) Years later, just looking at photos makes me squirm with excitement.
I wonder where I'd fit in the new Lego universe. Would I have traded in my castle for a pink-roofed cupcake cafe from Lego Friends? My nine-year-old self definitely craved more female minifigures, but I didn't mind my island-hopping plane set either. Maybe that's part of the dilemma here: It's hard to fit kids into (metaphorical) gender buckets.
Several other readers are also drawing on their Lego experiences, including this one:
My sister, brothers, and I all built stuff with the same generic primary colored Lego bricks. (And our dad yelled at all of us when he stepped on stray Lego bricks.) We all played with Tonka trucks as well. The biggest difference was that my sister was really into dolls and stuffed animals. (Barbie and the other dolls were the passengers in the Tonka trucks.)
When my sons were little, the little girls next door loved to play with them, partly because the girls got to play with "boy toys." Their mother was very invested in their femininity and only bought them pink stuff and often scolded them for getting dirty. I didn't care what the four of them played with (as long as it wasn't gasoline or a chainsaw) and refused to nag them about their clothes. My younger son was really into stuffed animals, which was fine by me. Just like when I was a kid, the dolls and stuffed toys got rides in the trucks and wagon.

Tl;dr: Let your kids play with whatever toys they like.
This reader has a similar approach:
We're just humans. Play with some toys. Create an identity. It will probably be influenced by your parents and your surroundings. Hopefully it will be a positive influence.

We're working to weed out the negative influences based on racism and sexism, but that doesn't mean we need to destroy identity entirely. Embrace the differences between people. Men and women have many differences, but we share far more similarities. Celebrate both the differences and the similarities, equally. It's okay for boys and girls to learn how to sew, how to cook, and how to help around the house. It's okay for boys and girls to both learn how to play baseball, have nerf-gun fights, and play with GI Joes. (There are quite a few female GI Joes, I recall. Some of the most badass Cobras were women.)

Do what my parents did: Give children the opportunity to find themselves. If that ends up being one that fits societal norms—well, so be it! As long as you gave them the opportunity to find themselves, that's all that can be asked.
Oh, and there's this hilarious anecdote: Don't like the career options offered to Lego women? Build your own:
My daughter solved this problem by simply removing the male head and replacing it with one of the female ones. Saved me the cost of a postage stamp ;)