It's National Craft Beer Week!
Editor's Note:
This article previously appeared in a different format as part of The Atlantic's Notes section, retired in 2021.
I had somehow missed the fact that we are already four days into American Craft Beer Week! Fortunately it runs all the way through Sunday evening. In its honor, these updates:
1) Best Beer Gardens. Via Foursquare, an interactive map of the most highly rated beer gardens around the country. What you see below is a screen shot. More info at the site.
***
2) Edible packaging. Last month I mentioned some of the bounty of Florida's emerging craft-brew industry, including Screaming Reels IPA from Saltwater Brewing of Delray Beach.
Today, via Discover magazine (and reader SK) I learn that Saltwater is introducing a form of Edible Six Pack Rings, made of biodegradable byproducts of the brewing process itself. The idea is that these will be edible not so much by human beer-drinkers but rather by turtles and other sea life that might otherwise choke on them. See the explanatory video below.
***
3) The Story of Orange Wheat Beer. For the past eight years I've been following the rise of Hangar 24 brewery in my original home town of Redlands, California. Their trademark and most famous offering, Orange Wheat beer, is not actually my favorite from their product line — it's a nice, "refreshing"-style summer-wheat quaff, but I usually go for their Betty, Easy Glider, or Iconic IPAs. But I love the brewery's story, as a very nice example of locally conscious brewing — and if you watch the video you'll get an idea why.
For the record, little Redlands has fostered several additional good breweries these days, notably Ritual and Escape.
***
4) Endorse: Luponic Distortion  #1, from Firestone Walker in California. That's all I have to say.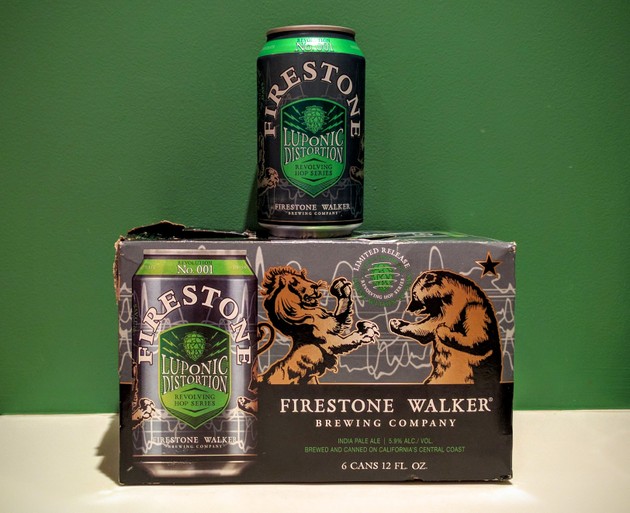 Happy Craft Beer Week! Back to heavy-weather topics shortly.