'Love That Boy,' by Ron Fournier
Editor's Note:
This article previously appeared in a different format as part of The Atlantic's Notes section, retired in 2021.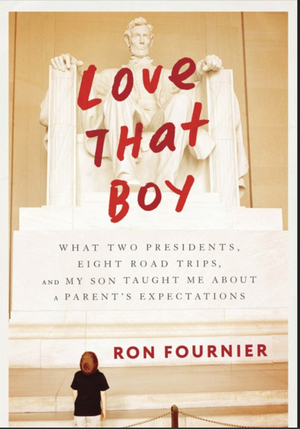 Many Atlantic site readers will know Ron Fournier from his political writings — for many years for the AP, and in recent years for National Journal, part of the Atlantic's family. Some readers will agree with him from that work. Others, as Ron himself is well aware, will disagree. Ron is a tough guy — a cop's son from Detroit who did his early newspaper work in small-town Arkansas, someone you can imagine wearing a porkpie hat with a "Press" card in the brim even now. He can take your disagreeing with him.
Whatever your view of politics or political writing, I encourage you to read Ron's new book, Love That Boy. It is about his coming to terms with, and then embracing, the fact of his son Tyler's autism. It's an eloquent, brave, big-hearted book, which Ron Fournier will be glad to have written and readers will be glad to have found. It's also about the timeless anxieties and emotions of parenthood, and the modern twists thereon. If you start reading I think you'll keep on. Congrats to Ron for having written it, and to his family on their cohesion.
***
NB It's a sign of my sincerity in recommending this book that I do so despite Ron Fournier's having fallen for the Boiled Frog Myth. "Ever hear the metaphor of a boiling frog?" Ron asks in chapter two. "If a frog is placed in boiling water, it will jump out ..." Ron, nooooo! So if I'm complimenting a boiled-frog book, you know I mean it.