The Big Canon of Nonfiction Writers
Editor's Note:
This article previously appeared in a different format as part of The Atlantic's Notes section, retired in 2021.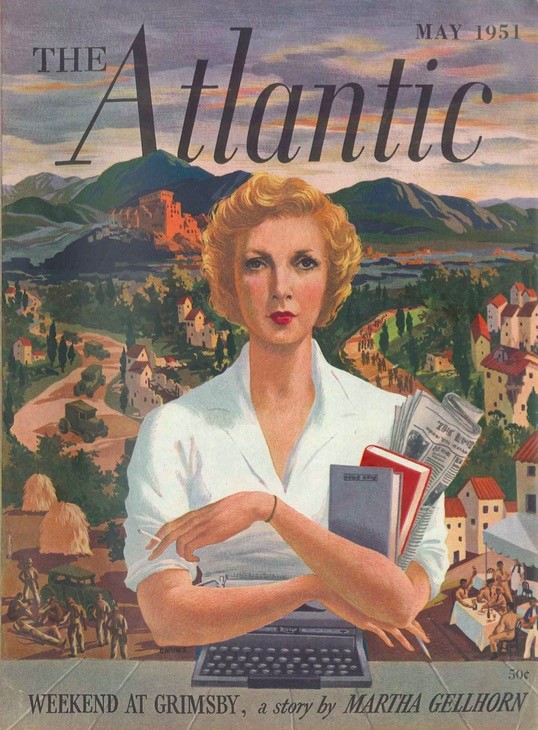 Nonfiction writer Gay Talese recently caused controversy by struggling to name which female writers have most inspired him. On Friday, New York's Ann Friedman responded by listing "one good piece of nonfiction by a different woman writer published in every year since 1960, the year Esquire first published Talese." Her list includes three Atlantic pieces:
Martha Gellhorn's "The Arabs of Palestine" from our October 1961 issue. (Several more of her Atlantic stories are compiled here.)

Elizabeth Vorenberg's "The Biggest Pimp of All" from our January 1977 issue. (The byline was shared with her husband, James.)

Penny Wolfson's "Moonrise" from our December 2001 issue.
Friedman's list also includes essays by Susan Orlean ("Figures in a Mall"), Samantha Power ("Dying in Darfur"), and Hanna Rosin ("The Madness of Speaker Newt"), all of whom have contributed to The Atlantic as well. For our May 2003 issue, Orlean wrote "Carbonaro and Primavera," a travel piece about Cuba. For our September 2001 issue, Power wrote "Bystanders to Genocide," based on a series of interviews about the Rwandan massacres, which begin 22 years ago last week. Rosin, our long-time national correspondent, has written dozens of articles for The Atlantic, most recently our December 2015 cover story, "The Silicon Valley Suicides."
Friedman's list started in 1960, so we thought we'd take a look at our deep archive for some notable nonfiction works by women:
Most of our writings before 1960 have yet to be digitized, but thanks to Sage Stossel—our cartoonist, contributing editor, and general keeper of Atlantic archival knowledge—we know about many other early contributors of nonfiction, including food writer M.F.K Fisher, playwright and screenwriter Lillian Hellman, aviator and Gift from the Sea author Anne Morrow Lindbergh, second-wave feminist pioneer Germaine Greer, and the choreographer and dancer Agnes de Mille (whom we recently noted for International Women's Day).
As Friedman says for her list, ours is just a start. So in the coming weeks, we're planning to dig into our post-1960 archive to surface and digitize some of our best nonfiction writing by female writers and take a closer look at its diversity or lack thereof. If you're a long-time Atlantic reader and have any favorite pieces that left a big impression on you, please let us know: hello@theatlantic.com.