What Should the Rolling Stones Play in Cuba?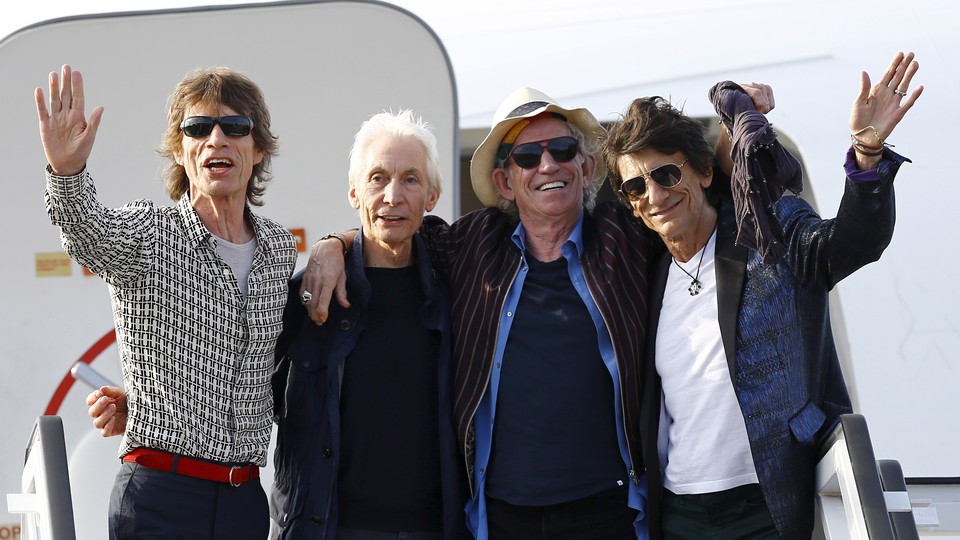 Editor's Note:
This article previously appeared in a different format as part of The Atlantic's Notes section, retired in 2021.
Creaking, outdated relics from the early rock 'n' roll age will be in Havana on Friday, as will the Rolling Stones. Jagger, Richards, Watts, and Co. are playing in the Cuban capital tonight. If you find it not just ironic but galling that a band whose average ticket costs $178.44 is giving a free concert, well, welcome to the Communist Party, comrade.
It doesn't take long to realize that the Stones's back catalogue provides ample opportunities for a location-appropriate setlist. For example, the band could play tribute to Cuba's rocky relationship with the United States with "Neighbours":
Is it any wonder
That we fuss and fight
Neighbors, do unto strangers
Do unto neighbors
What you do to yourself, yourself, yourself
Similarly, they might dedicate "Beast of Burden" to Cubans who use carts drawn by oxen, horses, and mules to make up for the paucity of automobiles on the island.
Though 1970s critics derided the Stones as avatars of bourgeois sarcasm, there are plenty of hits that play into a Marxist mentality. (Mick, after all, studied at the London School of Economics before hitting it big.) Take "Street-Fighting Man" and its call for overthrowing the old order:
Hey! Think the time is right for a palace revolution
But where I live the game to play is compromise solution
Well, then what can a poor boy do
Except to sing for a rock 'n' roll band
Sing in a rock 'n' roll band or, you know, overthrow Batista. Whichever. Another Marx-approved anthem would be "Factory Girl":
Waiting for a girl who's got curlers in her hair
Waiting for a girl she has no money anywhere
We get buses everywhere
Waiting for a factory girl
The double entendres in "Brown Sugar" could work nicely in Havana: Is it a reference to Cuba's historical production of sugar cane, or to the history of slavery used to produce that cane, or the government's rather dubious claims that it has eliminated racism?
But the perfect Communist Stones song is obviously "You Can't Always Get What You Want." After all, what is the assurance that "if you try sometimes, you just might find you get what you need" but a reformulation of Marx's maxim: "From each according to his ability, to each according to his needs"?
Perhaps the band would rather serenade Fidel Castro and his brother Raul, Cuba's president. A little "Sympathy for the Devil," perhaps? (The song is based on Mikhail Bulgakov's searing critique of Soviet society The Master and Margarita.) "Under My Thumb" would resonate with Cuba's repressive government apparatus. So might "Rough Justice." If this set of songs struck any dissidents in the crowd as unduly flippant, Mick might remind them: "You're not the only one/With mixed emotions."
The fact that the Rolling Stones can even play in Cuba today is a sign of change on the island. Fidel is aged and infirm; Raul is getting up there, too, and the country has been forced into a series of market-based reforms that could spell the end of the revolution's grip on power. Perhaps Keith could mark the shift by taking over lead vocals for a rendition of "Losing My Touch."
Ain't it funny how things happen
Just as we think we've got it all straight
Everything seems to be moving forward
But instead we just sit around and wait
If you can't get no satisfaction from this list, send your nominations to hello@theatlantic.com.