Fighting the Under-Representation of Women in the Arts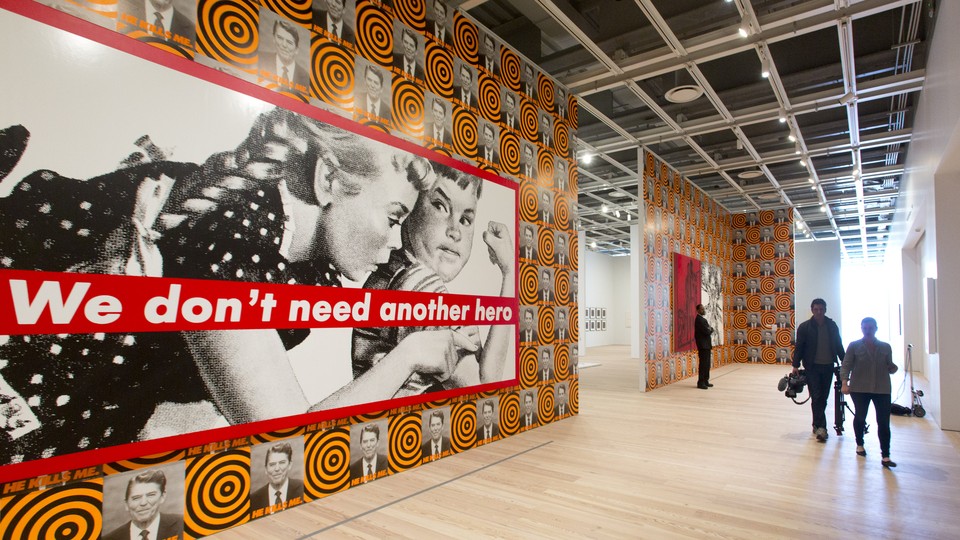 Editor's Note:
This article previously appeared in a different format as part of The Atlantic's Notes section, retired in 2021.
Here's a simple task proposed by the National Museum of Women in the Arts: Name five female artists. It's perhaps easier said than done, but the museum isn't trying to make you feel guilty. Instead, it has a social media campaign focused around the hashtag #5womenartists, aiming to publicize the work of women in the visual arts, who are historically underrepresented in museums, textbooks, and in the collective consciousness. (Who are your favorite female artists? Let us know, in some detail, at hello@theatlantic.com.)
Museums from around the country have joined in the campaign, tweeting and Instagramming images of women in their collections, and individuals have shared their favorites as well.
In that spirit, and with the help of Nshira, The Atlantic's archive fellow, I've selected several passages from our archives focusing on female artists.
In our June 1872 issue, a piece about Flemish and Dutch art referred to the painters Rachel Ruysch and Margaret Haverman with a somewhat condescending tone, characterizing them as less educated and less refined than their male counterparts:
They exhibit a magnificent elaboration of detail, an almost masculine grasp of the resources of high finish; but they offer, too, but the mechanical view of the subject. The poetry, the atmosphere, the metaphysics, as we may say, of flowers, have been better expressed by certain modern talents who, compared with these clever Dutch ladies, are sad bunglers with the brush, but who have at least read Keats and Shelley.
But Atlantic writers have also commented on the entrenched nature of sexism in the arts. In 1916, W.L. George specifically addressed the art critic George Moore's "typical masculine attitude" toward women artists, whom he says "have achieved much in the face of conservatism, of male egotism, of male jealousy, of poverty, of ignorance, and of prejudice":
[George Moore] starts from the assumption that man's art is art, while woman's art is—well, woman's art. That is the sort of thing which has discouraged woman; that is the atmosphere of tolerance and good conduct prizes which she is breathed, and it is the stifling stupidity through which she is breaking. She will break through, for I believe that she loves the arts better than does man. She is better ground for the development of a great artist, for she approaches art with sympathy, while the great bulk of men approach it with fear and dislike shrinking from the idea that it may disturb their self-complacency. The prejudice goes so far that, while women are attracted to artists as lovers, men are generally afraid of women who practice the arts, or they dislike them. It is not a question of sex; it is a question of art.
W.L. George goes on to decry the lack of opportunity for women in the arts:
She has grown up in an atmosphere of patronage and roses, deferential, subservient. She has persistently been told that certain subjects were 'not fit for nice young ladies'; she has been shut away from the expression of life.
Decades later, in our September 1958 issue, choreographer Agnes de Mille contemplated in "Artist or Wife" the cost of women serving their creative impulses as well as their husband. She references a myth spread by "the boys in Athens" that "any woman who dedicated herself to art must be a freak." She points to the establishment of this norm as at least partially responsible for women perpetuating the view of themselves as inferior. And her response to "artist or wife"? Only "her husband's good will" stands between a woman and artistry—"failing this," she writes, "she fails all." It's a dour outlook, but one that seems to fit within the gender-based division of labor in the 1950s.
In the very recent archives, Jacoba Urist wrote in February about the revision of the AP Art History curriculum, how it has historically perpetuated institutional sexism and racism, and how it is now being challenged:
"If you were to believe what many of us were taught in school and museums, you would think a clear line of achievement links one genius innovator to the next," the Guerrillas wrote in their 1998 book on the history of Western art. The very acceptance of a "mainstream," they explained, reduces centuries of artistic output to "a bunch of white male masterpieces and movements" because art by women and people of color often don't meet historians' criteria for "quality" … In that sense, art-history teachers may be the ones who lead the charge of gender and racial parity in the art world, deviating from standardized textbooks and revising the art canon.