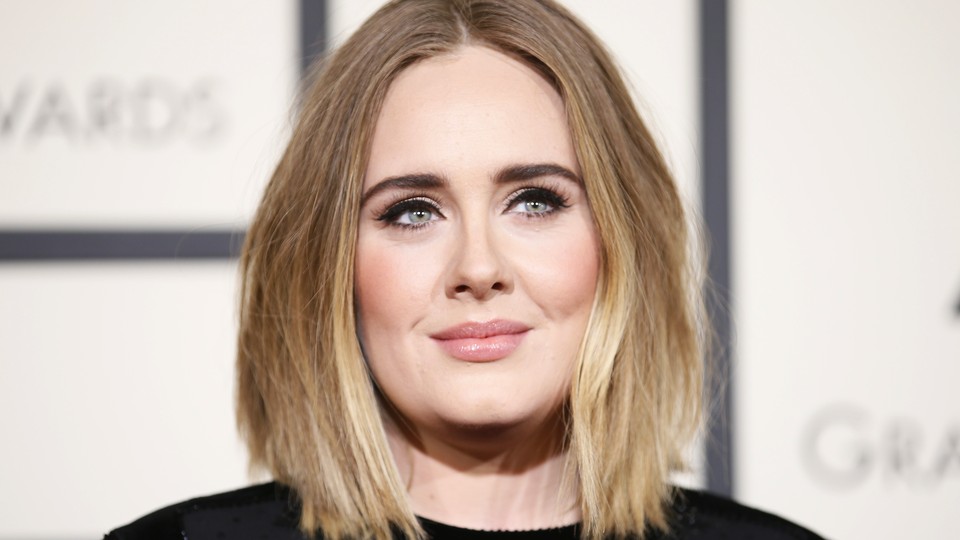 Editor's Note:
This article previously appeared in a different format as part of The Atlantic's Notes section, retired in 2021.
A couple of minutes ago on E!, one of the red carpet reporters touted her network's "exclusive camera angles" on the musicians walking by. It's a funny boast—right here, a successor to the Dutch tilt, discovered?!—but it's also fitting, given how much of this award show about music can rise or fall on its visuals.
Which is another way of saying that for most folks, the performances and pageantry matter a lot more than the awards. The credibility of the Grammys when it comes to recognizing significant achievements in music is not high. But as a chance to launch conversation-starting TV moments, it is perhaps the best awards show there is. This year, there's more suspense around those performances than usual.
Anyone invested in the ongoing mythology of pop can look forward to see performances from a lot of A-listers—Adele, Rihanna, Lady Gaga, Taylor Swift, Justin Bieber, Kendrick Lamar—plus from cool kids like Alabama Shakes and the Weeknd. Then there's a slew of high-profile tribute performances: to David Bowie (performed by Gaga, part of her most remarkable February), to Glenn Frey (performed by the Eagles), to B.B. King (performed by Chris Stapleton, Gary Clark Jr., and Bonnie Raitt), to Lemmy (by Alice Cooper, Johnny Depp, and Joe Perry), and to lifetime-achievement-winner Lionel Richie (by Luke Bryan, John Legend, Demi Lovato, and Meghan Trainor)—and perhaps to others, due to last-minute drama over the fact that there was not a planned tribute to Maurice White or Nat Cole. Another unusual moment: The musical Hamilton will cement its relevance as pop music via its first televised performance, live from Broadway.
Kendrick Lamar will be the most likely source of next-day chatter about the awards themselves. He's nominated for 11 awards, the highest number for a single performer after Michael Jackson's Thriller year. The pre-primetime ceremony has already resulted in him winning four and losing four of his potential trophies, but the real question of the night is about Album of the Year. If he wins, it'll break a long dry spell for hip-hop in the Grammys' most significant category. But he's facing strong competition from Taylor Swift, Chris Stapleton, Alabama Shakes, and The Weeknd. The analogies about Lamar as Cam Newton in the Super Bowl have already started.
As it all unfolds, we'll be covering it here.