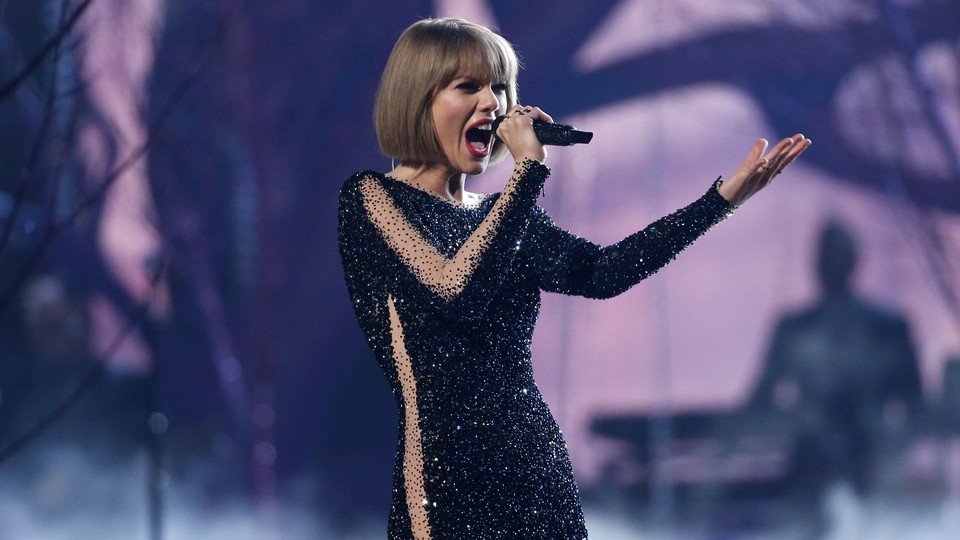 Editor's Note:
This article previously appeared in a different format as part of The Atlantic's Notes section, retired in 2021.
"Hello and welcome to the 2016 Grammy awards," Taylor Swift said in the midst of her show-opening performance. "But right now, it's 1989."
You'd be forgiven for thinking it's actually the fall of 2014: That's when Swift's world-conquering synthpop album came out. But thanks to the Grammys' strangely off-set consideration window (October 1 to September 30), it's only up for awards now
—
after its world tour has concluded, and after its run of top-10 singles seems to have ended.
The song Swift performed to open the ceremony,
"Out of the Woods,
" was one of the two songs that the public heard
before
the album dropped, and its video was released on New Years Eve 2015
—
a long time in pop.
If Swift wins Album of the Year tonight, it will be the capstone for the reign of one of the most commercially successful albums of the new millennium—and maybe the end of Swift's quest to dominate headlines for more than a year. If she doesn't win, Swift may take a break anyway. As for her performance tonight, it was passionate and professional. But it suffered from featuring many of the same elements that the public has grown used to seeing her with over the past 15 months: a shimmery jumpsuit, and the sight of thousands of light-up wristbands flashing from the audience.