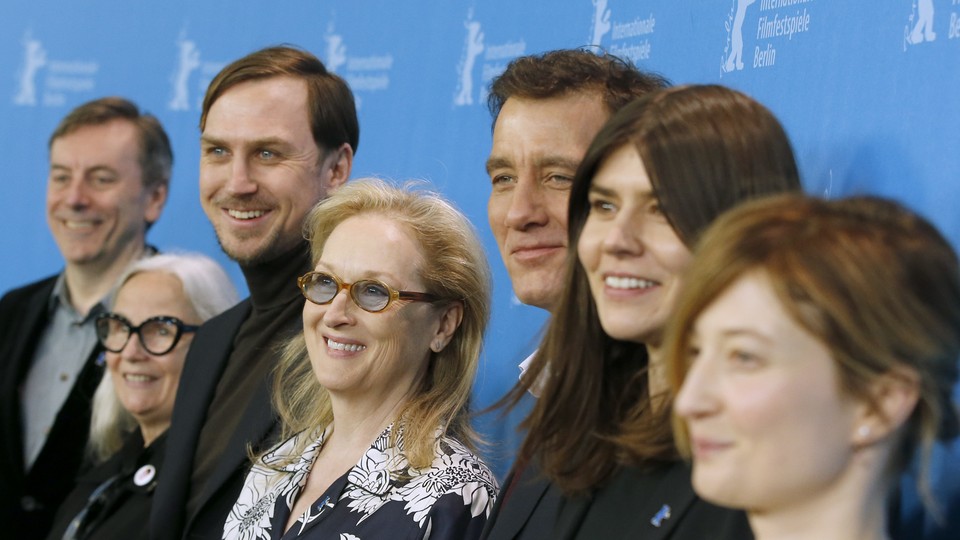 Editor's Note:
This article previously appeared in a different format as part of The Atlantic's Notes section, retired in 2021.
Updated on February 22, 2016
Meryl Streep, having convened an all-white jury to judge the entrants at the Berlin Film Festival this week, was asked a question about one of the festival's films—Theeb, concerning life as a Bedouin in the early 20th century.* Streep's reply was not as tone-deaf as originally thought, but still, as Quartz put it, "pretty cringe-worthy": "
There is a core of humanity that travels right through every culture," Streep said, explaining her understanding of the Middle East and North Africa, "and after all we're all from Africa originally." She added: "Berliners, we're all Africans really."
This was, in the context of her all-white panel, unfortunate. Streep's point was ostensibly that it is silly and self-defeating to emphasize, given the shapes and shades of our rich human tapestry, the awkward seams. It is so much more pleasant to focus on what we have in common. Ich bin ein Berliner, and all that.
So, yes. Here we are again: a Hollywood actor spouting lovely rhetoric that dismisses the nuances of
human history and current events.
It is vaguely the stuff of Charlotte Rampling and C
hrissie Hynde and Kanye West and Matt Damon and, of course,
Meryl Streep, who made an extremely similar argument—"I'm not a feminist, I'm a humanist"—after promoting Suffragette wearing a t-shirt comparing herself to a slave. It is also the stuff of cyclical Hollywood, a pattern that is as familiar as it is frustrating—a pattern that is perhaps inevitable in a culture that treats celebrities as its public intellectuals.
So let's at least save ourselves a little time the next time an actor makes a comment like this. Here
is a handy template for the next go-round
:
In an interview on
___(
day of the week
)___
, the ___(increasingly controversial award)___-winning actor explained,
"We can never know if it was really the case, but perhaps
___(
any skin tone but
white
)___ people did
not deserve to be in the final straight."
To take seriously the question of diversity,
___(
noted Hollywood actor
)___
continued, would be "
___(
noun
)___-ist
to white people
."
Asked whether
___(
any skin tone but
white
)___
communities working in the film industry felt excluded from the cultural conversation,
___(
Hollywood actor
)___
replied: "No comment."
___(
Dismissive term for "digital journalists"
)___
initially speculated that
___(
Hollywood actor
)___'s comments might have been
taken out of context
. And, indeed, w
hen further questioned on the matter,
___(
Hollywood actor
)___ suggested
that
___(
media outlet
)___, as well as people on
___(
social media platform
)___,
had misunderstood the meaning of the initial statement. "I regret that my comments could have been misinterpreted,"
___(
Hollywood actor
)___
said through
___(
Hollywood actor
)___
's publicist.
"Diversity in our
___(
collective noun
)___
is an important issue that needs to be addressed,"
___(
Hollywood actor
)___
continued.
In a later interview, however,
boarding ___(
Hollywood actor
)___'s Gulfsteam ___(
roman numeral
)___ to return home, ___(
Hollywood actor
)___
dialed back the earlier clarification
, declaring
:
"I'm not a
___(
any noun whatsoever
)___ist
. I'm a humanist."
As
the ___(
dismissive term for "digital media outlet"
)___
Flavorwire summed up the drama: "Anyway, on to the next one."
---